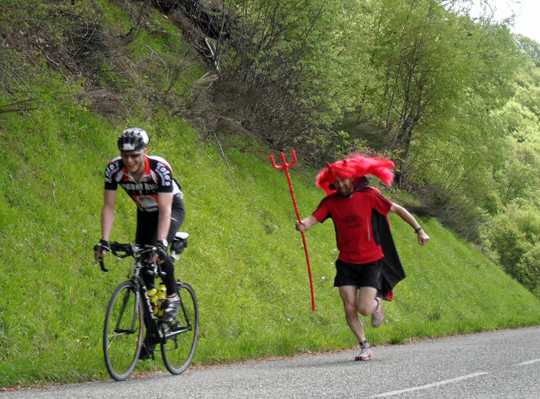 Working as a Marmot Tours Guide
We have a fabulous team of guides and office staff who are experienced, enthusiastic and passionate about what they do.  They are the frontline of our company and their professionalism helps us keep the Marmot Tours product as something we are very proud of.
Created in 2003 as an activity holiday company, under the watchful eye of James and Cathy Thompson, Marmot Tours has evolved over the years to become a specialist in the provision of excellently supported and run road cycling holidays. We leave no stone unturned in the preparation for our trips and whilst our product is 'group holidays', our focus is very much on the individual.
We rely on our team to bring a level of friendliness, organisation, professionalism and banter to the Marmot Tours holidays.
Our remuneration package has been developed to reward the loyal members of our guiding team.  We have both Lead and Assistant guides in our Support Team, depending on experience and aspirations.
Lead Guides
Have experience of running group holidays (not necessarily in road cycling), and of managing the day to day issues with the activity, client management, transport, accomodation and of course health and safety.
You would be supported fully in this role by the office and ops team.
Essential Skills required are:
Excellent organisational skills
Good observation skills and attention to detail
Over 5 years driving experience and current driving license
Group management experience
Proactive work ethic
Enthusiastic and approachable
Confidence to talk to a group in public
Excellent interpersonal skills for working with clients and hotels
Good working knowledge of a 2nd European Language: French/Spanish/Italian or German
Team work skills – you work very closely with your co leader, but also with the Marmot
Tours office.
Energy!
First Aid Qualification and experience as a first aider
Basic bike mechanic skills (further training may be provided)
Our Assistant Guides

We are looking for the same essential skills but without the group management experience above but it is not necessary for you to have previous group management experience.
As with the Lead Guide spec, the following are key:
Outdoor first aid qualification
Basic Language skills in French AND Italian or Spanish
Basic bike mechanic skills
The difference in role relates primarily to the level of responsibility taken on trips for overseeing the Guide tasks, managing difficult situations and taking a lead on presentation of information to our clients.
The Role
Client support
A huge and varied role, supporting our clients on the road is the best bit of the job…
The role involves physical support: snacks and water provision, offering mechanical support, advice re routes, monitoring the health & safety of individuals, and giving moral support if required.  Where possible we also assist our clients by putting their luggage in their rooms for the arrival – not the most fun of jobs, but they love it!
Our itineraries are challenging even for fit and experienced cyclists so being 'there' for the clients in an enthusiastic, friendly, approachable, honest and personal way is a key part in making their day manageable and memorable.
Driving
Unlike other companies, both of our guides in a team drive support vehicles.  Driving includes airport transfers, moving luggage on from point to point on a trip, shopping for trip supplies and sometimes relocating a vehicle.
Liaising with the hotels
We need to get the best out of the hotels we stay in so that our clients receive the best service possible.  We work with hotels to ensure that dietary requirements are met, to deal with any issues with rooms and to ensure that all meals run smoothly and everyone is suitably fed and watered!
Keeping the group informed
Presentation of information to both individual clients and the group as a whole is key.  This begins with meeting the group at the airport and welcoming them onto the holiday.  It also involves  letting them know as appropriate; where to be, when, distances, lunch spots, water, where the van will next be, route tips, health & safety issues (tricky descents etc).
Main trip briefings are done on the first night of a trip, then there are nightly briefings (also fondly known as 'demotivationals!') during dinner when the whole group is assembled.
Bike Maintenance
We have a fleet of 25 titanium frame bikes that we rent out to clients, although probably 80% of clients bring their own bikes.   On a trip, daily maintenance of hire bikes is required and emergency maintenance where appropriate of client bikes.  If a job is beyond our skills then we take the client's bike to a bike shop and loan them a spare bike in the meantime.
Managing Group Dynamics and Ensuring some Banter
This may just be about being friendly and sociable or some groups may need a bit more input to encourage that they gel.  On the road we find that enthusiastic flag waving, banner waving, and stuffed marmot waving goes down a treat.
Team Work
Always working in groups of 2 means that you are never alone in making a decision or managing a problem.  Constant liasion with whoever you are running the trip with – updating each other on where clients are, how they are doing, who is cycling with who, who is tired, who had a puncture so is behind a bit etc etc, is a key part of the role.
Hours
This is not a job for the lethargic: the days are pretty long by anyone's standards (generally 6.45 am till 10.00 pm depending on the group). If a trip runs smoothly and all goes well then there is the odd moment of peace and quiet in the sunshine atop of a col but surprisingly little time as with groups of 20, there is always someone on the way past who needs a quick chat, some photos to take, some snacks to buy, some van organising to do etc.
On trips with good weather, and depending on the group, then there can be time for a run or a cycle for a leader each day at the start or end of the day, but its not always the case so we can't say that it is part of the normal working day.
Due to the intensity of the work, our guiding team, as standard, do a maximum of 2 trips back to back before a break.
Some road cycling companies have guides that cycle with the clients but we feel that our clients are offered the best support if you are mobile in a fully stocked and customised van.  This attentive level of service sets us apart from our competitors
Commitment
We understand that everyone's work and home situation is different and across our existing team we have some staff that work a few weeks a year, and some that work much more.  The more trips that you do, the more confident you will become in your role, and the higher the standard of care for our clients.  For this reason our pay scale favours our most experienced guides.
We can be fairly flexible with who works when or where, and will always aim to fit in with anyone's existing plans/hopes though we do start 'nailing down' the plans by end of November/December for the next summer season.
If we need to recruit new staff to the team, we start this process in October, for the following year.
Pay & Expenses
All pay is in £GBP but can be exchanged (according to daily rate of exchange) for payment in Euros if required.  We have 3 daily rates of pay depending on your experience with the Marmot Tours Team.  The rates vary for New Staff, Staff who have worked up to 2 years and up to 20 trips with Marmot, and a rate for those who have worked more than 2 years and more than 20 trips.
For details of daily rates, please email Graham Lee on [email protected]
New Staff
Rate C (entry pay) is applied to all new staff for their training trip and usually for a further 2 trips depending on a guide's level of experience.
Assistant Guides are able to follow a structured program of increased responsibility to move up to a Lead Guide level.
Annual Bonus
Staff working more than 50 days during the year will receive a bonus of £80 for every 8 days (client days) worked.   This is payable at the end of the season and is added to your final invoice/PAYE payment.
Additional Hours
The Hourly Rate is payable for additional hours up to 8 hours in a 24 hour period.  More than 8 hours work in a 24 hour period will be paid at the daily rate
Travel Expenses
We are able to cover most expenses for travel to and from your run of trips
By Air:
Flights with 1 hold bag from home country to work destination & back.  Marmot to book flights by end of Feb to ensure good prices
Travel to airport & Airport parking not included.
Option to extend your stay in country or fly to / from other destinations other than home as long as flight costs are comparable.
By Car/Train:
Expenses (train/fuel/tolls) on journeys from home to work, on production of receipts.
Travel Days
Not claimable as a days work unless travelling from MT HQ in France to a trip destination / moving a Marmot Van.   In these cases, where appropriate, Marmot will cover overnight accommodation.
Cycle a Marmot Trip
Most of our guiding team are passionate about travel and about cycling in one capacity or another so we have tried to create some opportunities for you to join our trips.
Be a Client for the week
All staff are eligible for a 50% discount on trip costs (twin share accommodation).  Standard holiday booking to be made and discount applied to GBP invoice. No responsibility for the group on trip.
Learn the route and help out
In some circumstances it may be beneficial to Marmot for you to cycle a route to better learn how it works and prepare for running it at a later date.  If you were interested in this then cost to you would be £45/night, deducted from your following invoice.  You may be required to help the guiding team in exceptional circumstances.
Other Benefits
Marmot Tours Uniform
All staff will be provided with
2 x Marmot Tours T-shirts/polo-shirts
1 x Classic Cols T-shirt
1 x Fleece
1 x Gilet
1 x Rain Jacket
Contribution towards First Aid Certificate
Once you have worked for Marmot for 12 weeks and 2 years we will pay £150 towards a suitable 1st aid course.
Staff Discount available on Assos Gear
Staff Training
We are very proud of our reputation and the number of return bookers we get (min 44%) on our holidays.  Much of this is understanding what makes a holiday into a Marmot Tours trip, and what makes our support so attentive and effective.
Regardless of experience in guiding, we have a compulsory 2 day training course in the Spring.  It is a chance to all get together as a team as well as to brush up on & to develop new skills. Travel to/from the training course, plus accommodation will be covered by Marmot Tours.
Training Trip
New staff will all work a Training Trip with the Operations Director or an experienced guide. You will work as a guide but with additional input to follow on from pre-trip training.
Progression from Assistant Guide to Lead Guide
Assistant Guides will need to demonstrate confidence and abilities on trip in order to move to a Lead Guide role.
The areas they will be reviewed on include:
Ability to empathise with clients and to predict what they might require at a certain time
Quality of client briefings and client interactions
Level of organisational skills.
Ability to work proactively without direction
Ability to delegate and manage another member of staff
Problem solving skills and ability to remain calm in challenging situations.
Attention to detail and a focus on excellence
Job satisfaction
This is a job where the more you put in, the more you get out of it. We have a fabulous clientele that come out on our trips, some of them again and again. They are interesting people to chat to and it is great to be able to support them whilst they challenge their bodies and minds during our trips. They are very appreciative of good customer service, and we get very positive feedback as well as a lot of clients coming back for holidays every year.
At Marmot Tours we very much try to share the achivement of pulling off a good trip as we know the effort and attention to detail that goes into it. We value your input into how things are run and your feedback on how things could be improved.
Your role could take you to the Pyrenees, the Alps, Corsica, the Dolomites or the Picos. Where we send you will be related to your experience, your availability and your language skills but we aim to make your individual season with Marmot Tours as varied as possible.
What Next?
If you think you have what it takes to be a Marmot Tours leader then please don't hesitate to get in touch with Graham Lee on [email protected] and send in your CV or a summary of your experience.