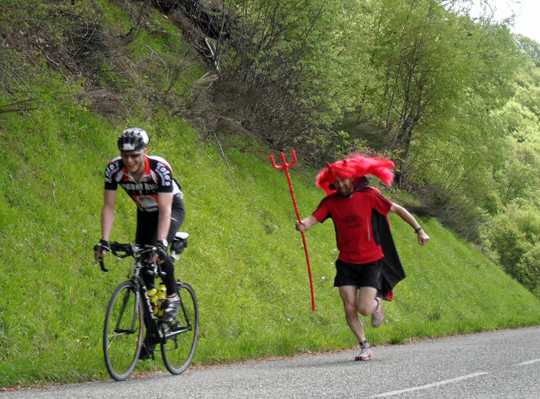 Working with Marmot Tours
We have a fabulous team of guides and office staff who are experienced, enthusiastic and passionate about what they do.  They are the frontline of our company and their professionalism helps us keep the Marmot Tours product as something James and I are very proud of.
Created in 2003 as an activity holiday company, Marmot Tours has evolved over the years to become a specialist in the provision of excellently supported and run road cycling holidays. We leave no stone unturned in the preparation for our trips and whilst our product is 'group holidays', our focus is very much on the individual.
We rely on our team to bring a level of friendliness, organisation, professionalism and banter to the Marmot Tours holidays.
Our Lead Guides
You would need to have experience of running group holidays (not necessarily in road cycling), and of managing the day to day issues with the activity, client management, transport, accomodation and of course health and safety. You would be supported fully in this role by Marmot Tours office (Cathy) and king of logistics (James)
Essential Skills required are:
Excellent organisational skills
Good observation skills and attention to detail
Over 5 years driving experience and current driving license
Group management experience
Proactive work ethic
 Enthusiastic and approachable
 Confidence to talk to a group in public
 Excellent interpersonal skills for working with clients and hotels
Some working knowledge of a 2nd European Language: French/Spanish/Italian or German
 Team work skills – you work very closely with your co leader, but also with the Marmot
Tours office.
Energy!
First Aid Qualification and experience as a first aider
Basic bike mechanic skills (further training provided)

Our Assistant Guides 

We are looking for the same essential skills but without the group management experience above… basically the personal profile is the same for any leader, regardless of the 'level'. As with the Lead Guide spec, a first aid qualification, some language and bike mechanic skills are highly desirable.
The Role
Client support – a huge and varied role and the best bit of the job… We are there to ensure they have a good holiday and so the role involves morale support if required, physical support in terms of snacks/water/mechanical help/advice re routes/health & safety etc etc. With the harder trips such as the Raids, being 'there' for the clients, enthusiastic, friendly, approachable, honest and personable is a key part in making their day manageable
Driving –  airport transfers, moving luggage on from point to point, shopping for trip supplies etc.
Liaising with the hotels – room allocation and putting clients bags in their rooms, ensuring dietary requirements are met, dealing with any issues with rooms
Keeping the group informed – meeting the group at the airport, letting them know as appropriate; where to be, when, distances, lunch spots, water, where the van will next be, route tips, health & safety issues (tricky descents etc). Main trip briefings are done on the first night of a trip, then there are nightly briefings (also fondly known as 'demotivationals!') during dinner when the whole group is assembled.
Bike Maintenance – daily maintenance of hire bikes during a trip, and emergency maintenance where appropriate of client bikes / trips to bike shop / loaning out of hire bike etc
Entuhsiastic flag waving, banner waving, Marmot waving – you can never have too much of this!
Managing group dynamics as appropriate – this may just be about being friendly and sociable or may need a bit more input depending on the group.
Constant liasion with whoever you are running the trip with – updating each other on where clients are, how they are doing, who is cycling with who, who is tired, who had a puncture so is behind a bit etc etc.
This is not a job for the lethargic: the days are pretty long by anyone's standards (generally 6.45 am till 9.30/10.00 pm depending on the group). If a trip runs smoothly and all goes well then there is the odd moment of peace and quiet in the sunshine atop of a col but surprisingly little time as with groups of 20, there is always someone on the way past who needs a quick chat, some photos to take, some snacks to buy, some van orgnaising to do etc etc!
On trips with good weather, and depending on the group, then there can be time for a run or a cycle for a leader each day at the end of the day, but its not always the case so we can't say that it is part of the normal working day.  Some road cycling companies have guides that cycle with the clients but we feel that our clients are offered the best support if you are mobile in a van.
Commitment:

We understand that everyone's work and home situation is different, and are very happy to build up a network of suitable people to help out on trips here and there during a season, and who repeat that pattern over the period of a few years.
We can be fairly flexible with who works when or where, and will always aim to fit in with anyone's exisiting plans/hopes though we do start 'nailing down' the plans by end of November/December for the next summer season.
We would like staff to be available to work a minimum of 4 weeks in a season.
Pay:
Most of the members of the existing Marmot Tours team are self employed and invoice us direct for the work they do. We have a works contract for our seasonal workers but they are not 'employed' by Marmot Tours. Our rates of pay are considered to be generous for the industry – our guides work hard and we really appreciate that!  Email me for a copy of our
Pay and Expenses Policy.  Whilst on trips all costs (B & B & evening meals) are paid for so the only personal payments required are for lunches and any teas/coffees or beers in the evenings (wine is included at dinner).
Training:
We run a 2 day training session with a mix of practical workshops/bike maintenance and discussions about how best to provide support for our clients.
Job satisfaction:
This is a job where the more you put in, the more you get out of it. We have a fabulous clientele that come out on our trips, some of them again and again. They are interesting people to chat to and it is great to be able to support them whilst they challenge their bodies and minds during our trips. They are very appreciative of good customer service, and we get very positive feedback as well as a lot of clients coming back for holidays every year. At Marmot Tours we very much try to share the achivement of pulling off a good trip as we know the effort and attention to detail that goes into it. We value your input into how things are run and your feedback on how things could be improved.
Your role could take you to the Pyrenees, the Alps, Corsica, the Dolomites or the Picos. Where we send you will be related to your experience, your availability and your language skills but we aim to make your individual season with Marmot Tours as varied as possible.
Contact us for more information
If you think you have what it takes to be a Marmot Tours leader then please don't hesitate to get in touch with us and send in your CV or a summary of your experience. We are able to guarentee our departures so there is no risk of cancelled work. The flip side of that is that we expect commitment to a trip once it has all been agreed.