Cycling the Passo dello Stelvio
The Passo dello Stelvio (2758m),  in the Ortier Alps in Italy, should be on every cyclist's bucket list.
Though it was robbed of its status as Europe's highest road pass by the Col d'Iseran in 1937, the Stelvio was one of Italy's great national landmarks long before the Giro discovered it. The renowned architect Carlo Donegani spent a year plotting his 49 kilometre masterpiece that connected Valtellina in Lombardy to the Val Ventoso.  Officially opening in 1825, it had taken 5 years to complete. The road itself is a marvel of engineering, with exhilarating serpentine sections – an amazing scenic experience. 
The Stelvio really is a spiritual cycling experience and has featured several times, since 1953, in the Giro d'Italia. The summit has been a stage finish 4 times but the Giro organizers have had to cancel a Stelvio ascent an equal number of times due to bad weather!  This is not a mountain to be messed with or considered lightly.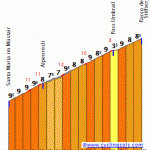 The Biggest Cycling Challenge!
The toughest and most spectacular climbing is from the Prato side with it's 48 hairpin bends carving their way up the mountain in what appears to be an endless road towards heaven.  It's possibly the most historic of all climbs ever used in pro cycling, a giant in every sense (length, elevation gain, gradient and the elevation at the top). The ascent is 24.3 km long with an average percentage of 7.4 % but reaching up to 10%!
Slightly shorter, at 22km in length, tackling it from Bormio is equally challenging. The elevation gain is 1533 metres, with an average percentage of 7.1% but steeper sections towards the summit up to 14%.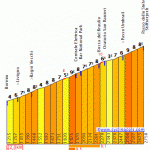 The Altitude Problem
What makes the Stelvio so challenging is the altitude. Due to it's elevation it's only open during summer and even then you may find yourselves snaking your way up through walls of snow. The difference in temperature between the start of the climb and the summit can be up to 20c. You need to be well prepared and take adequate clothing. Another effect of altitude is the one on your body, reduced oxygen in the air putting additional strain on your body. Make sure you stay well hydrated and listen to your body.
A Physical and Mental Battle
It is a mountain of legend and unique lure to the cyclist that dares to climb its slopes. It is an absolute test of your physical and mental strength . If you are man (or woman!) enough for the challenge, then you will be interested to know that it features on our Raid Dolomites and Dolomites Classic Cols itineraries.