Welcome to Part 1 of What Our Guides Are Riding! We're going behind the scenes to take a look at the many and varied types of bikes that our guides and staff choose to ride, and why. Yes, this is an excuse for our guides to wax lyrical about their bikes but it also proves a point that there is a bike out there for everyone and you need to have the right one for you!
The Perfect Cyclocross Bike for Me
In this inaugural edition of What Our Guides Are Riding, I'm going to be talking about my Scott Addict CX 10 cyclocross bike – and what makes it the perfect bike for me, for now. So, pull up a turbo, make yourself comfortable, and let's get to it!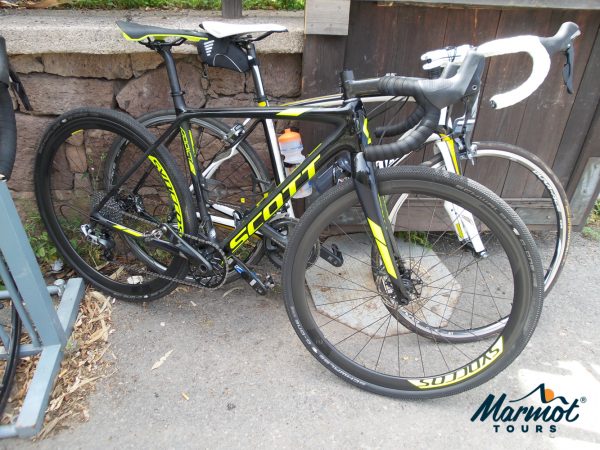 The original inspiration for this bike came about in 2016 when I'd ride my road bike to the top of a Col and see walkers, climbers and mountain bikers all getting out of their cars, and taking to the gravel trails that lead to the very tops of the cols – the actual summits. I want to go where they're going, I thought. I'd ridden to the top on my road bike, but it wasn't far enough. I wanted to go higher!
Later that season I was riding Colle delle Finestre in the Cottian Alps on my road bike and the idea really took hold.
Cycling Colle delle Finestre
For those of you who aren't familiar with it, Colle Delle Finestre is a climb steeped in history and folklore. The road was first built by the military in the 1700's to gain access to Forte de Fenestrelle; one of the many mountain-top fortresses originally guarding the border between France and Italy. This whole region in fact is littered with decommissioned military ruins and is well worth exploring if you get the chance!
Anyway, I digress…
At 18.6kms long and with an average gradient of 9.1%, it's a tough old climb, made famous however by the final 9km's being unpaved. Yes, road bikes are capable of riding on such terrain, but let me tell you from first hand experience that riding around a 14% hairpin on a road bike with 25mm tyres, through 3 inches of thick dust, pebbles and fist-sized rocks is tough going. And that's just on the way up! Descending is a whole other story, a story which my squealing carbon rims and fading rim brakes made quite clear they didn't want me to tell!
Suffice to say I've never had so much fun on a bike. So, it was there, at the summit, with Italy over my right shoulder and France over my left, with miles and miles of unpaved military roads winding off in every which direction that I vowed to myself to come back next year on an appropriate bike, ready to explore.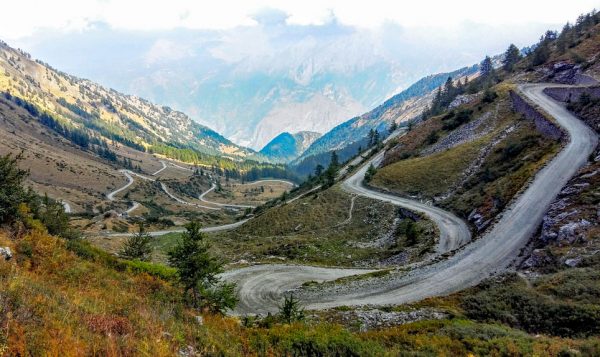 And so the search for the perfect bike began.
It had to have adequate clearance for a bigger tyre, at least 30c, and it had to be lightweight and racey enough with the appropriate gearing so as to not be a burden when climbing hills. Disc brakes were also a priority for me. I considered all sorts of bike; from endurance 'gravel' bikes capable of taking on rougher roads, to full on CX race bikes. In fact, the more I researched it, the more I realised that a thoroughbred race-ready cyclocross bike with the appropriate tyres and some adjustments to the bike fit could be the perfect solution. This way I would still have the option of racing CX on it throughout the winter in the UK – an option that wouldn't be possible were I to choose a 'gravel' or 'endurance' style road bike.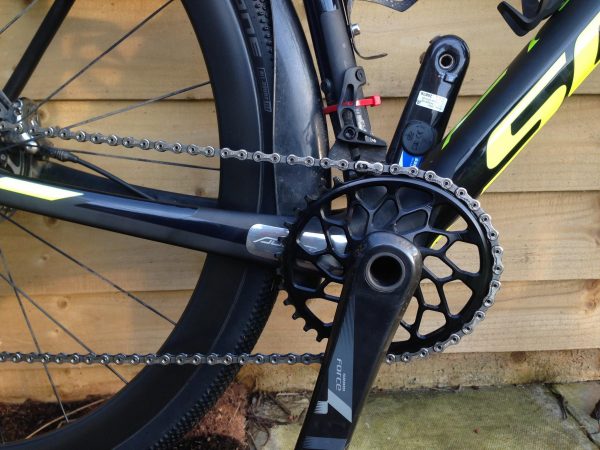 With the geometry being racey enough for club or group rides on the road, and having the option of swapping out the tyres to a full-on CX mud tyre for racing or days exploring off-road, and having the option to clip on Crud RoadRacer MK3 mudguards, it makes for the perfect winter bike. Then, come summer, the low profile tyres will go on and the mudguards will come off to reveal a bike that's capable of taking on anything on or off road that you can throw at it. I've also made a slight change to the 1 x 11 gearing to enable me to climb rough and rocky terrain off-road, whilst maintaining traction (see below for details).
Frame/Fork: Scott Addict CX 10 2017
Gearing: SRAM CX1
Brakes: SRAM CX1 Hydraulic disc
Chainring: AbsoluteBlack Oval 38t (climbing) or SRAM Force 42t (commuting/UK)
Cassette: SRAM 11-36
Handlebars: Syncros RR1.0 Carbon
Stem: Syncros FL1.0 Carbon
Seatpost: Syncros FL1.0 Carbon
Saddle: Syncros FL1.0 Carbon
Wheels: Syncros RP1.0 Carbon Disc 40mm
Tyres: Schwalbe G-One 35mm
Pedals: Shimano XTR
So far I'm over the moon with my choices. I've just gotten back from riding the Marmot Tours Classic Cols of Gran Canaria trip, and I'm happy to say that the bike coped with the variable quality road surface, steep gradients and long flowing tarmac roads perfectly – and it was a relief to discover that not once did I feel 'between gears' on the climbs or as though my cadence was compromised or holding me back. The bike really came into its own on the descents, however, where, being someone who enjoys descending, I was able to take the fastest line through corners, banking the bike right over on the tubeless Schwalbe G-One tyres with confidence. So confidence inspiring it was, that I even managed to snag a few cheeky KOM's, and a couple of them uphill too!
For the first time in a long time I'm actually considering thinning out my collection of bikes, as the Addict just seems to tick so many boxes. I know, what am I thinking, it's meant to be N+1!
Now, onto the next adventure!