Group Cycling Holiday Offer
We know how great it is to holiday with friends so for a limited period, we're offering the chance of benefitting when you book as a group of two or more on certain cycling holidays departing this summer.
Cycling Holiday in French Alps
If you book on our Classic Cols of the Alps departing on either 22ndJuly or 18th August and bring a friend (or friends!), each of you will qualify for £100 off the cost of your holiday. But as all good things come to an end, this offer expires on 31stMay 2018, so make sure you get in touch and book quickly! Please note that you must have confirmed your booking and paid your £200 deposit by 31st May 2018.
Loyalty discount
And just because we're generally nice folk, this offer can be used in conjunction with our loyalty discount; if this will be your 3rd holiday (or more) with Marmot Tours, we'll offer you an additional 10% off.
Please note that this discount is not applicable if you end up being an individual booking at the time of final payment (i.e. if your mate has to cancel for any reason).
Existing Customers
Everyone's irritated by those offers that apply to 'new customers only' so we're bucking the trend and offering this to existing bookings too.  So, if you're already booked on one of the two departures eligible for this offer (see above) and either already qualify as there are two of you, OR if you think you can get a mate to agree (by 31st May) to join you, then we can just adjust your existing invoice accordingly to add the £100 discount to your booking.  If you've already paid your final invoice then we'll sort you out a £100 Marmot Discount Voucher, valid for 2 years, against any future booking.
Road Cycling Routes in the Alps
In true Marmot Tours fashion, the itinerary of this Classic Cols of the Alps holiday has been thoughtfully crafted so you can cycle the most scenic and challenging cols and stage endings that the Savoie Alps has to offer.  The circular route takes in all the classic Tour de France climbs: Cormet de Roseland, l'Iseran, Telegraphie, Col du Galibier, Croix-de-Fer, la Madeleine and of course, this year's TdF par cours Alpe D'Huez. On our 'classic' route you start off as gently as the Alps allow, with daily altitudes of 1200 to 2100m.
And if you're looking to really push yourself, there are optional extras on our 'challenge' route each day to increase the possible daily ascent to over 2600m; it really is the ideal trip for mixed ability groups or couples. This trip is pure escapism; riding on quiet roads through the dramatic scenery of the Alps with their jaw-dropping views is a joy, not to mention the sense of achievement as you conquer summit after summit.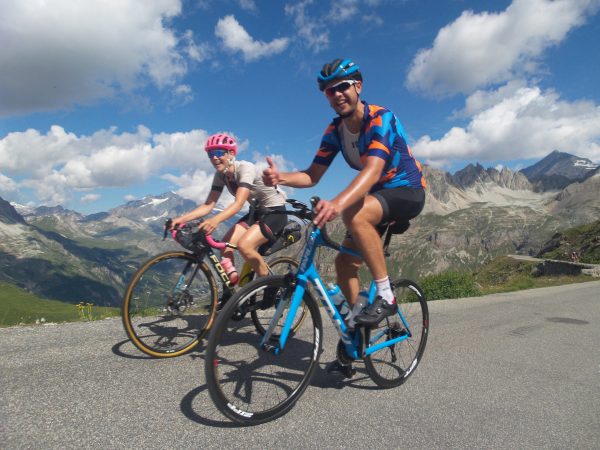 Reviews
And if you still need help making your mind up, here's what some of our clients have said about cycling in the Alps with us:
"A wonderful route, and the itinerary was well thought out. As one of the 'weaker' riders I was able to enjoy the holiday and finish the tour feeling stronger than I began. So thanks for that. Also worth saying that the GPS files were spot on. The maps and written directions were excellent. The information provided in advance of the trip e.g. kit lists, was most useful. This info and its presentation showed great attention to detail that inspired confidence in how the tour would be organised and run. Rightly so, the organisation was indeed excellent."
"Beautiful rides, well planned, with an easy day in the middle of the week to give you time for recovery for the rest of the week. Incredibly beautiful scenery."
"It was my first time in the Alps and as a well-travelled cyclist I was really looking forward to it and was never disappointed"
"Have been on guided trips before, Marmot were certainly above and beyond. Level of support whilst on the road was exemplary. The email correspondence was faultless."
Contact us!
So what are you waiting for? Drop us an email or give us a call on 01373 830409 and we'll be happy to confirm your booking and chuck in the £100 discount for you….happy days!