Our Client Liaison & Trip Administrator Sabine shares her thoughts on her cycling journey so far, how she feels about the Marmot Tours' Staff Ventoux Venture and the challenge that lies ahead…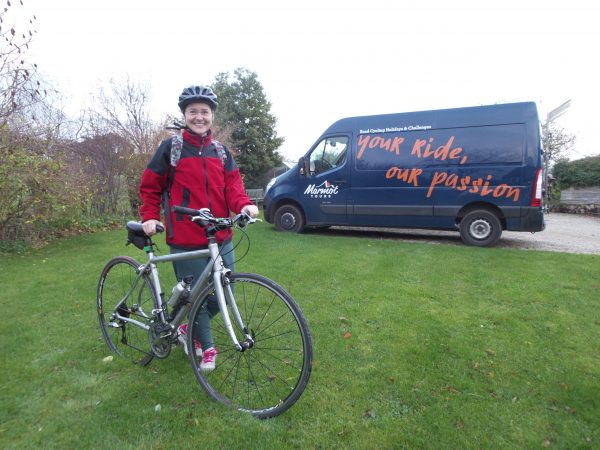 I've had the pleasure of working with Marmot Tours since the beginning of last year. Little did I know then that I would be having a go at cycling up the infamous Mt. Ventoux in the south of France a mere 15 months later! I hadn't planned on taking up cycling, but the enthusiasm in our office for all things cycling really is contagious. For example, Gav, who is a guide during the season and works on product development in the office in the winter months, commutes on his sleek wheels all the way from Bristol in almost any weather and our Finance Manager Graham likes to go for a ride instead of having lunch!
Cycling Mont Ventoux: first thoughts
So one grey day last November, the idea was born to add some fundraising fun to our annual team training and climb Mt. Ventoux together as a team. It sounded great at the time, but I soon realised that I would have to put in some serious effort in order to even have a chance of achieving this climb. I wasn't in particularly good shape and apart from a couple of family excursions to the Forest of Dean, hadn't sat on a bike for 20 years!
The other slight hindrance was that I had neither bike nor gear. However, enthusiasm prevailed and soon I started commuting to work by bike on three days a week, with a borrowed bike and cobbled together outfit! It was hard work, but I loved it all the same.
Road Cycling Holiday in Tenerife: a taster
In February Marmot Tours sent me on one of our holidays to Tenerife to get to know our product from a client's point of view. The original plan was for me to mostly ride in the van but with my newfound enthusiasm for cycling, I borrowed one of our hire bikes and was mostly on the bike! It truly was an eye opening experience and I enjoyed myself immensely. It also brought into focus what a challenge Ventoux would be, so I've now upped my commute to 4-5 days a week for the last few weeks before the challenge.
Special thanks go to James, whose encouragement and practical help really motivated me to keep going and to Cathy, without whose bike I wouldn't even have started! I really look forward to our team effort and hope you'll all support us to raise funds for our wonderful charity of the year. Thank you!