Separated by a mere 10km of sparkling cobalt sea, Corsica and Sardinia whilst geographically close offer two very distinct, unique cycling opportunities. We're often asked "What's the difference between the two?"
Cycling in Corsica or Cycling in Sardinia?
Well, like sparring siblings, French Corsica and Italian Sardinia whilst sharing many similarities, are individuals in their own right. To help you decide which is the best trip for you, we've attempted to break down the differences in two blogs, the first part of which is here..
Best Cycling Climate
The first thing to state is that both islands boast fantastic cycling weather. We run our trips in both locations in May and September each year, making best use of the temperate climate.
The temperature in May in Corsica often creeps into the low 20's (degrees), nudging 10 hours of sunshine per day, rising to an average of 26 degrees for 9 hours when we're back there in September.
Sardinia, being slightly further south, enjoys marginally longer days with slightly warmer weather, but both are more or less on a par.
Wind is rarely an issue in either location due to the topography, but by mid-September each evening arrives cooler than the last, meaning you'll likely favour a light jacket over short sleeves if sitting out on the terrace after dinner.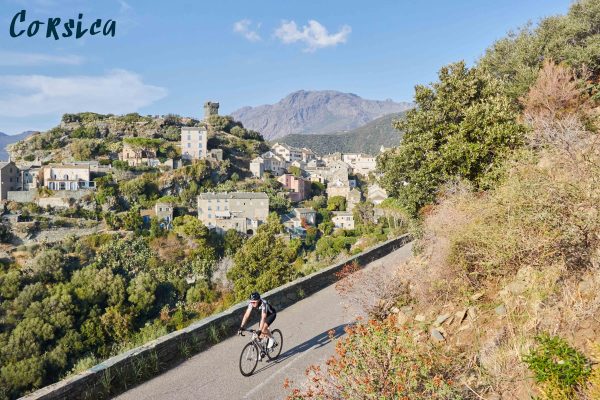 Terrain
Corsica is well known for its rugged interior of hidden villages, chestnut and towering pine forests and technical terrain – ever heard of the GR20? (the toughest long-distance hiking trail in Europe).
One of the beauties of cycling in Corsica is that you really can ride for hours upon hours without seeing a single car. You might bump into a farmer trundling along on his clapped-out tractor, or the occasional 'lost' holidaying family squashed into a worried hire car, but as a rule of thumb it's quiet, and increasingly so the further from the coast you get. Like all populated islands, there is always a busy coast road, and with the island's old capital and current university in the centre, a busy road leading here too. Whilst 'main' roads, they're still quiet by European standards, and as with anywhere, it is the influx of tourists around July and August that give them their 'busy' feel.
Head to the hills, though, and you'll be treated to empty roads, whatever the time of year.
Road quality
In terms of road quality it's fair to say that Corsica has a bit of a reputation for poor surfaces, but since the Tour de France visited in 2015 the majority of roads have seen vast improvements made and even the most local of mountain roads are now on a par with anywhere else.
Of course, there will always be poor quality roads, potholes and broken surfaces, but the same can be said of anywhere. Some of these roads are 'unavoidable' for us, in that they link two unmissable climbs or locations for instance, but nothing that a 25mm tyre at a sensible pressure won't cope with, and after all, it's these smaller, 'quirkier' roads that give character to a region – something that both Corsica AND Sardinia definitely do not lack!
Sardinia's roads, on the other hand, are surprisingly good throughout, with many of the newer roads being recently-laid marble smooth tarmac – winner! The 2017 Giro d'Italia started here (in Alghero, in fact), so it's no surprise to find. You'll still find cobbles, ruts and gravel of course, but on the whole, the standard is good.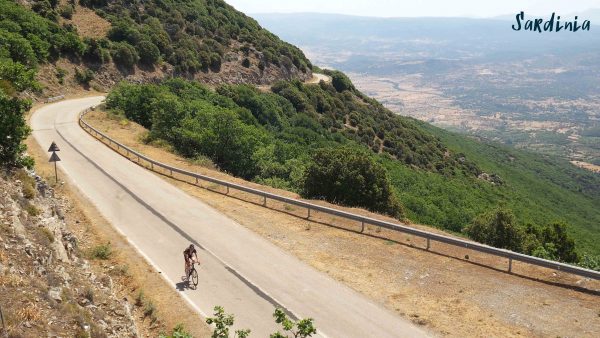 Climbing
The climbing in Corsica is known for being on the shallower end of the gradient spectrum, with most climbs laying comfortably around the 4-5% mark, and very rarely breaking the 10% barrier (we know of a 34% stretch of road though, should you so desire!)
Sardinia is much the same in terms of its busy and quieter periods, however, there is one main difference between the climbs, and it's here when we must refer to the definition of 'col'.
A col is loosely defined as the lowest point on a mountain ridge between two peaks. In a cycling context, this is typically where the road builders chose to lay their route (path of least resistance and all that!) and where we cross from one side of a ridge, or from one valley, to the next. This is the case in Corsica. However, in Sardinia the roads don't tend to pass (another crucial word!) from one side to the other; rather terminating atop the summit. This means that many of the highest and better-known cycling roads on the island are out-and-back climbs, meaning you descend back down the way you came.
Sardinia being the bigger island of the two also has a lot more space in which people can spread out, thus adding to the feeling of uninhabited landscape and isolation that Sardinia's interior is known for.
Check out PART 2 of our blog Corsica vs Sardinia: A Tale of Two Mediterranean Isles next month, where we'll chew over the cuisine, hotels, and history of both islands…