Flying with your bike can be a stressful experience, for you and your bike, but it needn't be!
Best Bike Boxes
Whilst not an exhaustive review of every bike box/case on the market, we've picked six of the most popular, respected, or frequently seen bike box/cases on the market and now endeavour to share with you our first-hand experience of hiring, packing, travelling and relying upon them.
We see and handle hundreds and hundreds of our clients' bike boxes and cases every season, and have spoken at length about all of the various design features with every company on our list. Our guides have first hand experience of the products mentioned, and we've even spent our own hard-earned cash on some of the products too; enabling us to make an informed decision on what works for us, and what we feel confident in recommending to you.
Our scoring system takes into account all sorts of features such as weight when empty, internal space, security, warranty, ease of use (handles, locks, catches and straps etc), price and the quality of service the manufacturer offers.
We'll also include details of rental opportunities and prices, where applicable.
So, without further a-do, let's lift the lid!
---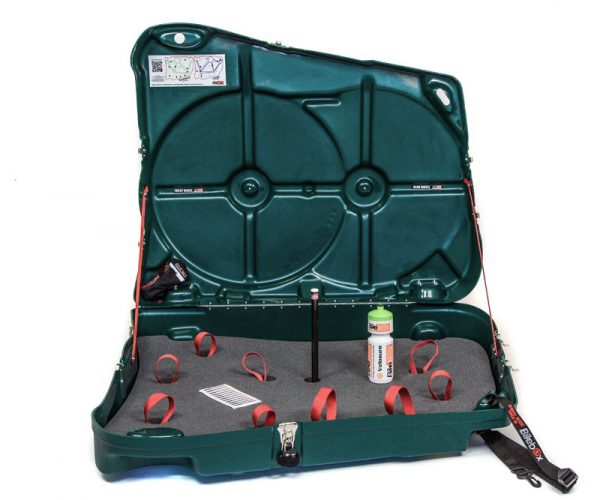 For the past 12 years, Alan has been tailoring his product into what is recognised today as the industry standard in bike box design. With endorsement from Olympic greats such as the Brownlee brothers and Laura Kenny amongst others, the BikeBoxAlan is a box that can be trusted to securely transport even the most precious of bikes. It's patented plastic moulded shape and internal wheel fixing system are immediately recognisable and have set a standard that many now follow. We are rigorous testers however, and have picked up on just a couple of very minor flaws. For instance, the Quick-Release skewers that anchor the bike's wheels to the case are somewhat vulnerable to damage from the outside (we suggest using a spare set specifically for travelling), and there is a lack of exterior handles, causing issues for airline baggage handlers and guides alike as we lift and manoeuvre your case through airports and onto our support vehicles.  The unusual shape of this box can also sometimes make securing your tools and spares inside a little tricky.
These though are just minor flaws in what is otherwise an extremely well thought out product, that, along with it's incredible 7-year warranty, should last you well into the future. Once strapped down against the high-density foam liners, your partly-disassembled road or mountain bike bike should stay locked in place no matter what the airline baggage handlers throw at it, or it at. It's anti-crush bar system (that can be a little fiddly to locate into it's recess) does a great job of adding lateral stiffness.
With prices ranging from £415 for the standard case, right through to £550 for the top-of-the-line 'GPS tracking enabled' case, with stickers and accessory add-ons galore, we feel as though BikeBoxAlan have got their pricing just about right.
We see lots of these boxes on our Marmot trips, and for good reason!
---
Guide's perspective: The lack of external handles make this case a little challenging to lift when fully loaded. This also makes it difficult to strap to our support vehicle's roof racks. The asymmetric shape can help when packing lots of boxes into the van, but it can also work against it. The various colour and sticker options can us help identify individuals boxes, but can also be confusing when boxes are not clearly labelled. Wheel longevity is something we think could be improved on too.
---
Weight: 11.2 Kg.
Cost: £415 – £550
Material: Polypropylene Plastic
Dimensions: 92 x 113 long x 32 cm
Hire options: £65-£85 inc free delivery/collection (per week) Via BikeBoxAlan website.
Warranty: 7 years on all boxes
Security: Holes in case for zip-ties/security cables
Overall Score: 8 Marmots
---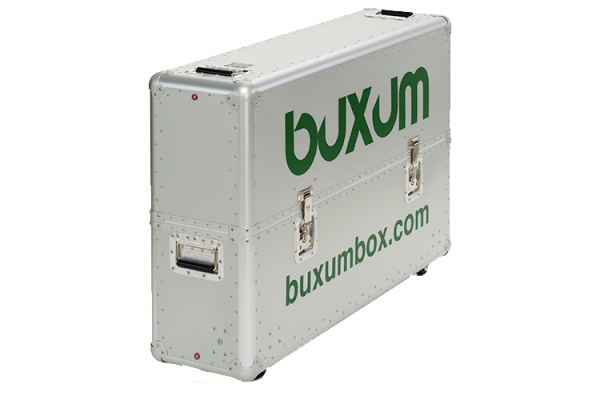 Buxum is a small English owned company, based out of Oakhampton, Devon. They recently relocated their operations and manufacturing facility back to the UK from Hong-Kong.
Buxum build and supply the highest quality aircraft-grade aluminium bike travel cases currently available to the market. With its unique and adjustable internal bike clamping system, adaptable to accommodate thru-axles and with options to carry any bike of any size (derailleur still attached, only the saddle, handlebars and wheels need to be removed!); the Tourmalet is a case designed to last, a lifetime! With two fixed wheels at one end, and two pivoting wheels at the other, all high-quality and with sealed-bearings, Buxum cases move effortlessly through airport terminals and roll surprisingly well over gravelled hotel driveways and other challenging surfaces. Such is their strength, they make excellent luggage trolleys and temporary benches too when waiting to check in!
Rubberised sprung handles on three sides make lifting or pulling the fully loaded case effortless, and the four recessed twist-lock catches make securing the unique two-piece design together an absolute doddle. So easy in fact that there is no worry of an emergency inspection leaving your pride and joy damaged as the airline fails to close the box properly.
The lateral anti-crush rod (held in place when the two pieces of box sit together) ensures that even when sat at the bottom of the pile, the Buxum comes up smiling.
When you've trained for months, spent a fortune on tickets and travel, and meticulously prepared the bike to within an inch of its life; when you simply want to guarantee that your pride and joy will arrive off the plane in the same pristine condition it went on, and you're willing to pay for that guarantee, there is no other option than the Buxum – a sentiment shared by three time TDF winner Chris Froome, who now travels with his very own Buxum Box. In his words, "Given up on soft bike bags after breaking one too many rear stays".
Coming in at just under £700, your outlay is a little more for this style of box plus you need to have a larger space to store it at home when you are not using it!  However, for the frequent flyer, the cost will be absorbed soon enough. And after all, you've got a box that you can trust, with the added bonus of knowing it should long outlast its owner!
---
Guide's perspective: We love how simple and easy to manoeuvre this box is. The handles are extremely strong, it can slide along into position on its side and whilst it appears quite large in relative terms, its simple shape makes packing it alongside other boxes a doddle. The wheels are very smooth and it'll glide through airports like a dream, even coping with rough rocky gravel car parks. This is the case to end all cases.
---
Weight: 12.5kg
Cost: £680
Material: Aluminium
Dimensions: 78 x 113 x 31 cm
Hire options: £56 rental, plus £70 delivery/collection (per week) via eBay store.
Warranty: "Three years against structural failure caused by defective materials or workmanship in the course of normal and reasonable use"
Security: Locking recessed twist latches, very secure
Overall Score: 9 Marmots
---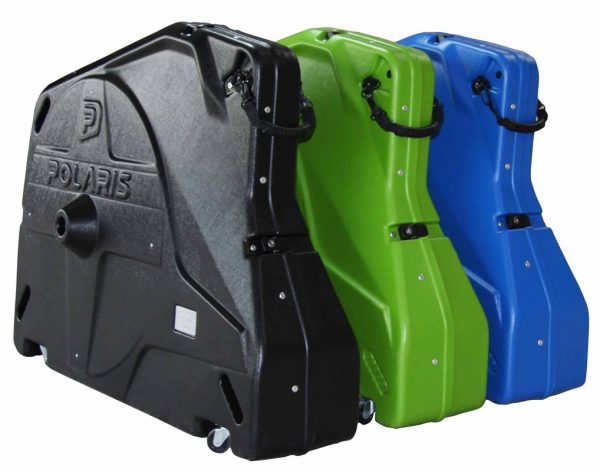 The Polaris Pod Pro is a case we are seeing more and more of as time goes by. Looking like a slightly smaller, sleeker more rounded sister of the BikeBoxAlan, the Pod Pro shares many of the same features.
Internally, the bike fixing system is much the same. You don't mount the bike to any sort of internal frame, you just velcro strap it down. There is even no anti-crush bar to worry about locating (or leaving at home on the garage floor!), you simply rely on the rigid nature of the case to protect the bike inside. Being slightly smaller than the Alan there are sometimes issues when fitting larger frames or MTBs, but most mid-sized XC MTBs should fit with some fork disassembly required. For road bikes however, you'll still have to remove the usual saddle, pedals, bars and seat post.
Here at Marmot we particularly like the extra handle on the Pod Pro box. The castor wheels can be somewhat vulnerable to damage, but Polaris offer a decent warranty and have a growing network of Pod-It hubs across the UK should you need to source parts.
---
Guide's perspective: The flexible rubberised handle on this box makes it much easier for us to manoeuvre the box when lifting it up onto the roof or re-arranging it in the support vehicles. Being slightly narrower than most of the competition also works well for us in terms of stacking/ storing multiple boxes together.
---
Weight: 12.6kg
Cost: £430-£550
Material: Polypropylene Plastic
Dimensions: 114 x 27 x 87 cm
Hire options: Polaris' 'Pod-It' offers an extensive UK hire network. £35 rental, plus £25 delivery/collection (per week)
Warranty: 2 years
Security: Holes in case for zip-ties/security cables
Score: 7 Marmots
---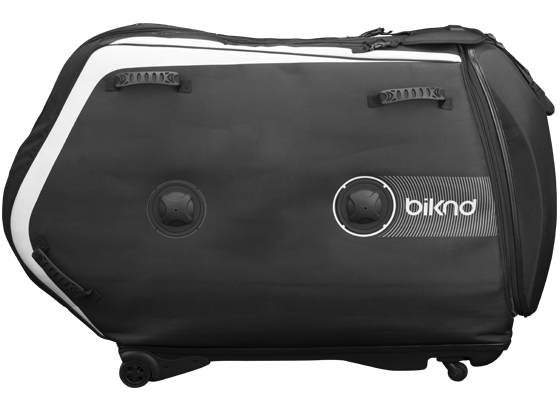 Helium by name and helium by nature, this is one seriously lightweight case! It's not a hard case, lets get that out of the way first and foremost. What it is however, is a very well designed 'soft' case with semi-structured ends and a formed base, and a highly effective inflatable sandwich-style arrangement that envelops your part-disassembled road, cross, or full size DH MTB; all achieved with a simple hand pump that you then drop into one of the many external storage compartments, ready to travel.
We've been particularly impressed by the storage that this case offers. Being slightly lighter than the competition when empty, the Biknd Helium offers the traveller a bit of extra weight allowance to play with, giving him or her the choice of storing helmets, shoes and tools safely without the fear of them rattling about inside and damaging their beloved bike.
Being thru-axle compatible and accommodating any bike type, this case is an extremely versatile option for those who travel with different events in mind. However, with a lack of dedicated anti-crush protection, aside from the inflatable side pieces, how well this case would do when sat at the bottom of the pile of hard cases, flight after flight, remains to be seen.
---
Guide's perspective: The extra handles on this semi-soft case make it extremely easy to move about, however the lack of dedicated anti-crush system leave us doubting how well a carbon bike and wheels would do if stacked at the bottom of a heavy pile. The Thru-axle compatibility is great for those of us who travel with a CX or MTB though, and the dedicated internal storage stops things rattling about inside.
---
Weight: 9kg
Cost: £450-£500
Material: Ends and base 'high molecular weight polyethylene (HMWPE)'
Dimensions: 130 x 31 x 85 cm
Hire options: none at time of writing (March 2017)
Warranty: 4 years
Security: Travel padlocks on zips (no features as such)
Score: 7 Marmots
---
Cardboard Box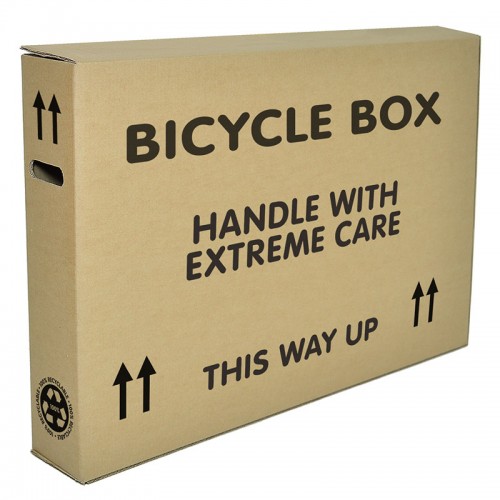 Whilst an ideal solution for point-to-point journeys where you can pick up another box at the other end, or if you're simply mailing your bike to the end destination, the cardboard box option offers very few benefits to the regular traveller or those of us taking part in a traditionally structured multi-day cycling holiday or event, where travelling throughout the week is a must. Cardboard simply does not stand the test of time and travel. Its light weight might allow you to cram all of your extra cycling kit in there with the bike, but there is a very real chance that the box could get damaged in transit and your kit might just fall out, never to be seen again. Likewise, the cutout handles invariably tear somewhere along the way, creating yet another possible exit route for that precious torq key that you need to assemble your bike.
When it comes to manoeuvrability, the cardboard box really suffers. Try travelling on the London underground with a fully laden box, suitcase and shoulder bag and you'll quickly learn exactly how little patience the commuter crowd have for sweating cyclists, seemingly using the commuter lines to move their worldly possessions. You have never felt glaring stares like it! We've yet to mention the lack of wheels, straps, anti-crush protection, dedicated storage space or longevity, too…
---
Guide's perspective: It's rare for a cardboard box to survive two flights and a week of travel in between. If it gets wet whilst it's waiting to be loaded into the baggage claim, theres a good chance the contents of the box will arrive piece by piece on the conveyor belt – it has been known to happen! They are also difficult to manoeuvre with the lack of wheels and dedicated external handles – and the cutout handles always tear. One to avoid.
---
Weight: 2kg
Cost: Free from most bike shops
Material: Cardboard
Dimensions: 130 x 30 x 80 cm
Hire options: N/A
Warranty: N/A
Security: N/A
Score: 2 Marmots
---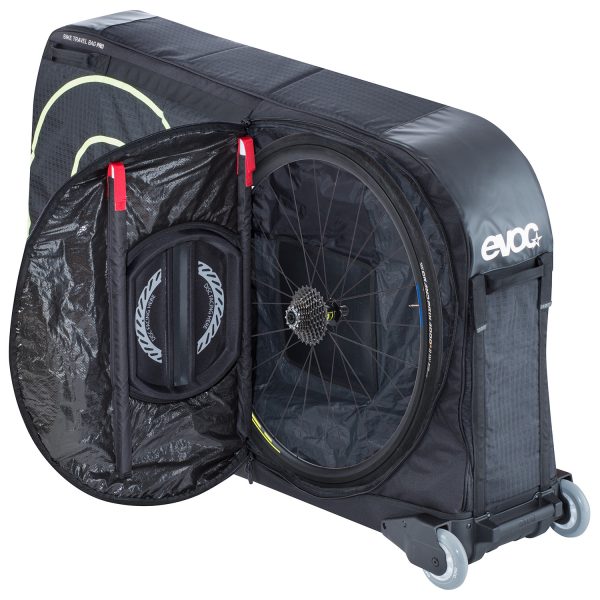 Whilst this option might seemingly be aimed at those who travel perhaps once or twice per year, its price alone brings it in line with the infinitely sturdier and trust-inspiring alternatives from BikeBoxAlan, Biknd and Polaris. This is ultimately a sturdy fabric bag with a moulded plastic base and removable aluminium and plastic internal support rails that can be taken out and packed down when not in use. This is a great feature for those with limited storage space at home, and works particularly well for the Marmot guides on the road, allowing them to pack the case down for easy storage mid-week. The monocoque wheel chassis makes the bag relatively stable when being moved, but is slightly wider than the main body of the case which can bring about difficulties when packing the case in and out of luggage holds, up and onto roof-racks, and into car boots; especially where there is more than one case involved.
That being said, the case is relatively easy to travel with, with lots of external handles and an additional (if not vulnerable) clip-on wheel that allows you to drag the case along, without necessarily having to lift and pull it by its floor-level aluminium handle.
Laterally, there is no anti-crush protection, although this is one area where 'soft' cases always suffer. You will still need to remove your handlebars, wheels, rear derailleur and seatpost.
With hard cases being similarly priced, storage aside, we can't see why you'd choose the Evoc, when you can get the added security and protection of the BikeBoxAlan for the same price.
---
Guide's perspective: The lack of anti-crush protection combined with the wheels at just one end hold this soft case back. The handles make it easily manoeuvrable, but for your 'best' bike, is it worth the risk?
---
Weight: 8kg
Cost: £400-£450
Material: Plastic PE plates, glass fiber rods, foam padding, woven PE material outer
Dimensions: 139 x 36 x 22 cm
Hire options: N/A
Warranty: 2 years
Security: Lockable zips
Score: 6 Marmots