Thinking of going on one of our European road cycling holidays but can't face the stress and hassle of lugging your bike to and from the airport, and getting it on the plane?
Well, increasingly your options are wider than taking the bike yourself, or hiring a bike on trip.   The world of courier services for bikes is a rapidly expanding one.   Below we outline the best options we have found…
BagSolo
BagSolo offer a fully tracked collection and delivery service to and from anywhere in the world using renowned couriers, boasting a 99.7% on-schedule delivery record which is pretty impressive. Simply box your bike up with either your own case or a cardboard bike box, affix the free sticky address labels, hand it over to the courier at your door (or any location of your choice) and then collect it from the hotel reception desk when you arrive at your destination. It's as simple as that! 
Having cut their teeth and established themselves as one of the world's leading ski and golf equipment handlers, BagSolo recently rolled into the cycling travel arena and appear to have a real understanding of the expectations cyclists have when handing over their pride and joy.
Their customer service is attentive and they helpfully provided us with exact costs relating to our Marmot Tours destinations: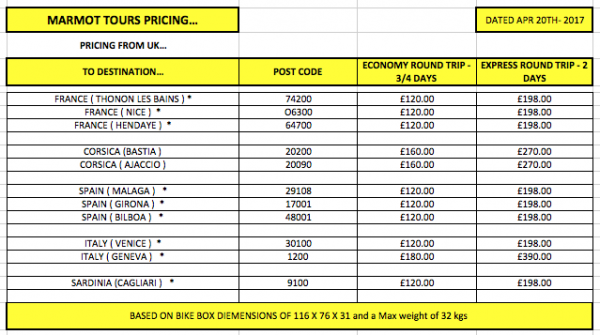 We were  impressed with their service: they have many years experience in the industry with golf clubs and ski equipment before moving into bike transport.   Add to this the fact that they offer both economy and express options, both of which are competitively priced.  For groups of more than 8 they will review special 'bulk' pricing on a case by case basis.
They were happy to offer Marmot Tours clients an extra 10% off their already competitive rates.  Simply click on this link and use the code B-MT10 for your discount.
Parcel Hero
Next in line are Parcel Hero. Parcel Hero essentially act as the middle man between you and the courier service, passing on their favourable shipping rates to you, the customer. They offer a number of options from various couriers but when we asked, they recommended using UPS for their extra care and attention shown when dealing with bikes.
You can either drop and collect your boxed bike from any registered collection/delivery point, such as post offices or trade counters, or simply opt for the classic courier-collection and delivery from your home or any location of your choice.
Luggage Mule
Whilst more of a generic suitcase delivery service, Luggage Mule also cater for travelling cyclists wanting to reduce the stress of travelling with a bike.  Their website is clear to understand…Once booked on, just download and print the luggage labels provided, and sign over your items to the courier on your specified date.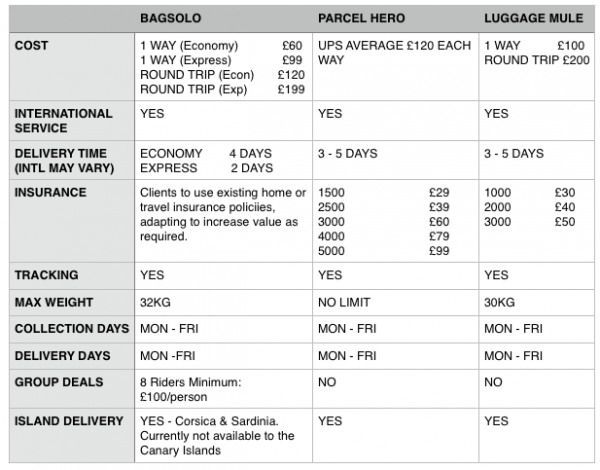 Travel & Bike Insurance
You'll probably now be thinking about insurance and protection, and what the various shipping providers offer. Whilst some offer in-house insurance, our recommendation would be to source your insurance separately for the best rates (via your existing house or travel insurance).
Many travel insurance policies include a decent level of cover as standard, and will add extra cover for very little cost, outperforming the incremental additions the shipping providers offer.
We always recommend being thorough and honest when insuring items to be posted – the last thing you want to do is find yourself in lengthy back-and-forth with an insurer, should the worst-case scenario occur and you need to file a claim.
Cycling Group Travel
Lastly, we move onto group travel, and sending multiple bikes at once. This is really where the shipping and overland options come into their own. There are dedicated companies out there that will meet you at point-A, will load your fully assembled bike, along with your luggage, onto a secure bike rack in their custom fitted-out vehicles, and will drive your bicycle straight to your start location at point-B. It's as easy as that, leaving you to travel to your destination without the stress of a huge bike box to look after.
Originally established to cater for those travelling globally to triathlon events, that same business model is now being used for independent groups and cycling clubs travelling for leisure. Each company has different requirements in terms of minimum numbers of travellers, size and weight allowances, so our advice would be to contact them directly with your specific needs, but you could stand to save a large sum of money if you factor in the savings made on booking bikes onto flights and taxi's at either end to cater for the boxes.
We've had good experiences working with ShipMyTriBike, who also offer personalised custom travel options for cycling clubs, alongside their hugely successful event transfer services.