Avoiding Saddle Sores from Cycling
Avoiding Saddle Sores is pretty important.  Your Marmot Tours road cycling holiday costs money,  uses precious annual leave and you've been looking forward to it for months.
We don't want Saddle Sores to ruin your whole holiday experience so here's our tuppence worth about how to deal with them.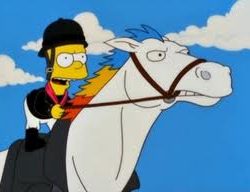 I apologise for the lack of 'images' in this blog.  If you are brave enough to put in "image saddle sore" into your browser, the only picture that comes up is Bart in the Saddle: Season 11, Episode 13 of the Simpsons!
Probably a good thing.  Not sure I'd have had the guts to publish anything else anyway and I'd certainly have lost my appetite for pizza…
Anyway, where was I?  Oh yes…
Avoid Getting Saddle Sores in the First Place
Gradually increase your time on the bike during training before your holiday and do some consecutive days riding.
Make sure you have the right saddle shape and that its correctly fitted.
Buy good quality cycling shorts – it really does make a difference.
Post ride: change out of your shorts asap.
Always put clean & dry shorts on for each ride.
Use a quality chamois cream to reduce friction (it acts as a lubricant) and reduce the acidity of sweat in the area.
Alter position of the saddle slightly and during the ride, get up out of the saddle from time to time.
Sleep commando to let air get to the right area (if you are in a twin share on your Marmot holiday you may have to forego this one!)
How do I know if I've got Saddle Sores?
It hurts when you sit down.  You'll probably need to do that mirror thing to work out which of the following levels you are at, though pain may well be your guide:
mild chaffing/abrasion (inflamed skin)
acne type lumps (follicular infection)
abscess
The first 2 can be treated with creams and the following regime post ride:
Clean and dry the affected area thoroughly.
Some people swear by ice (put the ice cubes in a sock, not directly onto your skin!!!) to cool inflammation.
Use antiseptic cream such as Sudocrem or Conotrane, or powder such as Gold Bond Extra Strength Medicated Body Powder overnight.  As per the advice earlier – go commando at night if poss.
Next day: clean and dry the area again.
Apply chamois cream to reduce risk of further abrasion (Sudocrem and Conotrane etc are treatment creams so won't reduce friction).
Adjust your saddle position slightly to relieve pressure on the spot in question.
Please note that if your sore has got to Stage 3 above (an abscess), you are likely to require oral antibiotics.
How to apply Chamois Cream
It is not in our guides job description to be applying antiseptic cream to any saddle sores other than their own. It's been done in the past and post traumatic stress therapy was required 😉  If push comes to shove I am sure they will go and buy you a suitable mirror!
If you are applying chamois cream mid-ride, do wash your hands before diving into communal snacks – does one really need to say that..? Possibly…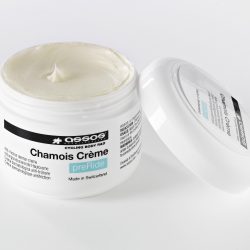 NEW FOR 2016: We're thrilled to be stocking 140ml pots of the renowned Assos Chamois Creme, available to buy during your Marmot Tours holiday for the bargain price of £9.50 (payable on trip by credit/debit card).   Cheaper than most UK retailers it also means you can save space when packing by not having to bring a pot from home. There are of course several different brands of Chamois cream but for us it was an obvious choice: Assos is synonymous with quality and their Chamois Creme is a best-selling product with a very loyal following.