Welcome to Part 2 of What Our Guides Are Riding – an ongoing series in which we go behind the scenes to take a look at the many and varied types of bikes that our guides and staff choose to ride, and why.
In this edition we'll be taking a look at what our long standing and extremely experienced Marmot Tours Guide, Merv Capewell, is riding: namely a beautiful custom spec'd Condor. When not supporting our cyclists on the road, Merv and his wife Jane run a B&B, and gite business (Clos du Magnolia) in the stunning Languedoc, so he has a lovely long season for cycling locally.
"At the heart of a bicycle is the frame. It is the soul of the machine. It is one of the most expensive parts and the part that will give your ride its character, its feel and its purpose" Condor
And so without further a do, it's over to Merv…
Condor Fratello
Basically I wanted a bike which would last me a long time, which would be easy to maintain, but would be comfortable for day rides in the Languedoc – which as you know has 300 odd days of sunshine per year, so mainly in the dry!
For that reason I stayed with rim brakes and not discs.
I decided on a Condor frame because of their reputation, which is excellent, and the fact that they use Columbus Italian steel for the frames.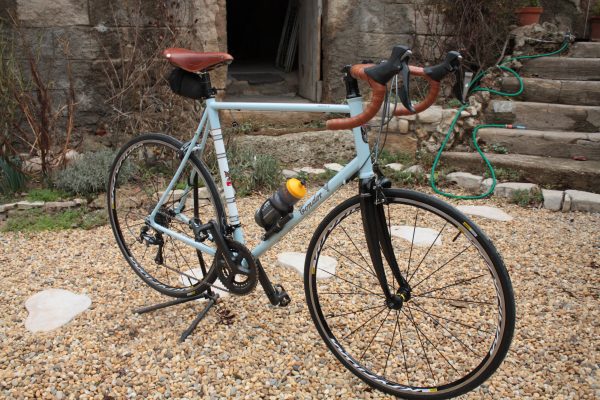 It was as straight forward as going on to their Build-a-Bike website and putting together my bike, choosing a light blue steel Fratello frame, with carbon Condor Pioggia forks. I opted for an Ultegra 8600 manual groupset with Mavic Kysrium WTS wheels and Mavic tyres. A classic Brooks leather saddle with titanium rails and matching leather handlebar tape finish the bike off perfectly! It certainly gets some good comments at cafes!
The brakes are TRP deep-drop and are set up in such a way that it will allow 28mm gravel tyres and optional mudguards if required, for touring.
Gearing is 6800 Ultra with an 11/32 cassette and 50/34 compact cranks – ideal for the rolling terrain the area has to offer.
Once spec'd, I contacted Condor and was introduced to a guy called Julian; a brilliant bike fitter. After a visit to the shop in London for a final fitting, the bike was put together and sent via DHL to my home in France within a couple of days. What a result!
The bike came out at around 2000 GBP with my chosen spec. It rides beautifully and is very comfortable! It may not be the lightest beast but it is ideal for my type of riding – reinforcing that it is all about finding a bike that suits you and your style of riding.
My advice for this way of building is to definitely make use of the free fitting service Condor offer and then go back once the bike is built to check the fit.