2023 Road Cycling Holidays in Europe – whoop whoop!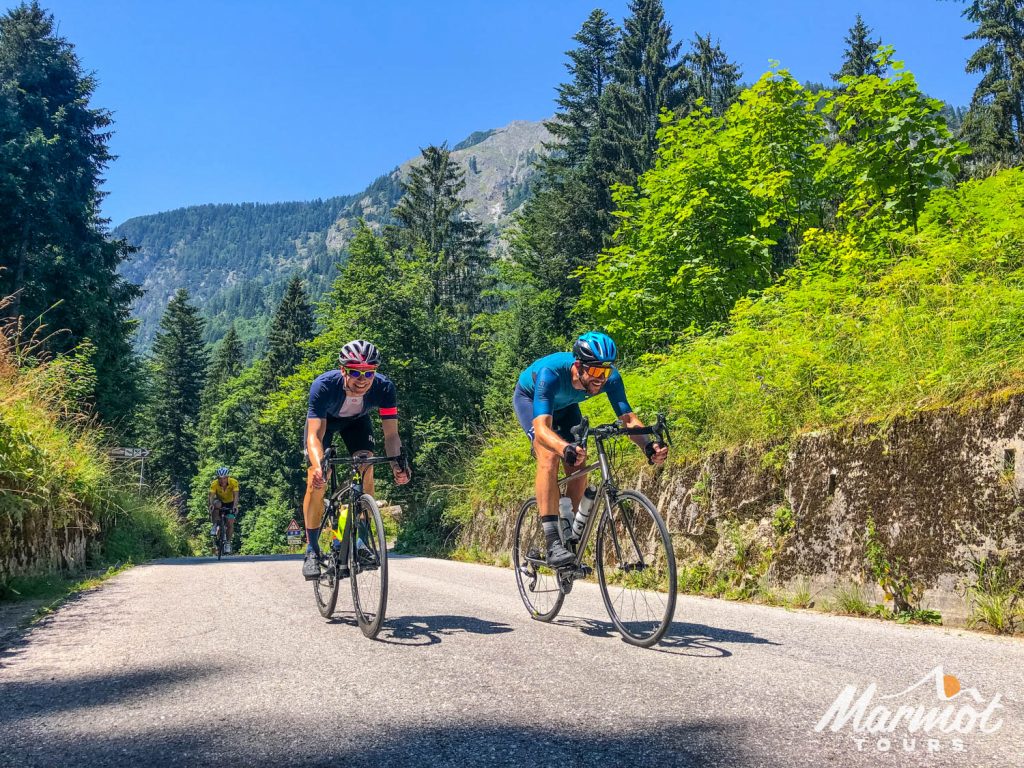 After a busy few months of planning, we're delighted to launch our 2023 ROAD CYCLING TOURS IN EUROPE! So far we've had a fantastic 2022 and we're looking forward with confidence to an absolutely cracking 2023 cycling holiday season.
The majority of our cycling holidays are available for booking NOW and these are:
Raid Pyrenean, Classic Cols of the Pyrenees, Alpine Classic Cols, Raid du Massif Central, Ventoux & the Verdon Gorge, Ventoux Club des Cinglès Challenge, Cévennes & Ardèche, Slovenia & Monte Zoncolan, Picos & L'Angliru, Catalonian Classics, Andalusia, Classic Cols of Corsica, Raid Corsica and Classic Cols of Sardinia.
For some of our itineraries (including trips to the Dolomites, Southern Alps and our Raid Alpines), we'll be confirming the 2023 dates for these trips in the next couple of weeks, so keep an eye on the holidays page of our website.
If there's an itinerary you have in mind then we do advise you to get in touch to make your provisional booking. Likewise, if the trip you're interested in doesn't have dates attached to it yet, please get in touch and we will make a note of your interest in advance. You can drop us an email or give us a call on 01373 830409 with any queries.
And the cherry on the cake? We've a NEW ITINERARY up our sleeve and we'll be launching this in the coming weeks (so keep an eye on your inbox!). We're certain you'll find a trip (or two!) to tempt you in our 2023 cycling tours so good luck deciding!
---
The return of road cycling holidays in Corsica & Sardinia!
We know many of you will be pleased to see Corsica and Sardinia back on our list of destinations for cycling in Europe. One of the many challenges we've had post-pandemic has been juggling our hotel reservations with the timing of airline schedules being published. Some airlines have not published their flight schedules for 2023, so although Corsica and Sardinia are firmly in our holiday calendar, we can't say just yet whether the trips will start on a Saturday or a Sunday!
The itineraries and dates are as follows:
Our flexible pace Classic Cols of Sardinia tour: weeks commencing 14th May and 21st May 2023;
Our cycling challenge Raid Corsica: weeks commencing 3rd June and 17th June 2023,
Our flexible pace trip Classic Cols of Corsica: weeks commencing 10th June and 24th June 2023.
If you're interested in any of these trips, please do get in touch to make a provisional booking and we'll confirm the departure date as soon as the airline schedules are announced.
---
Winter road cycling in Tenerife: why not come with a friend?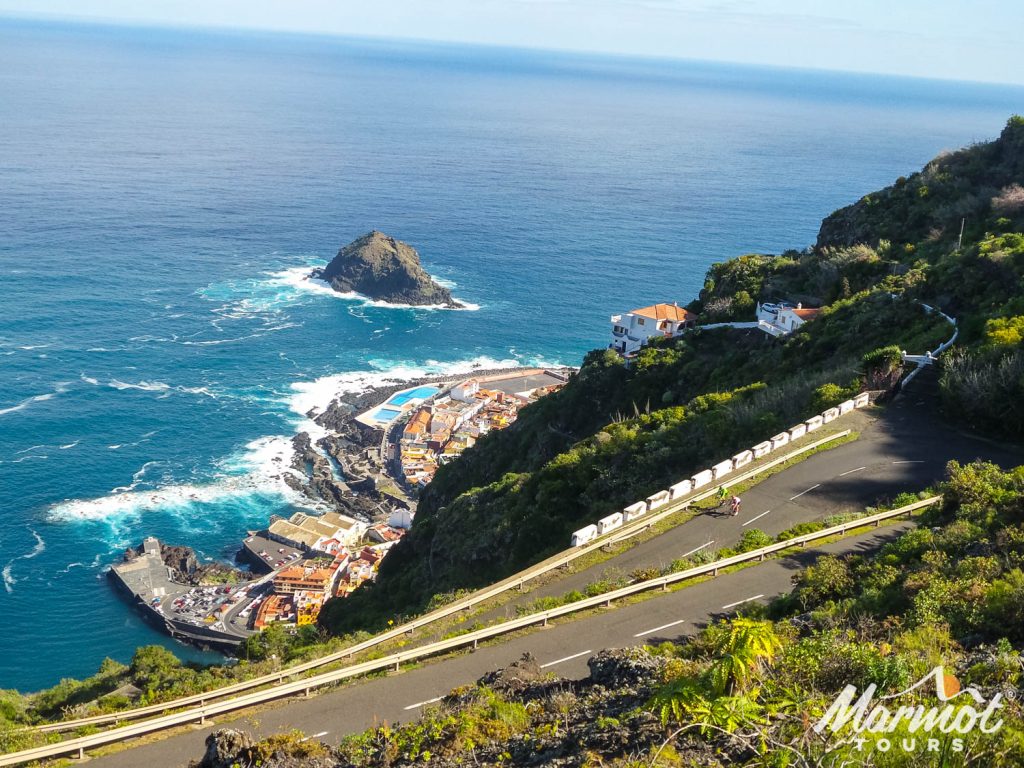 After a few years' wait, we're thrilled to be running winter cycling holidays in Tenerife again, and as ever, they're proving very popular and have generated a lot of interest.
As always, the most cost effective way of coming on holiday with us is to come with a friend and share a room. Single rooms are still available, but do carry a significant supplement, especially in the hotels we're using on this holiday. So persuade a mate or gather a group together, and get in touch!
---
Road Cycling in Slovenia – WOW!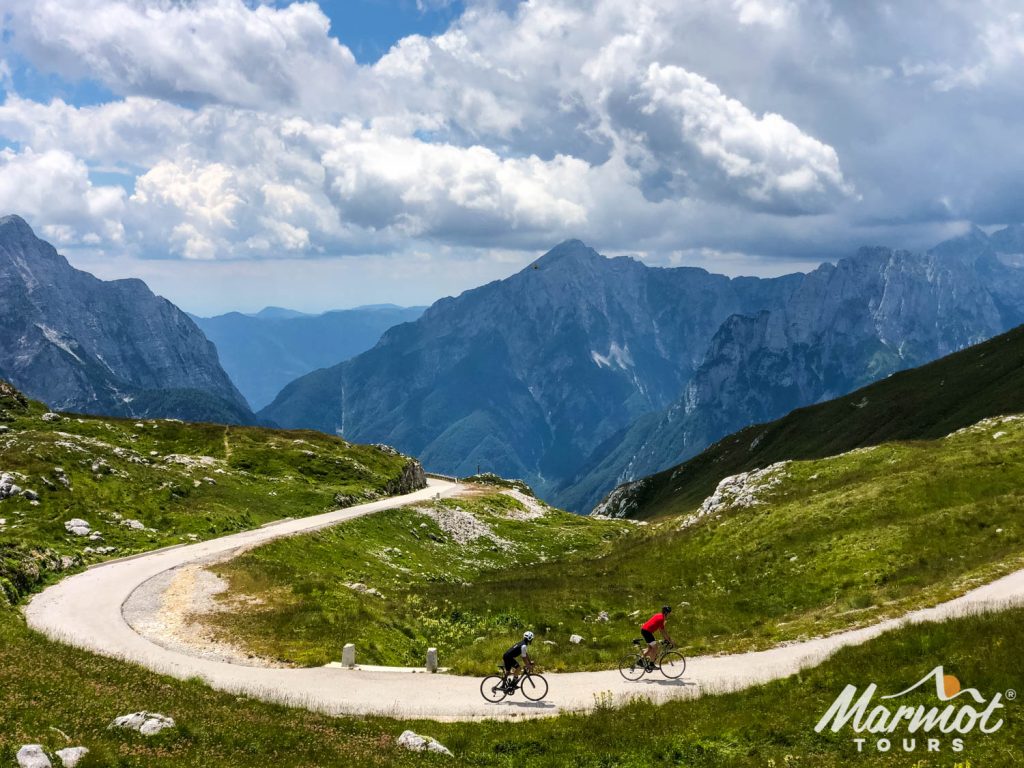 Our cyclists and guides alike have been blown away by the beauty of Slovenia this summer – this is set to be a classic Marmot Tours road cycling holiday!
From atmospheric forests to the 'cheeky' cobbles of the Vršič pass, from the beauty of Lake Bled to the epic Mangart Saddle, and not forgetting the eye-wateringly steep Monte Zoncolan and magnificent Monte Crostis; we could go on waxing lyrical about this fantastic cycling tour. However, to really appreciate its magnificence, you need to cycle there yourself! We advise you to get your name down quickly if you're interested in cycling in Slovenia in 2023.
Check out the Slovenia & Monte Zoncolan cycling holiday page for full details of the itinerary and then get in touch!
---
Cycling the 100 Greatest Cycling Climbs Challenge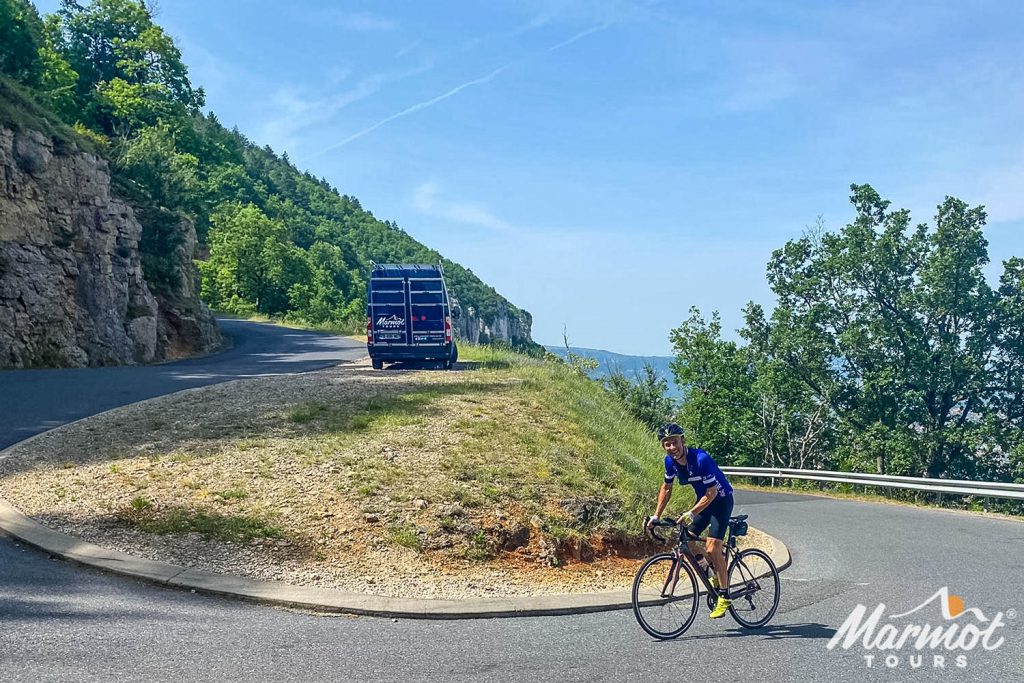 A bit of fundraising news now. Steve Boote is a loyal Marmot client, having been on holiday with us six times since 2013. He is currently raising funds for Cure Parkinsons Trust (CPT), by taking on the 100 Greatest Cycling Climbs Challenge, taken from the book written by Simon Warren. He started in March this year and was inspired to raise funds for the charity in support of his father-in-law, who suffered from Parkinsons but who has sadly passed away since he started the challenge.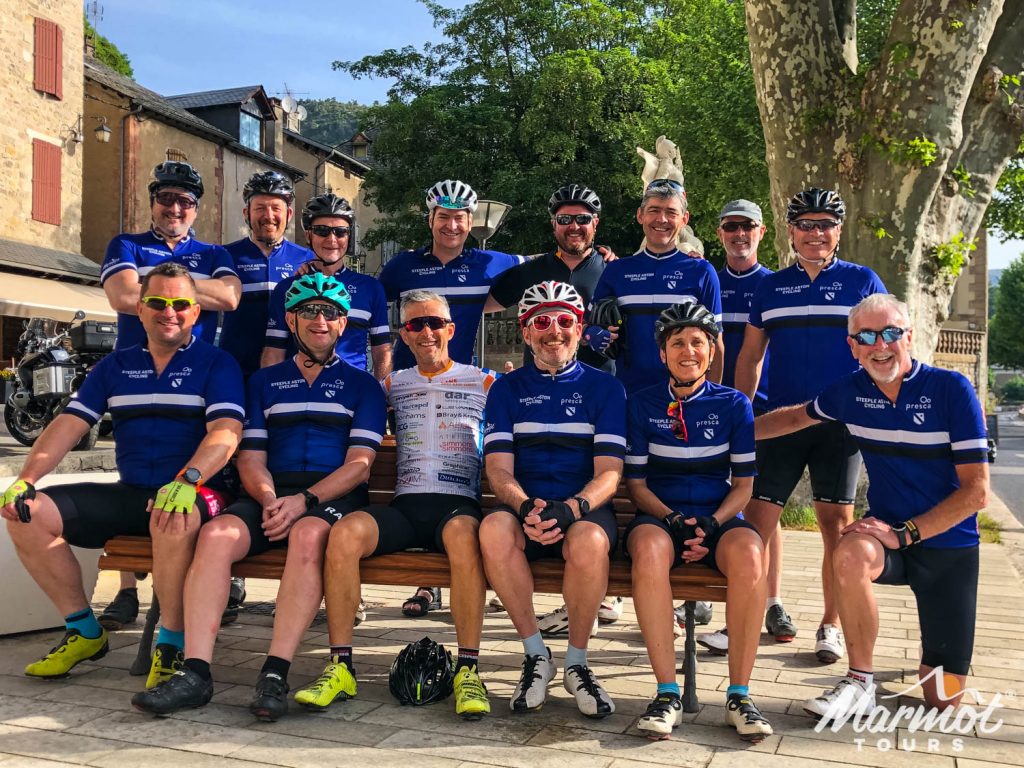 A tough road cycling challenge
In the summers of 2020 and 2021, Steve read about the CPT's Raid Locals in our newsletters and took part in both fund-raising cycling events over the lockdowns. These were quickly put together by the charity to raise much needed funds, due to their Marmot Tours Raid Alpine being cancelled (twice!) when travel wasn't permitted. Steve then thought he really wanted to challenge himself further. In his own words, "I cycle for fun, after all!", so he was looking for something that would really push him out of his comfort zone. Steve said, "The challenge of getting around the UK to do these climbs in the timeframe I've set myself is a challenge in itself – I could do with a Marmot van for support!"
European cycling holidays with full support
We wanted to show our support for Steve by raising awareness of his fundraising efforts here. He'll be celebrating 60 next year and is already booked to come on a couple of Marmot cycling holidays. We'll be there to make whatever climbs he does on those trips much more bearable, with tasty van snacks, exemplary support from our guides and plenty of good craic every evening after a long day in the saddle!
Steve aims to complete the challenge by October. If you'd like to support him then do please follow this link to his Just Giving page.
---
That's all for now, folks. Thanks for reading and as ever, if you've any queries about our fantastic road cycling holidays in the best spots in Europe, just get in touch by email or phone. Happy cycling!
---