Spectacular offer! Last minute availability of our fully guided cycling holidays!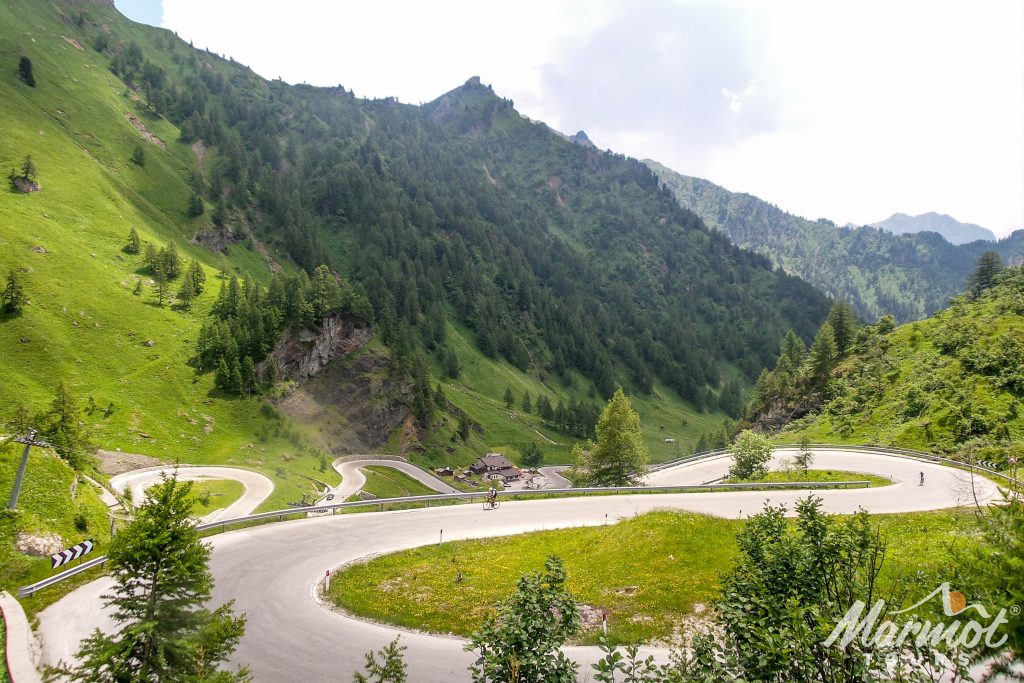 Fancy escaping for a few days of cycling in the Italian Dolomites? We've a rare special offer for our fantastic Best of the Dolomites Mini Break, running from 8th– 13thJuly. We've got a few places left on this amazing trip so if you book a place now, we'll give you 10% off the usual price of £900, taking it down to £810.
What's more, if you've already been on one of our trips and you bring a mate on this holiday who hasn't been with us before, we'll also give you a £100 voucher, just to say thank you! And just because we're in a really good mood and the sun has started shining, we'll even give you £200 in reward vouchers if you bring 2 'new' mates!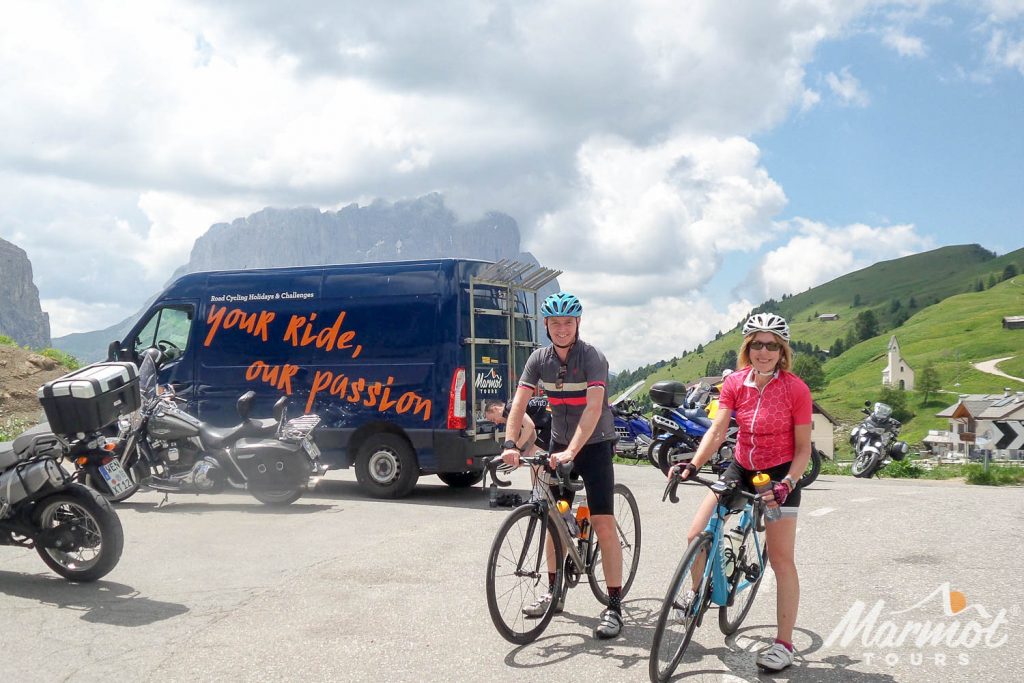 Iconic Road Cycling in Italian Mountains
This is one of our centre-based holidays and with just 4 days of cycling, it's perfect if you want to escape with a non-cycling partner for a few days; you'll be staying at the picturesque 4* Sport Hotel Europa on the lakeside at Alleghe so you can relax as hard as you like. It's perfectly situated so you can tackle simple, classic or more challenging climbs over the 4 days of cycling and as with all our Classic Cols style holidays, you really can go at your own pace – this is your holiday after all.
The Dolomites are possibly the most beautiful mountain range in the world and a mecca for cyclists. You'll have the opportunity to summit numerous infamous cols, many of which feature regularly in the Giro d'Italia, as well as some lesser known climbs for you to discover if you choose. It really is a breathtaking place to hang out. Check out our blog: Top 3 Italian Climbs – you'll get the opportunity to tackle the infamous Passo Giau on this trip.
Fully Supported Cycling Holiday
It goes without saying that you can expect the unique 'Marmot Experience' on this trip: 2 super experienced guides and their support vehicles, who are there to support you through every rotation of your pedals. From healthy, energy boosting snack bars to M&Ms; from water to freshly cut watermelon; from the tub of chamois creme that you wish you'd used earlier, to a spare tube – you name it, we've got it in the back of our vans. Add to this the daily briefings, general bonhomie of a group cycling holiday and the Italian hospitality and you've got a cycling holiday you'll never forget.
This is what one of our clients had to say, who came with us on this trip a couple of weeks ago:
"Excellent – fantastic holiday which we both really enjoyed. Our guides were superb, the group was really friendly, the hotel was in a lovely location, the rides had some good climbs and the scenery was amazing. Thank you to everyone in Marmot and the rest of the group for making the holiday so much fun. We look forward to doing some more."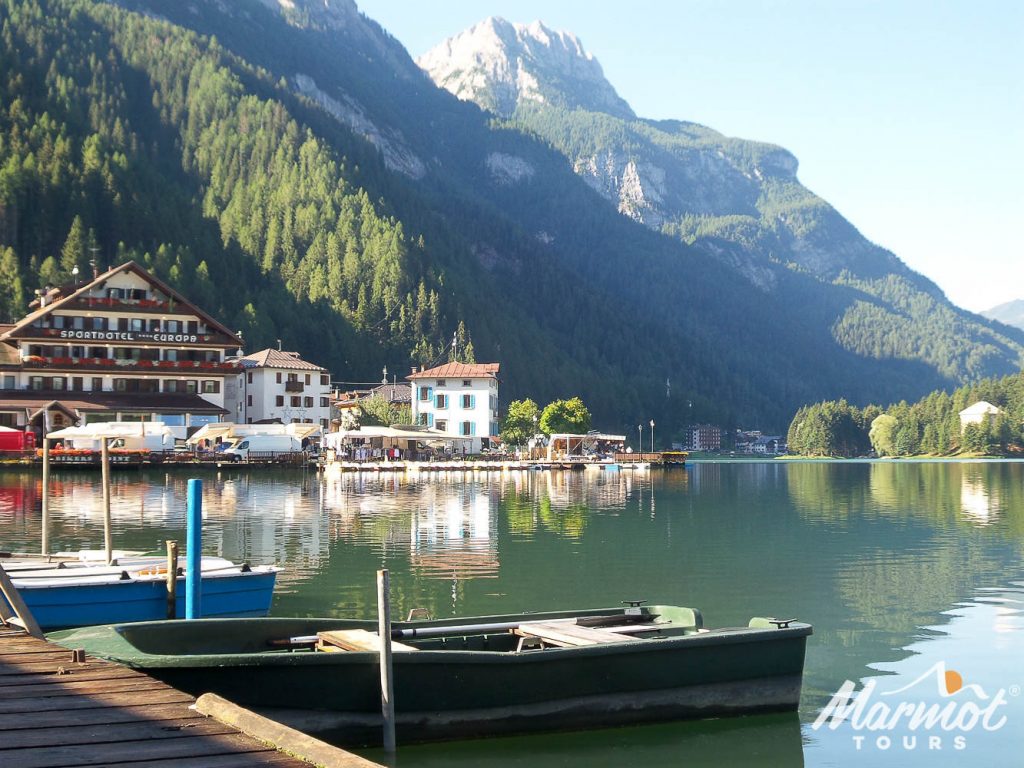 So if you feel like taking off for a few days to this stunning location, drop us an emailnow or give us a call on 01373 830409, and we'll get you booked in, saving you 10% off the usual price. Got a mate who's never been on a Marmot Tours holiday? Bring them too and we'll reward you with a £100 voucher to say thank you! Go on, you know you want to…
THE SMALL PRINT:
(i) 10% discount: only applicable to the holiday departure listed above. All provisional bookings are subject to availability. The 10% discount cannot be redeemed against the deposit, but only against the final balance of the holiday. The maximum discount we can offer on any holiday is 10%.
(ii) Reward voucher: maximum of £200 in vouchers per person. Reward voucher must be redeemed against a holiday to be taken in 2020 and by 31stDecember 2020 at the latest. Vouchers cannot be redeemed after this date. Vouchers can only be redeemed against holidays subject to availability. Vouchers cannot be exchanged for cash. Vouchers cannot be redeemed against the deposit, but only against the final balance of the holiday.
This offer is only applicable to new bookings and not for any bookings made before 21/06/19.
---
Escape next Winter! Go Cycling in the Canary Islands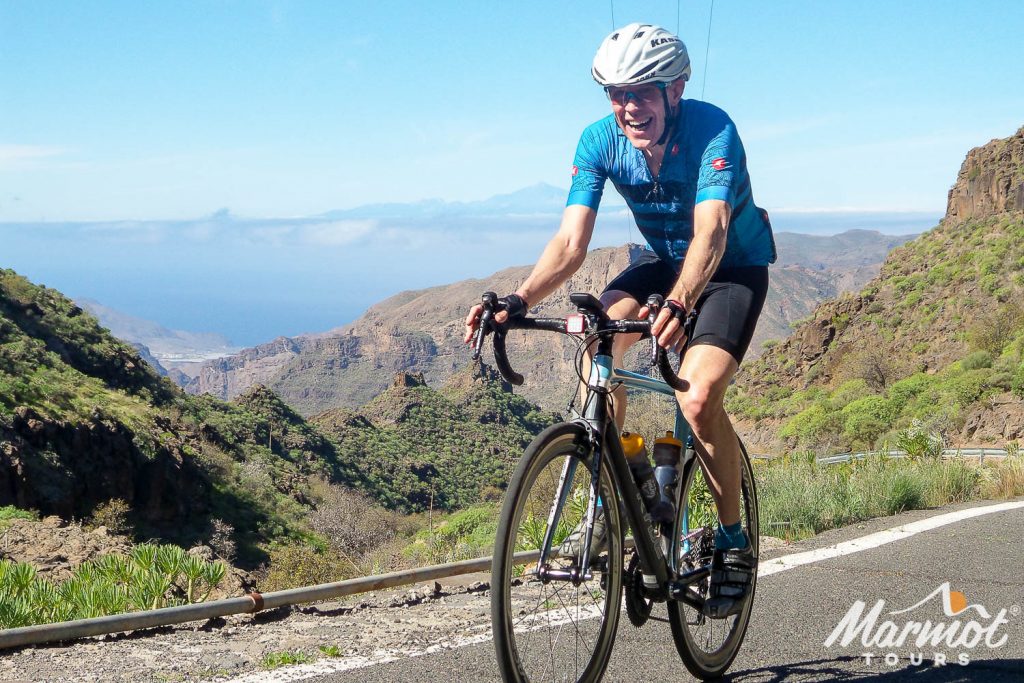 Road Cycling in Gran Canaria
We know the sun may have only just started shining but it's not too early to think about a winter road cycling holiday. Our first 2020 trip departs to Gran Canaria on 23rd January – we also have trips running from 24th Feb – 2nd March and 21st – 28th March.
The island has earned its stripes with amateurs as well as pros, as a fantastic location for road cycling. Not surprising when you consider the great quality roads, lush valleys and rugged canyons it has to offer, as well as the daily average temperatures of between 18 and 20 º. This is one of our Class Cols style holidays, giving you ultimate flexibility to cycle as little or as much as you like on a daily basis, depending on your cycling ability and your holiday aspirations. We stay in only 2 hotels on this holiday, both of which are 4* and have swimming pools – perfect for a non-cycling partner who wants to escape the winter in Blighty!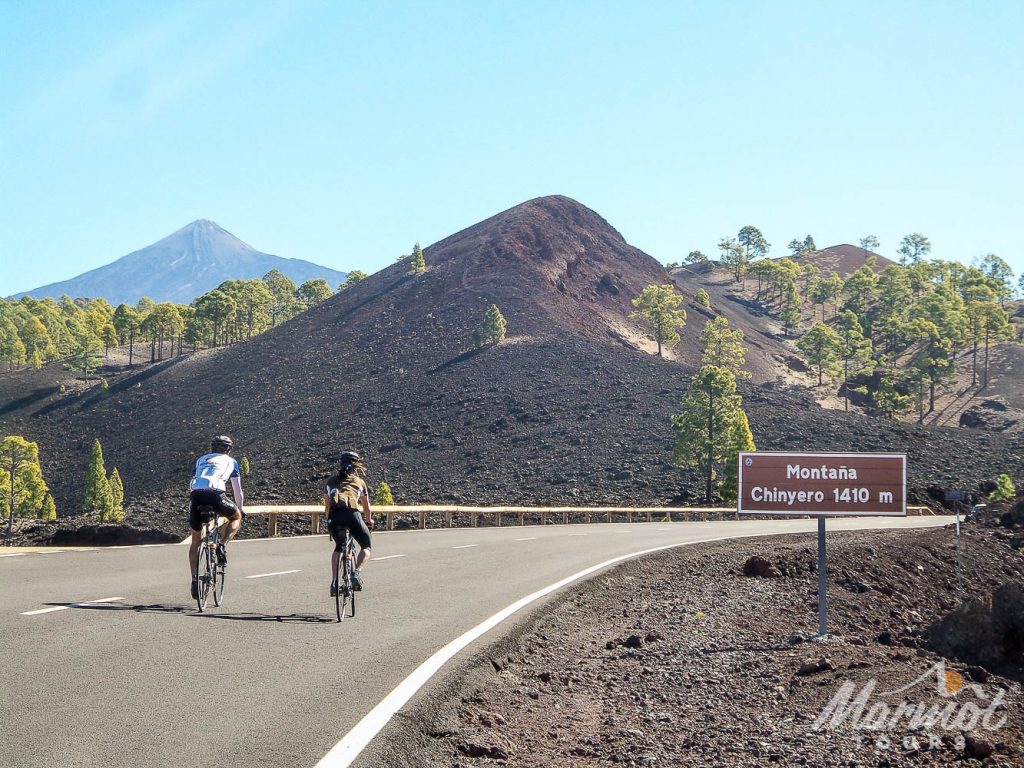 Tenerife Road Cycling
Or maybe you'd like to experience cycling in Tenerife and take on Mount Teide – from 3 directions if you're up for it?! Sometimes referred to as the 'Island of Eternal Spring' due to its all-year-round balmy weather – temperatures range between 18 and 22 º in the winter months. Our first departure to the island leaves on 31st January and we have another 2 trips running from 3rd – 10th March and 13th – 20th March.
To delve into the full itinerary of this holiday, have a read of our Trip Notes. As with all our Classic Cols style holidays, you really can go at your own pace on this trip, choosing the route that's right for you on a daily basis. You'll stay in 3 hotels on this trip (i.e. not moving on every night), two of which have spa facilities so again, perfect for a non-cycling partner who just wants to relax while you're turning the pedals.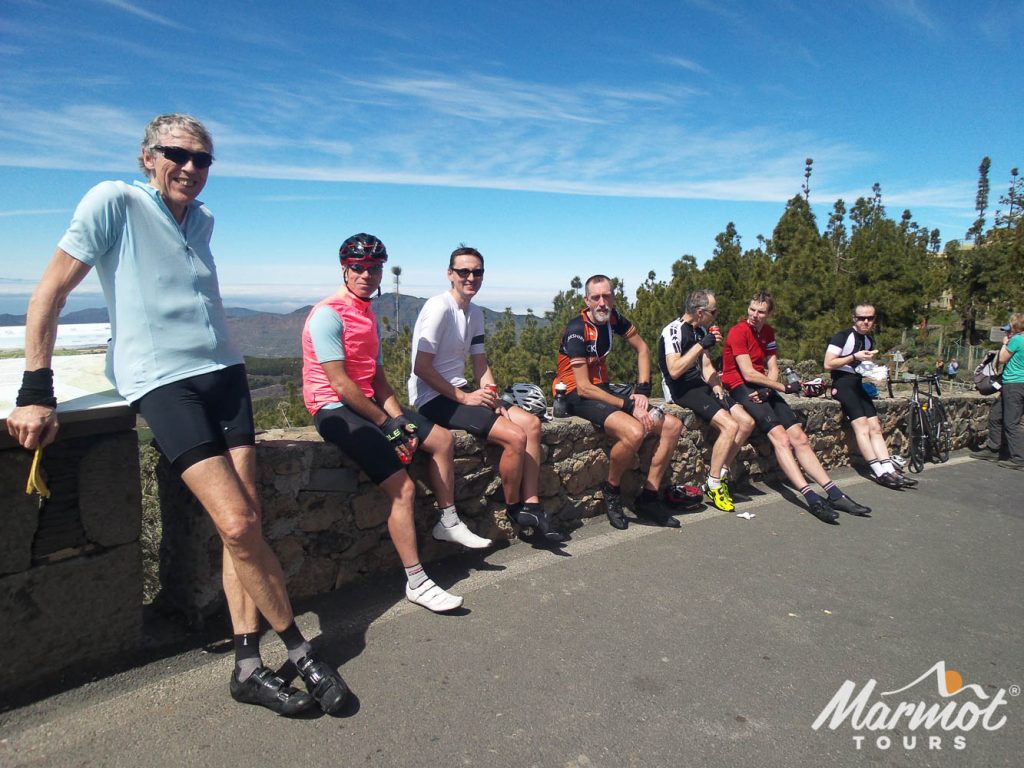 Cheap flights to the Canary Islands
We've taken care to ensure that all of these cycling holidays to the Canary Islands avoid UK half term, so flights should be pretty cheap if you're quick off the mark. There are also heaps of options in terms of UK airports that fly to both islands and we offer a number of transfers throughout the day at set times.
Just ping us an email to check availability or give us a call on 01373 830409 if you'd prefer to talk.
---
Check out your FREE Marmot Tours Velopac!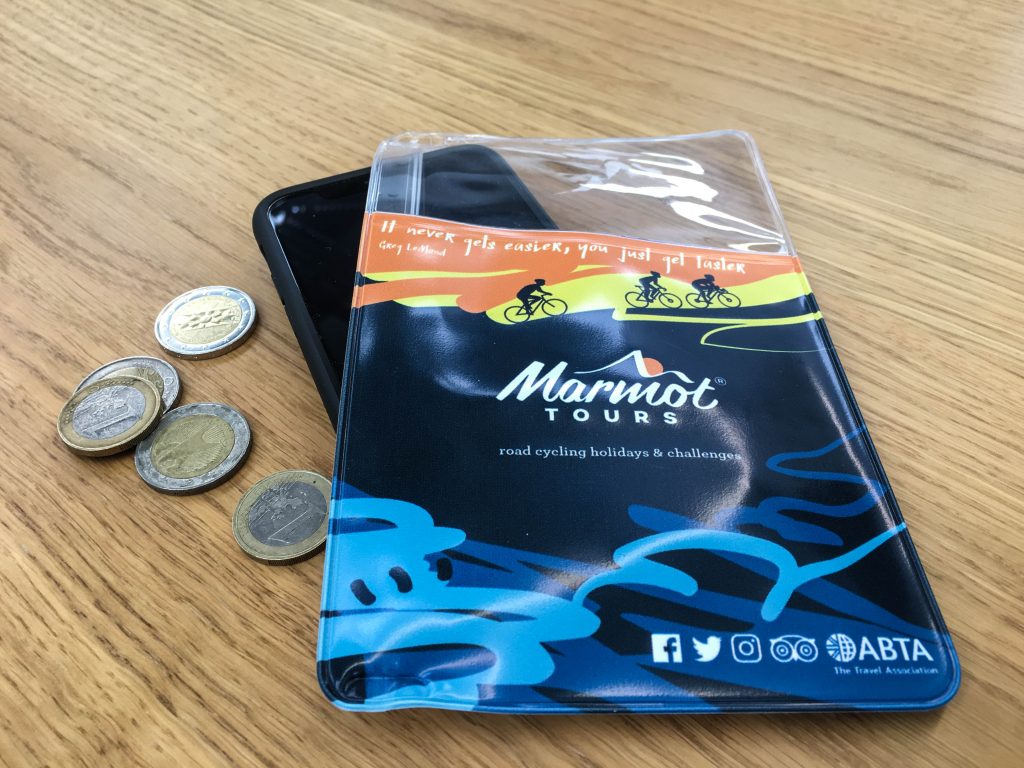 We're super excited to introduce our NEW Marmot Tours Velopac! If you haven't used one before, you'll wonder what you ever did without one 😉
It's large enough to hold most smart phones, as well as a credit card, some notes and coins, and fits snugly into a jersey pocket until it's time for a pitstop at the café. What's more, we've designed it so you can make or take a call while your phone's still inside, thereby removing the sound of the wind while you're calling someone from the top of a blustery col. Even better, you can take great photos while your phone's still inside the Velopac, with no compromise on picture quality.
On the first evening when on holiday with us, you'll have a briefing and it's then that we give you a Velopac and a Marmot Tours water bottle. We're sure they'll come in handy on your holiday (and afterwards). Hope you like it!
*Greg LeMond's famous quote – the title of this month's newsletter – features on our Velopac. Keep it in mind when you're struggling with a cycling challenge!
---
Come and see us at a sportive this summer…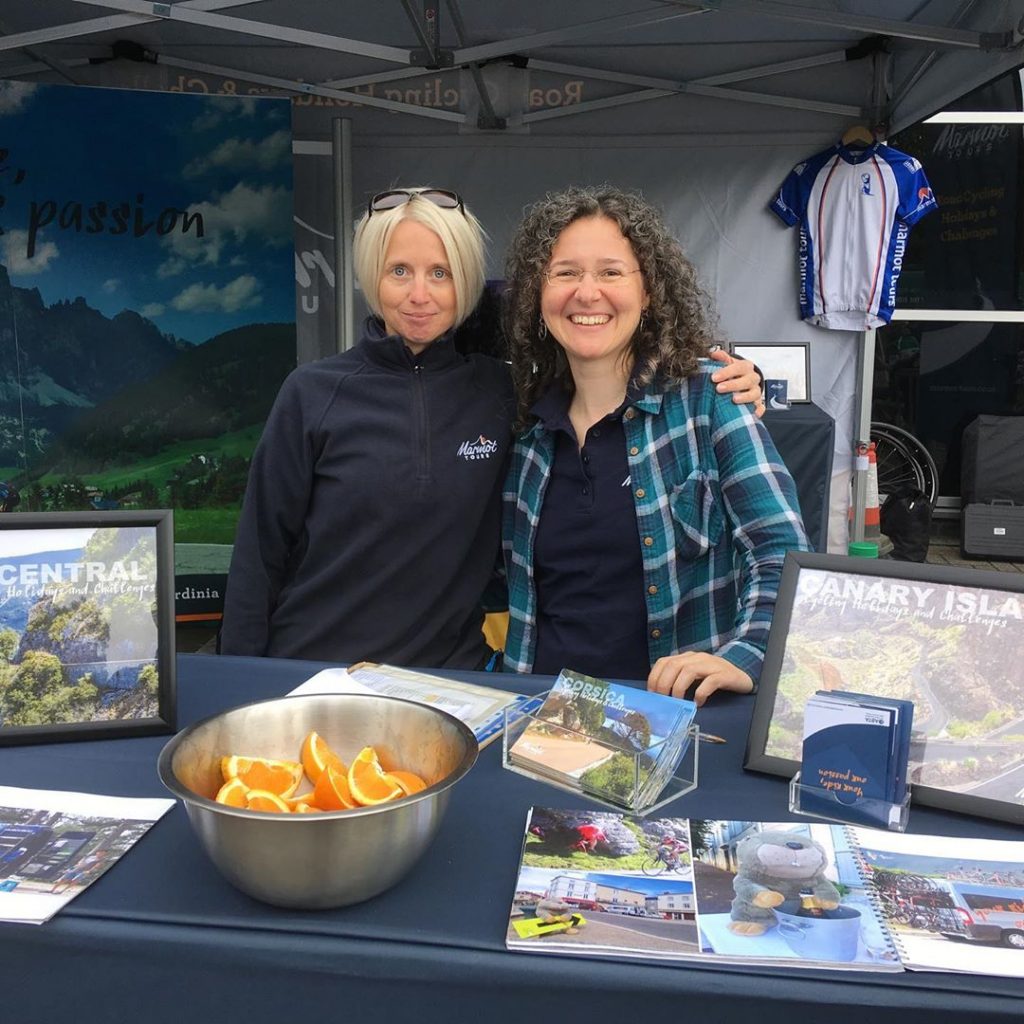 It's that time of year again when we escape the office and take Marmot Tours to a sportive (that's possibly) near you. So far, we've already been to the Evans King of the Downs ride in Crawley on 9th June and we had a fantastic day. We had the opportunity to see a few familiar faces as well as introduce lots of new ones to Marmot Tours, all while offering everyone who came up for a chat with some well-deserved, juicy oranges.
Next up we have L'Etape UK in Amersham on 14th July; the official Tour de France sportive. It's set to be a fantastic day with over 3,500 riders and 5,000 visitors combined. Everyone in the Finishers' Village is encouraged to adopt the crazy spirit of Le Tour and adorn their pitch with the colours of the Tricolour, wear berets, strings of onions and generally impersonate a character from 'Allo 'Allo – it should be interesting!
We'll then round off the summer at Sodbury Sportive on 11th August and the Marlow Red Kite Ride 1st September. We'd love you to come and say "Hi" if you're riding one of these events (and enjoy some of our oranges or watermelon!).
---
Did you see us on TV?! Our recent Raid Pyrenean Cycling Challenge…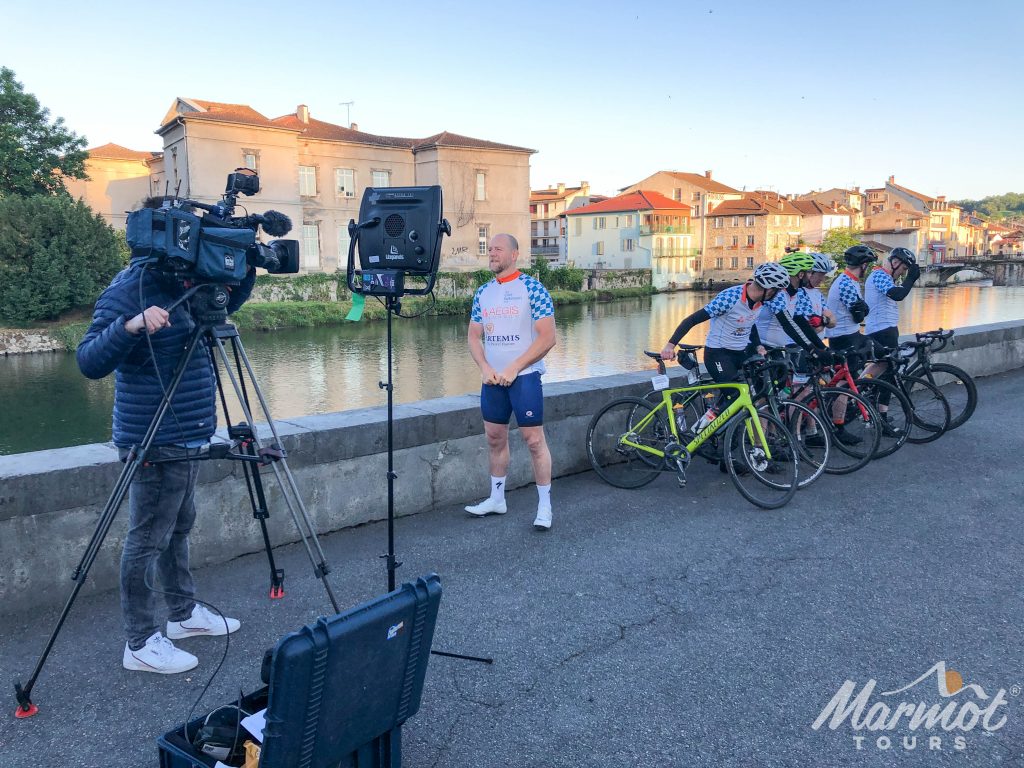 You might have done if you were watching Good Morning Britain on 13th June at 6.15am! Between 9th and 14th June we ran one of our iconic Raid Pyrenean trips and among the 20 cyclists taking on the challenge were 13 cyclists raising funds and awareness for the Cure Parkinsons Trust. Among them were the CEO Will Cook and England rugby legends Mike Tindall MBE and Iain Balshaw MBE. In spite of pretty gruelling weather conditions, including snow on the Tourmalet (Ed: I know! June!), everyone in the group completed the challenge from the Atlantic to the Mediterranean coast – just, with 14 minutes to spare! As ever, our guides Scot and Matt were there for their every need.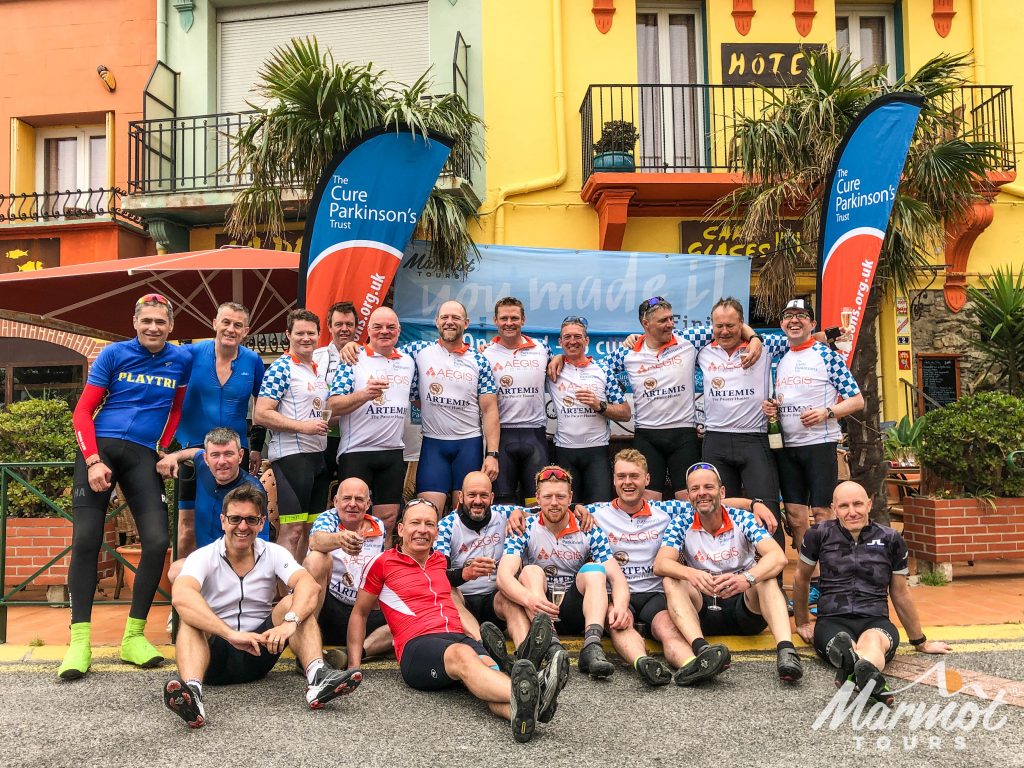 If you've always wanted to do the Raid Pyrenean and this has inspired you to take the plunge, it's not too late – we have a few spaces left on only one of our departures, running from 21st – 27th July – do get in touch if you'd like to snap up a place.
---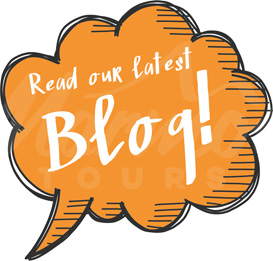 Our latest blog is a great read (even if we do say so ourselves). Make sure you've taken a look as it focuses on our Top Tips to Master the Mountains – a 'must read' prior to any road cycling holiday in the mountains. Check it out – and tell your mates!