Hire Bikes
7 Good Reasons for Hiring…
You will have the correct gearing for the mountains.
None of the hassle of packing up and transporting your own bike.
It might be cheaper (if you have 2 flights to get to/from your holiday) as airline charges vary.
Some airlines do not guarantee to transport your bike if the flight is full.
We maintain the hire bike during the week.
We clean the bike at the end of the trip!
You get to try a titanium frame with SRAM groupset.
The Marmot Fleet
Marmot Tours has invested in a fleet of titanium framed bikes fitted with SRAM Force 22 groupsets. The custom built bikes have been designed for long, hilly days, with comfortable geometry and very low gears. It is a bold move away from carbon frames, but the flexibility of titanium makes it an ideal material for our style of holidays and our clients have been thrilled with their hired 'steeds'.  The frames are hard-wearing so stay in great condition, look like new and are more resistant to damage. Titanium is slightly heavier than Carbon, so we have fitted them out with high-quality, lightweight components.
General Bike Specifications:
Titanium frame with sloping geometry offers comfort on long days in the saddle.
Titanium forks absorb shock much better.
SRAM Force 22 groupset which is lightweight and reliable with smooth gear changing action. The brake hoods are comfortable (particularly for those with small hands) and it does not take long to get used to the 'double click' gear change. SRAM Force 22 is considered by many to be a higher quality groupset than Shimano Ultegra and has taken many features from the top-end SRAM Red.
Gear ratios: with a compact 50-34 chainset and the new 11 speed 11-32 cassette, we get a low gear of 28.7 inches. This is equivalent to a standard triple with a 28 tooth cassette but has the advantage of being significantly lighter.
Mavic Aksium wheelsets are well built and strong wheels for reliable and safe descending.
The bikes have a recommended retail price of about £2800.
Sizes
We have  S, M, L, XL, XL, and XXL frame sizes available. Please check that we have a bike of your size before sending in your booking form by sending your height to us at [email protected]
As we have a limited number of bikes of each size they will be allocated on a first-come, first-served basis.
It is important to us that your hire bike is the correct size and feels comfortable. We will allocate you a frame size based on the average body/leg length and the size chart below.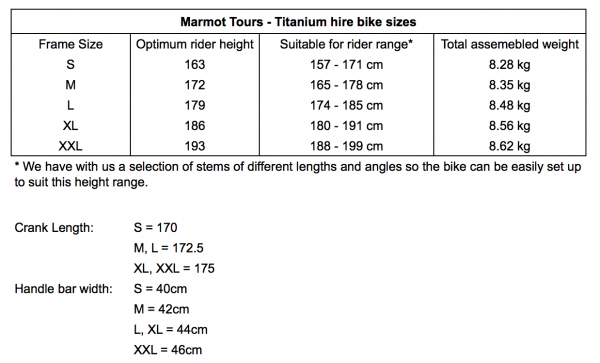 If you have particularly long or short legs/arms then please look at the charts below in relation to the dimensions of your own bike to ensure that you are happy with the suggested frame size. If you would like a different sized frame then please discuss this with us on booking.

Also, if you are taller or shorter than the height range indicated in this chart (under 157cm or over 199cm) then we suggest that it might be easier for you to bring your own bike, to be sure you have something that suits you well.
We stock a range of stems (with different lengths and angles) which can be interchanged to help us set up your bike to a comfortable riding position.
We feel very confident that we can provide a comfortable and successful bike fit for our clients, however, if you are very concerned about exact bike fit and matching measurements to your bike at home, then to allay your anxieties, we would suggest you bring your own bike rather than hire from our fleet. You can then relax on your own steed!
Costs
Prices are based on a basic daily charge of £45/day (which includes a 10% fee for bike insurance and VAT).  Bike hire is invoiced prior to your trip and no discounts apply. For the various trips, costs are as follows:
Ventoux 'Club des Cinglés' Challenge (2.5 days cycling):  £112.50
Alpine Minibreak (3.5 days cycling): £135
Dolomites Minibreak (4 days cycling): £180
Raid Pyrenean (5 days cycling):  £225 
Raid Dolomites (9 days cycling):  £405
All other cycling holidays (6 days cycling): £270
What kit is supplied with a hire bike?
Helmet hire is not included, please bring your own. It is compulsory to wear a helmet on all trips.
The brakes are set up to the UK standard (right hand is the front brake), we are unable to change this.
Standard/flat pedals are provided – if you have shoes with cleats please bring your own pedals.
If you have your own 'tried and tested' saddle then please bring it along (optional).
Two bottle cages (one bottle supplied by Marmot)
Mini-pumps, tyre levers and spare tubes are provided with all hire bikes in a saddlebag.
Road Bikes DO NOT come with a bike computer – please bring your own if you need one (or bring a GPS).
Please bring your own lights – we provide you with basic lights but they are for being seen, rather than seeing!
We ask you to sign a bike form when we provide you with your bike, which details your responsibilities as regards the care of your bike.
All bikes will have undergone a maintenance check prior to being hired to you and will be checked every evening by the leader/bike mechanic on your holiday. Any maintenance required should be carried out by the leader or a bike shop.
Our guides will also sign a form detailing their responsibilities as regards the maintenance of the bike

Here's what some previous clients have said about our road bikes…
For me particularly the bike hire – best £200 I could have spent. Made so much of the holiday hassle-free. K Allen
I also found the bike hire to be excellent. C Brough
Excellent quality hire bikes which were very comfortable. S Luther
I was well pleased with your hire bike too – not being a particularly strong rider I much appreciated the 32 cassettes on the back on those long ascents. The whole feel of the bike was light, yet solid on the descents and Scott did a great job setting it up to fit me perfectly. S Depner. Cycling holiday in Tenerife
Excellent – these are good bikes with ideal gearing. They are comfortable for a long day which is key and they handle well. You can feel confident about the fast descent with these bikes. This is my third time hiring and I will be again in July for the Raid Alpine. I wouldn't bother bringing my own on a Marmot trip. S Lock
Excellent decision. Allowed me to travel light. and the cost of hiring a bike box a paying to put a bike on the plane would have been similar. A very nice bike to ride. Had quick bit of instruction from Scot on SRAM which I had never used before. No issues what so ever. M Parker. Raid  Pyrenean cycling challenge
Excellent – Great condition for a hire bike. David was happy to swap the stem to achieve a ride position more similar to my own bike. Daily checks on the bike were a nice touch. O Negyal. Dolomites cycling holiday
A great Ti frame and it was interesting to ride a bike with a SRAM groupset, which worked very well. D Rogers. Raid  Pyrenean 100 hr cycling challenge