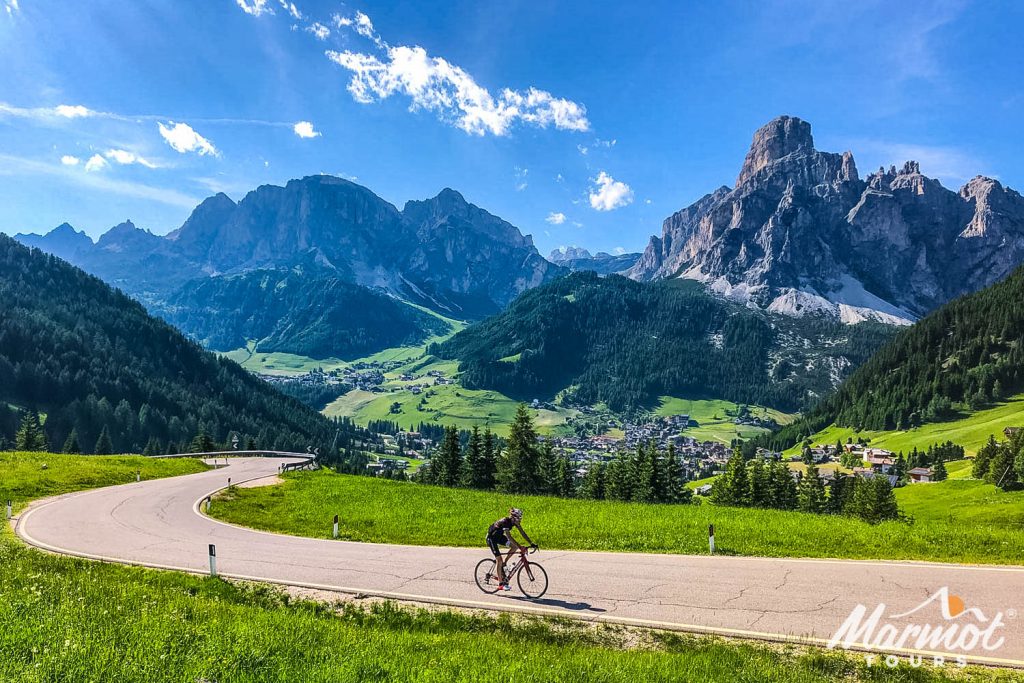 Passion for the environment: it's in the DNA of our cycling holidays
For those of you who subscribe to our newsletter, you might recall reading about our B Corp journey recently. Well, we thought we'd give you some insight into what this is all about and why it's so important to us and our road cycling holidays.
Ever since he can remember, Marmot Tours Owner and Director James Thompson has been passionate about the environment. In his teens, James set up the Conservation Society at school. He campaigned (successfully) for the school to use recycled stationery. He set up a recycling waste collection system around school, and enlisted (not always willing) volunteers from the student body to sort the waste and take it to the recycling centre. He initiated the restoration of an area of wetland on the school grounds, turning it into a nature reserve; digging ponds, hedge laying and planting trees. He then continued to manage this, even applying for grant funding to support the project and managing conservation weeks for students to work on the land in school holidays – his first taste of group management! It's not surprising, then, that he went on to read Envronmental Engineering at university.
When he set up Marmot Tours in 2004, being a responsible tour operator was a key component of the company, and our modus operandi has always had this at its core. Over the years and whenever possible, we've always made ethical and environmental choices when choosing suppliers, for example.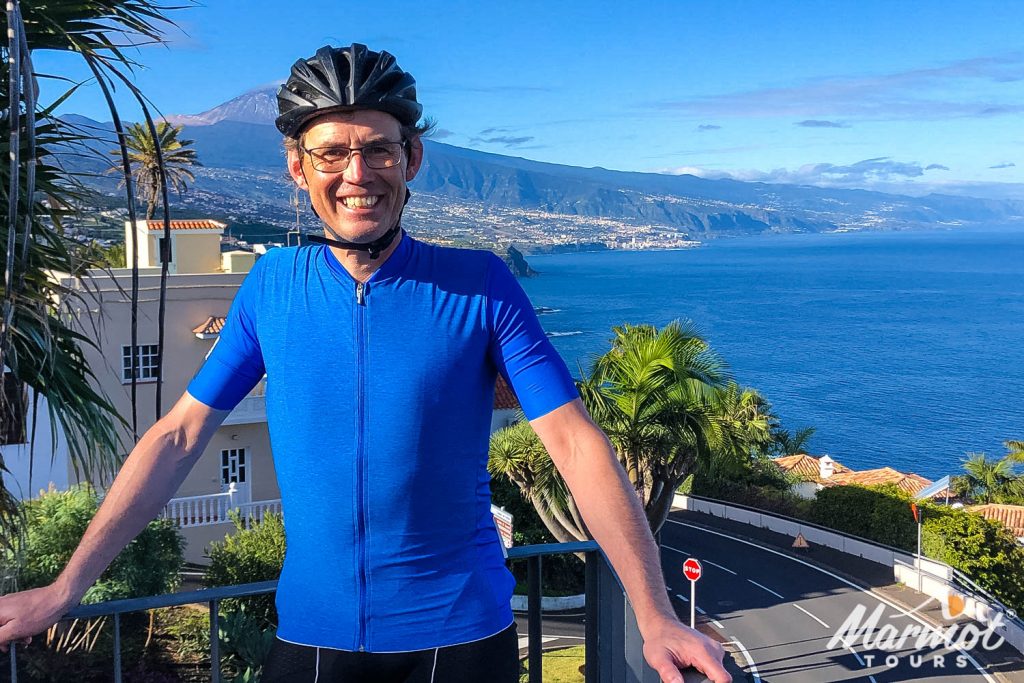 Over the past five years, James, like many of us, started noticing the B Corp logo on more products and company websites, and how this offered consumers a more ethical choice when purchasing goods or services. However, it was really in the lockdown era during the Covid-19 pandemic that James had time to reflect on his passion for the environment and sustainable travel, and his broader vision for Marmot Tours. The B Corp seed was sown! When the company made a profit in 2022, James was determined to put a significant amount of this back into areas he's always felt passionately about: sustainability projects and the environment.
However, he soon realised that the journey to becoming a B Corp was a bit of a minefield and needed some support. At this point he reached out to Ben at Enriched Horizons, to support us on the ride.
Now, several months later, we're well on our way and at a point where we could share with you the news of our latest adventure …
Cycling into the future
Our B Corp journey
"What's a B Corp?" you ask. Certified B Corporations, or B Corps, are companies verified to meet the highest standards of social and environmental performance, transparency, and accountability. They are global trendsetters and role models for what ethical, impactful, and responsibly run companies can look like. "But why not an A Corp? Surely that's better?" The 'B' in B Corp stands for "Benefit".
As a cycling analogy, consider B Corp as the peloton supporting individual, ethical businesses towards the flamme rouge of sustainable impact. Theoretically you can get towards the finish line on your own, but by joining a community of like-minded businesses (the B Corp peloton) the journey is smoother, faster, more impactful, more collaborative, and ultimately more enjoyable; no matter how many mountains you have to climb to get there!
Here at Marmot Tours, we're in the early stages of our B Corp journey and it's likely to take a few months for us to become a certified member. After a big push at the end of last year and early into 2023 to gather data, refresh our policies, and strategise how we wish to increase the positive impact of the business, we have submitted our application to join the B Corp community. There will be a waiting period now before we are formally evaluated by the B Corp analysts, but so far so good! Keep an eye out for further news over the coming months as our journey progresses.
100% carbon-neutral road cycling holidays in 2023 & beyond
A company's "material impact" on the planet is the identification of root causes of potential environmental pressure in its operations. We've always known that international staff travel and the use of support vans creates high mileage across the holiday tour season, and thus has an associated carbon footprint. Over the past few years, we've diligently offset all our company travel and the fuel used in our support vans with the belief that this mitigates a portion of our material impact. Well, excitingly, from 2023 onwards we're measuring ALL of the carbon produced in our operations, from our staff to our offices, travel, hotel bookings, van mileage, and more!
We pledge to then reduce as much of this carbon as possible each year, whilst continuing to provide truly remarkable cycling holidays. Residual carbon will be 100% offset through a new partnership with Ecologi. Going above and beyond this, we'll also be calculating the carbon footprint of ALL our clients' air travel. What this means, in a nutshell, is that we'll be offsetting EVERY kilogram of carbon produced in delivering Marmot Tours' incredible holidays.
New partnership highlights!
1% For The Planet
In March 2023 we became a member of 1% For The Planet. To join, a company must pledge to donate 1% of their annual revenue (not just profits!) to environmental charities and non-profits each year, joining global efforts to reduce human impacts on the planet. This is an annual commitment that is third-party verified so there's no greenwashing here! You can see our shiny new profile (and the organisations we support) here.

Avon Needs Trees
In line with our new partnership with 1% For The Planet, we recently donated a portion of our 2022 revenues to Avon Needs Trees. They are an incredible local charity that creates new, permanent, woodland throughout the Bristol-Avon catchment to fight the climate and ecological emergencies. Getting our hands dirty, the Frome office team also spent a day of tree planting at their Ed Woods site on 3rd March, just a few miles outside our head office in Frome. We're excited to continue supporting them through 2023 and beyond.

Ecologi
We will use our new partnership with Ecologi to offset Marmot Tours' entire carbon footprint each year (known as Scope 1, Scope 2 & Scope 3 carbon); funding our very own forest and aiding much-needing carbon reduction projects! Ecologi is a certified B Corp committed to tackling the climate emergency. They provide a suite of options for businesses to offset their carbon footprint by supporting incredible third-party verified projects around the world. In the few short weeks we've been a member, Marmot Tours has already funded a project capturing waste biogas for energy in Turkey, aided the distribution of environmentally-friendly cookstoves in Kenya, and supported a new wind farm in Mexico. We've also planted 150 trees to offset our staff's carbon footprint! You can see our forest and the projects we have supported here.

Gold Standard
We'll use our ongoing support of Gold Standard (a registered non-profit) to offset the carbon footprint from our clients' travel. From the moment you step on the plane, to the moment you land back on home tarmac, we will make sure your holiday is 100% carbon neutral!

What this means for Marmot Tours road cycling holidays
We've always run an ethical and environmentally conscious business. Our holidays have always supported local businesses when possible. We recycle our waste, and we offset our travel carbon. What our new projects and partnerships mean though is a formal commitment, verified by partners, to make sure we run the most ethical road cycling holiday tour company in the world. We're gathering more data on our impacts, we're supporting a wider array of charities, we're more knowledgeable about our potential impacts, and we're working with Enriched Horizons, a professional sustainable business consultancy, to make sure that we're consistently meeting the highest possible standards of social and environmental performance, transparency and accountability through 2023 and beyond.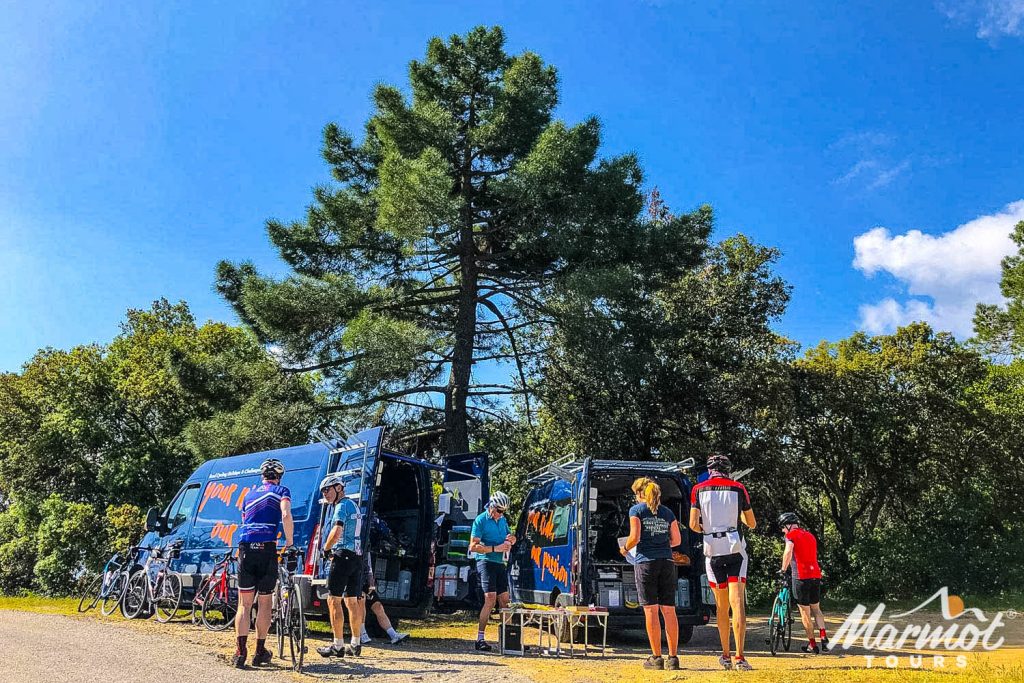 What this means for you
Well, you can be assured that your cycling holiday is having the absolute minimum impact on the planet. It will be 100% carbon neutral from the moment you step on the plane to the moment you land back home. All of your holiday trash will be 100% recycled. Whenever possible you'll be staying in excellent, locally-run, hotels to support the economy of towns and villages you pass through. AND, you'll be actively funding the planting of a new forest! Now that's holiday goals: a trip that's not only good for your health, but for the planet's health too!
We're super proud that the quality of our road cycling holidays has always been high, so for those of you who we know very well, having joined us on adventures in the past, you can now come with us again with the added benefit of having even more of a positive impact on people and the places we visit.
For those of you yet to enjoy a cycling holiday with us, we hope our B Corp journey will encourage you to choose us as your road cycling tour operator, knowing that just as we support you with your cycling holiday goals, we're also supporting our planet in every way we can.
Combine your perfect cycling adventure with giving back to the planet. With Marmot Tours, you can cycle Europe's most majestic peaks powered by the greenest energy of all: your legs, lungs and laughter!
Watch this space for updates on our B Corp journey but until then, happy pedaling!