Marmot Merchandise
Over the years we've introduced some Marmot Tours merchandise for you to enjoy as a souvenir of your trip.  Through trial and error we have worked out that:
you would like to have your souvenir to take home with you.
it's a faff for you to pay in cash in Euros as you may not have budgeted for this and don't want to get more cash out.
our leaders end up with cash heavy kitties which are tricky to manage
As a result we use the following system:
Try on a jersey/t-shirt to get the right size at any convenient time (for yourselves & the guides) during the trip
Pay using your debit/credit card via our mobile card readers.
You will get emailed a receipt for your purchase
We have adjusted our prices now that everything is in £, as follows:
Cycle Jerseys (Raid Pyrenean, Raid Dolomites, Raid Corsica): £28
Socks (Raid Corsica): £5.00/pair
Organic cotton T-shirts (Classic Cols or Raid): £20.00
Rideguard: £6.00
Buff: £5.00
Also on sale on your trips are Assos products:
Skin repair gel: £17/tube
Chamois creme: £11/tub
NB:  Our leaders are very good at just about everything but some of them don't like being a 'Sales Person' so they are unlikely to do a hard sell of trip merchandise.  If you want a souvenir but they haven't yet mentioned it, just find a moment to ask them about the products on that trip and they will be able to show you….
Raid Freebie Pack
All of our Marmot Raiders receive a freebie Raid pack including items that you will use again and again (and that it's ok to have more than one of!). It includes:
A Marmot Raid musette bag: 100% cotton and made in the UK. This has a multitude of cycling/non cycling uses and proudly brags of your Raid achievements!
A 750ml Marmot Tours water bottle: a freebie that you can never have too many of.  Use it on your Raid so our guides can easily spot you on the road.
A Raid specific velopac: a light, transparent PVC case to fit perfectly into your cycle jersey pocket and house your smart phone.  Allows use of the touch screen through the case, and is trip specific.
A Marmot RideGuard ass saver: lightweight, easily fixed temporarily to your bike (and stylish), you can protect your best cycling gear from wet & mud with this Marmot branded ass saver.
Cycling Kit
Historically we have offered a range of trip specific 'souvenir' cycle jerseys for sale that will remind you of your holiday and your achievements!   We are still selling these jerseys during the 2018 season but are phasing them out moving forwards, due to the popularity of our T-shirt range (existing Classic Cols T-shirt and new Raid T-shirt).
We may therefore not always have your size available, though we have a good stock still for this year.  If we do have your size, then as usual, you will be able to buy your jersey on trip (paying by card/mobile card reader) and take it home with you.  If for any reason we don't have the size available on trip but do have it in stock then we can post you your jersey and it will be £32 as opposed to £28, including post and packing.
Jerseys come in both male and female cuts, all with 3 pockets at the rear and available in the following sizes: XXS, XS, S, M, L, XL and XXL).
Classic Cols T-shirt
Our hugely popular Classic Cols souvenir t-shirt was designed to showcase our Classic Cols range of holidays, and details THE BEST cols and climbs that our European destination holidays include.   Attractive to both those on a Classic Cols holiday and those on a Raid (who are often climbing the same mountains), this is a casual t-shirt with a subtle design that still manages to let you stand out as an experienced cyclist.
An organic cotton garment, this is very comfortable and breathable cotton and is of a great quality that isn't going to shift shape the first time you wash it!
£20 (payable on trip by card).  T-shirts that require posting will carry a cost of £22
Raid Corsica Jersey
The Raid Corsica jersey has a Mediterranean feel and proudly displays your achievements.  Produced by TeroSports (John Wright is one of our most loyal clients), the jersey comes up smaller than our previous trip jersies so make sure you try one on or check out the best size for your chest measurement.
£28 (payable on trip by card).  Jerseys that require posting will carry a cost of £32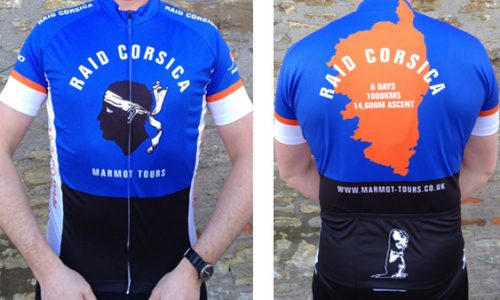 Raid Corsica Socks
Everyone needs great quality sports socks. Make sure yours shout about your achievements with our Raid Corsica ones, made from 100% wicking Coolmax yarn with reinforced heel and toe.
Cost is £5/pair during the trip and sizes are as follows:  Small (35 – 37), Medium (38 – 40), Large (41 – 43), XLarge (44 – 46)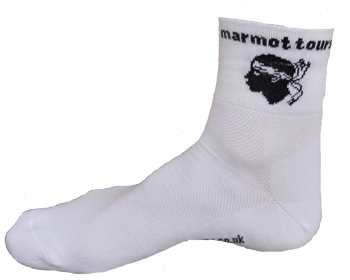 Raid Dolomites Jersey
Sporting the colours of the Italian flag around the neck and arms, this stylish number will remind you and others of the gruelling challenge you have undertaken through France, Switzerland and Italy.
With a great brag factor, all the stats are on the back so anyone behind you in a sportive can't help but be impressed! Made out of the fabulous wicking 'Stinger' material, it keeps you cooler in warm temperatures and has a full length zip.
£28 (payable on trip by card).  Jerseys that require posting will carry a cost of £32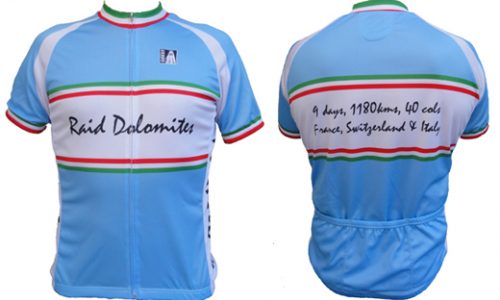 Raid Pyrenean Jersey
With the official Raid Pyrenean logo on the back, reproduced with kind permission from the Cyclo Club Bearnais in Pau and with a profile of the cols you climbed on the front, this classic, slightly retro jersey is testament to your achievements in the Raid Pyrenean.  Produced in quality wicking 'M-Tec extreme' material (quick dry, lightweight, breathable) with a full or 3/4 length zip.
£28 (payable post holiday by BACS/CQ or Credit Card)