Marmot Merchandise
Over the years we've introduced some Marmot Tours merchandise for you to enjoy as a souvenir of your trip. Through trial and error we've worked out that:
you'd like to have your souvenir to take home with you
it's a faff for you to pay in cash in Euros as you may not have budgeted for this and don't want to get more cash out
our leaders end up with cash-heavy kitties which are tricky to manage
As a result we use the following system:
Try on a jersey/t-shirt to get the right size at any convenient time (for yourselves & the guides) during the trip
Pay using your debit/credit card via our mobile card readers
We'll email you a receipt for your purchase.
---
The merchandise we offer is as follows:
Organic cotton T-shirts – Classic Cols or Raid design: £20.00
Our hugely popular Classic Cols souvenir t-shirt was designed to showcase our Classic Cols range of holidays, and details THE BEST cols and climbs that our European cycling holidays include. Attractive to both those on a Classic Cols holiday and those on a Raid (who are often climbing the same mountains), this is a casual t-shirt with a subtle design that still manages to let you stand out as an experienced cyclist.
An organic cotton garment, this is very comfortable, breathable cotton and is of a great quality that isn't going to shift shape the first time you wash it!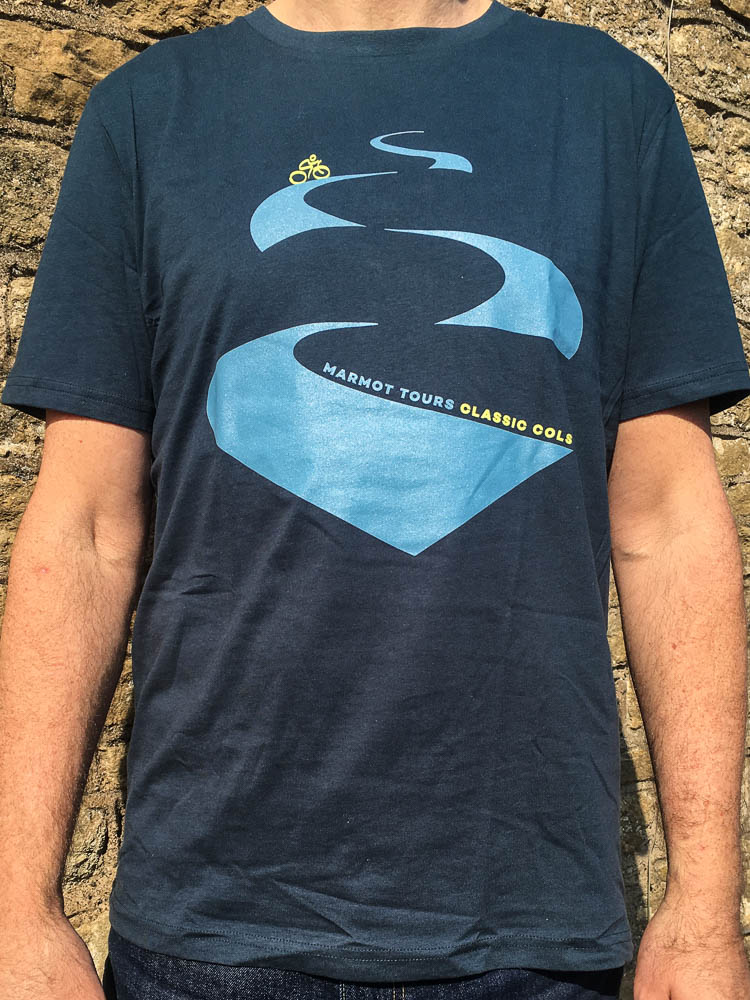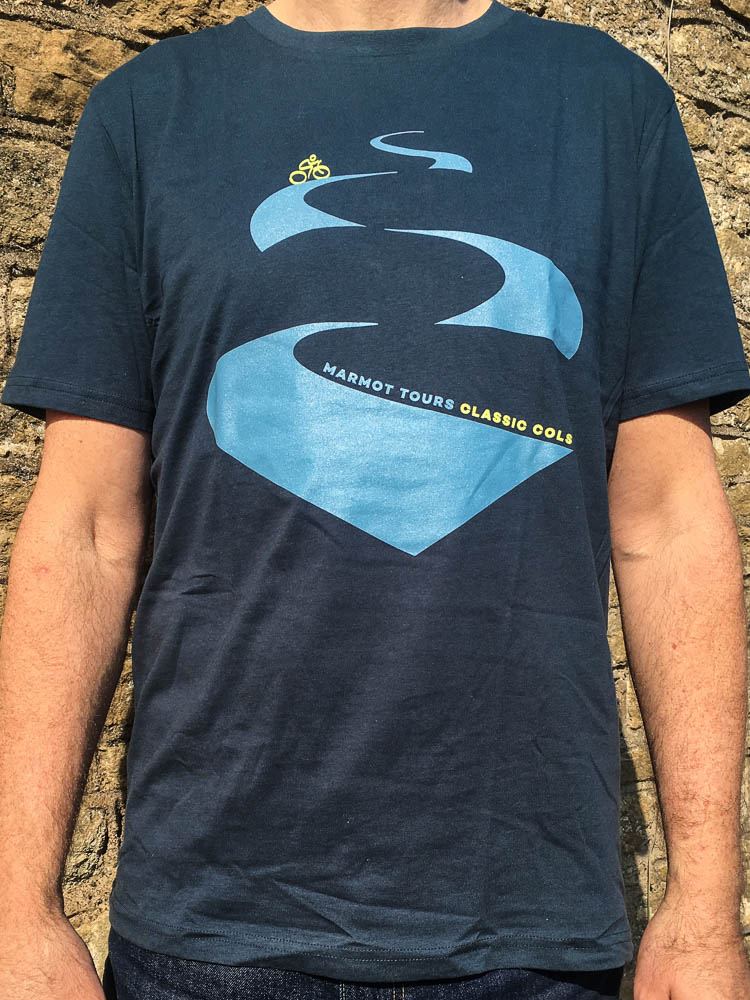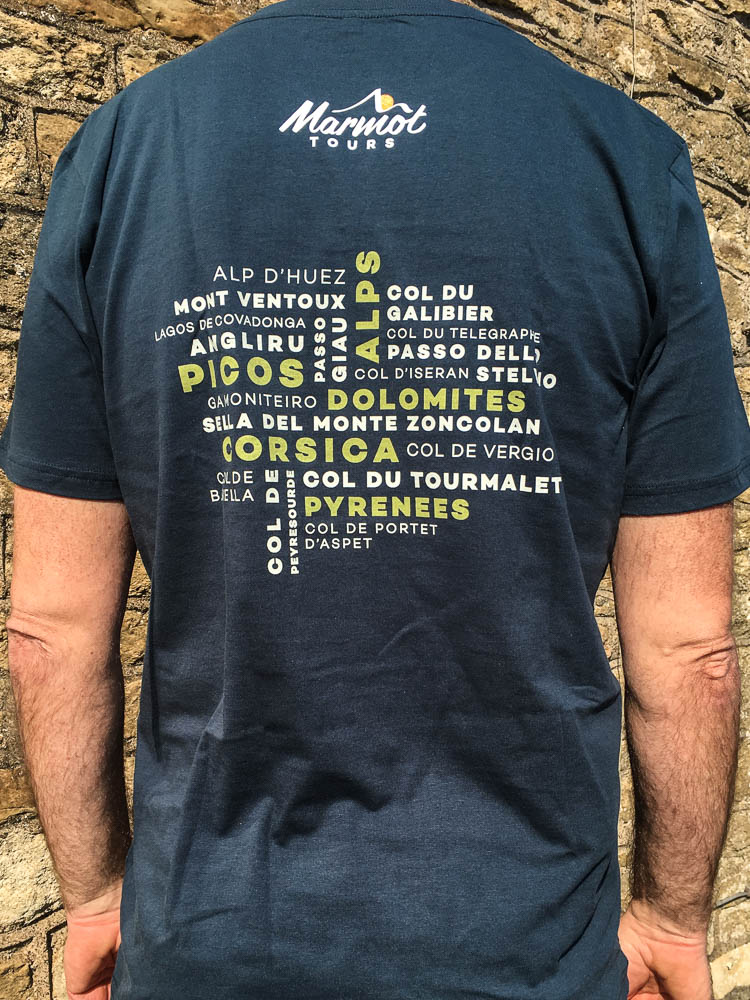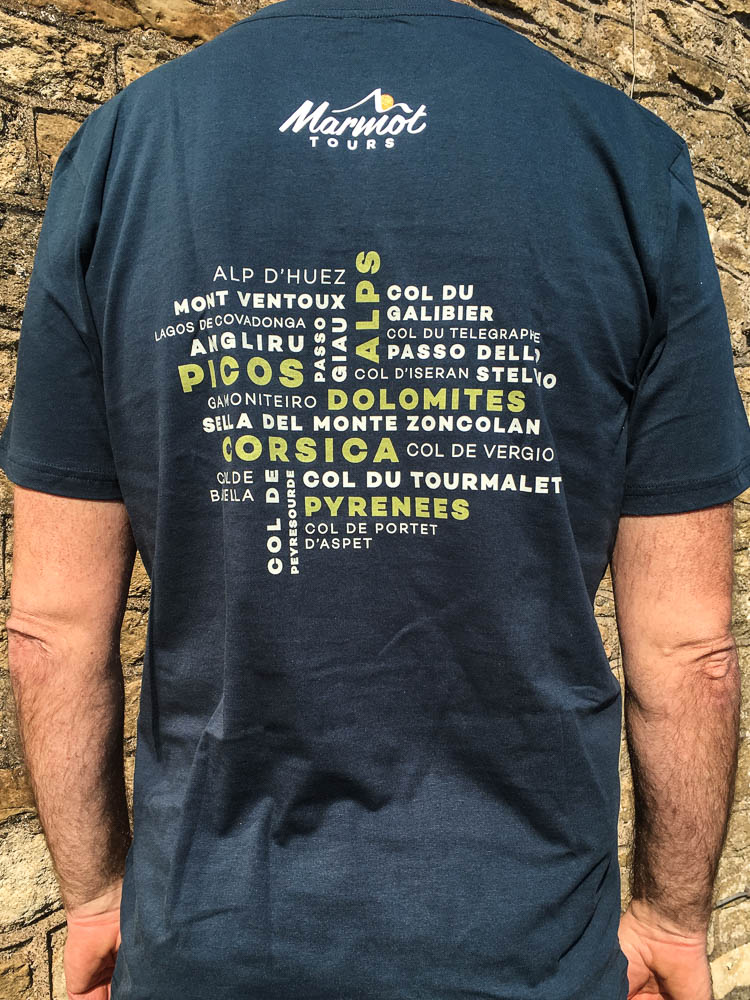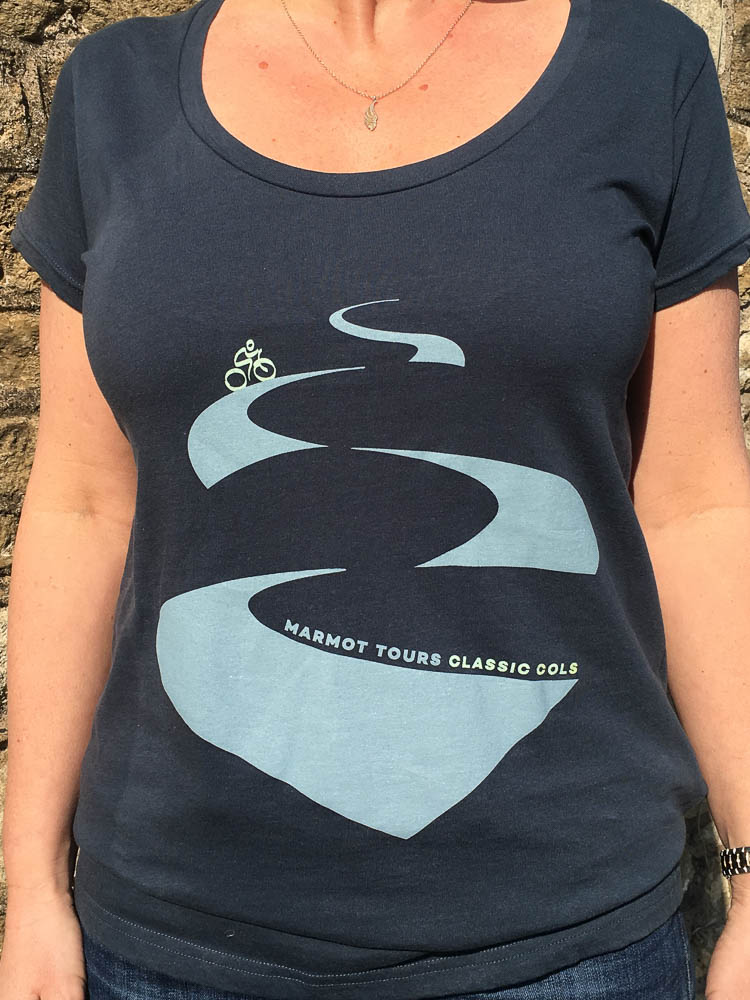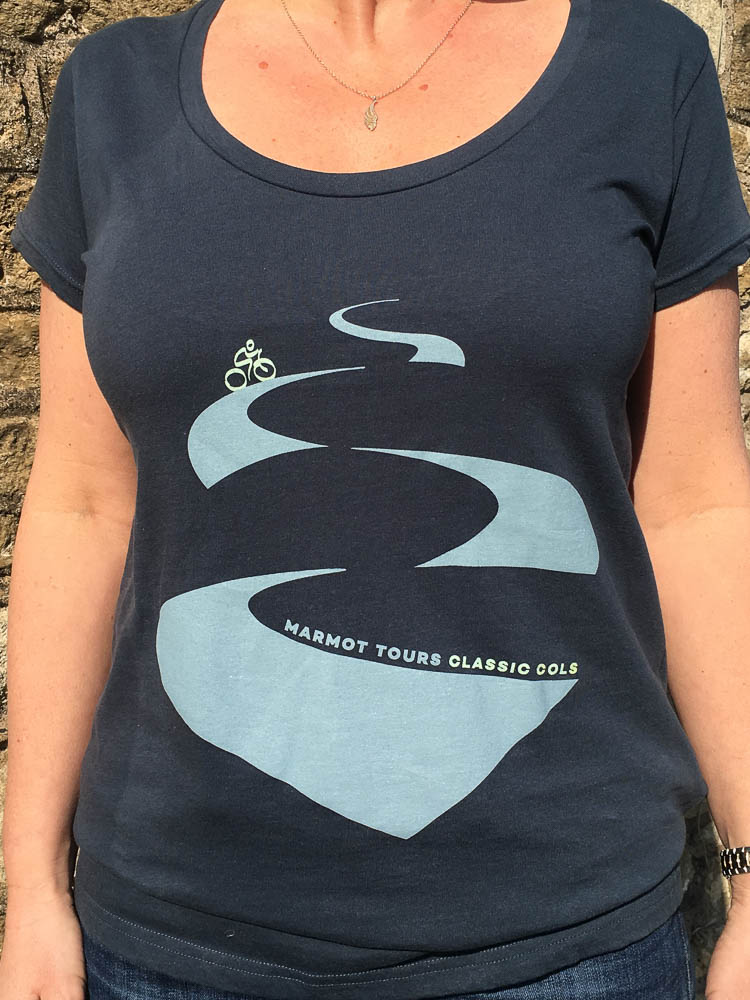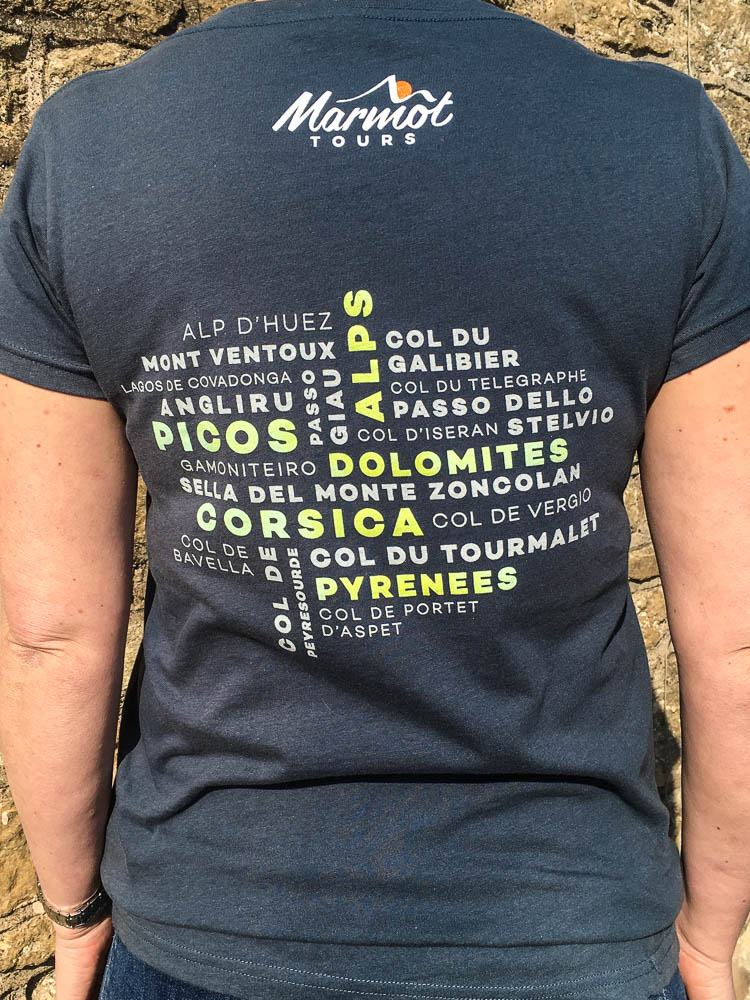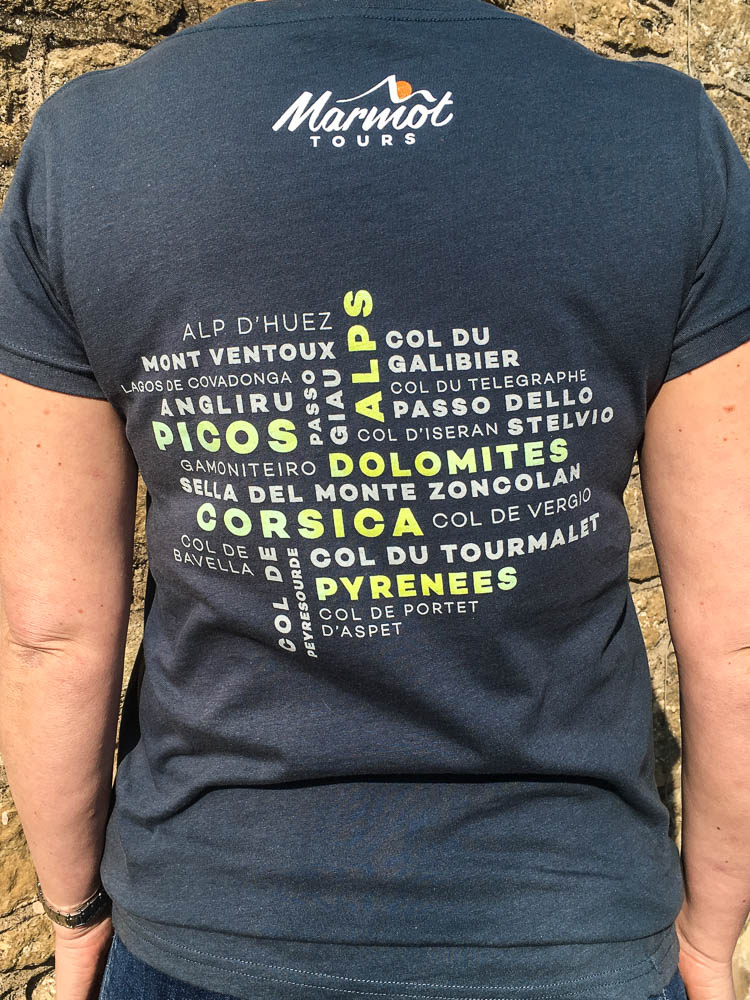 We designed our Raid tee to incorporate a bit of the brag factor.
Made from the same organic, breathable cotton as our Classic Cols tee. This is a really comfortable garment and what's more, won't twist after the first time of washing.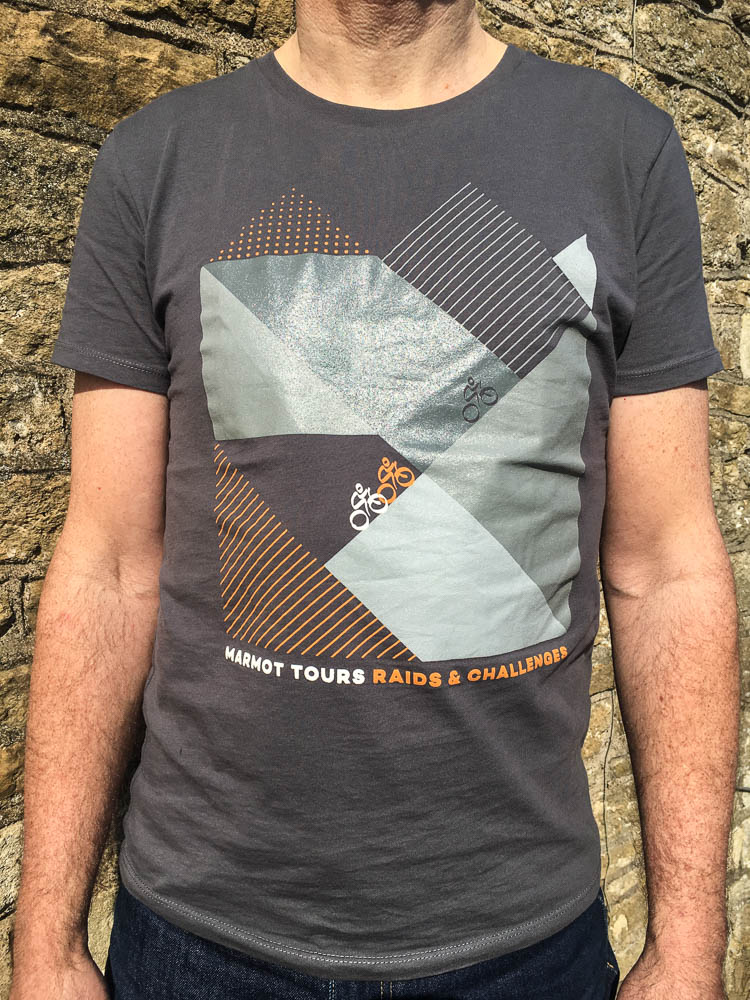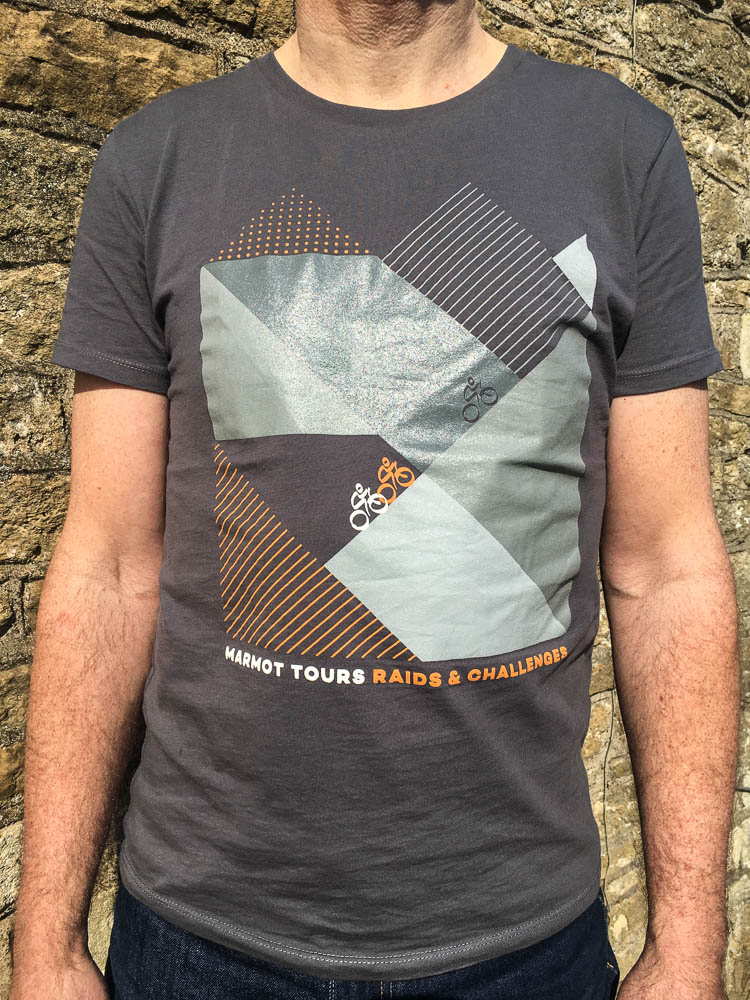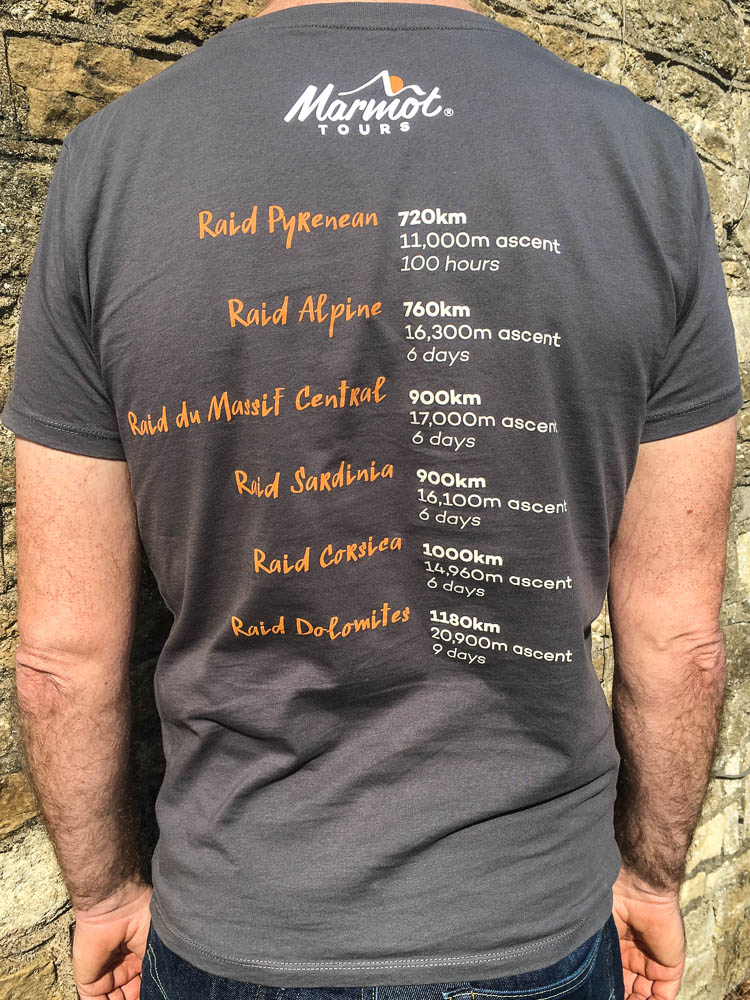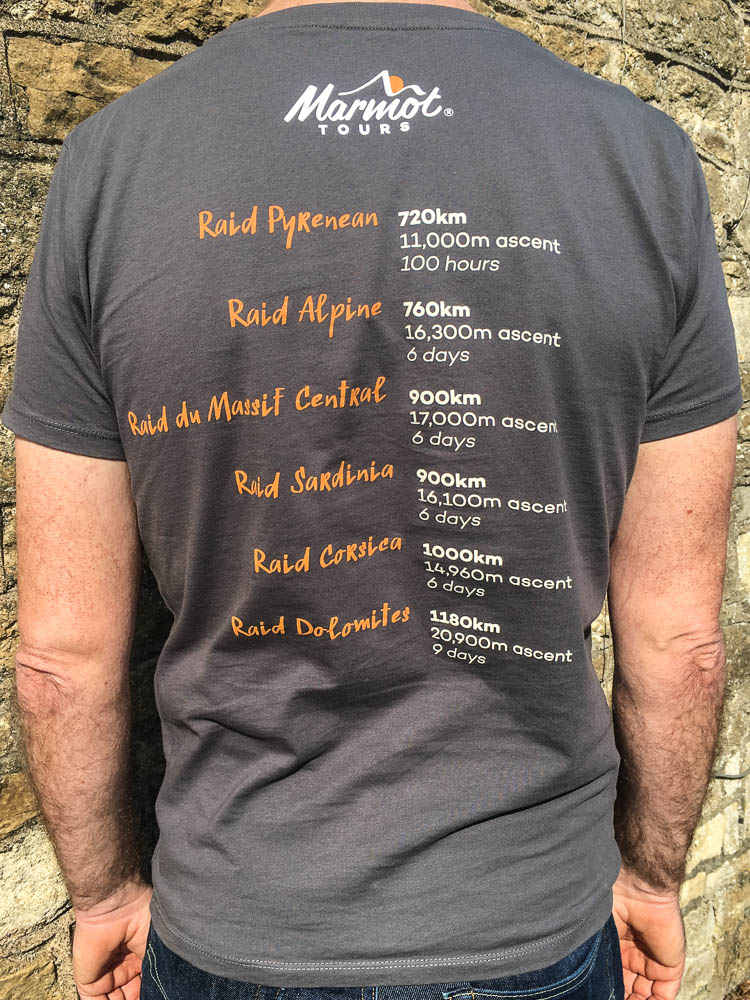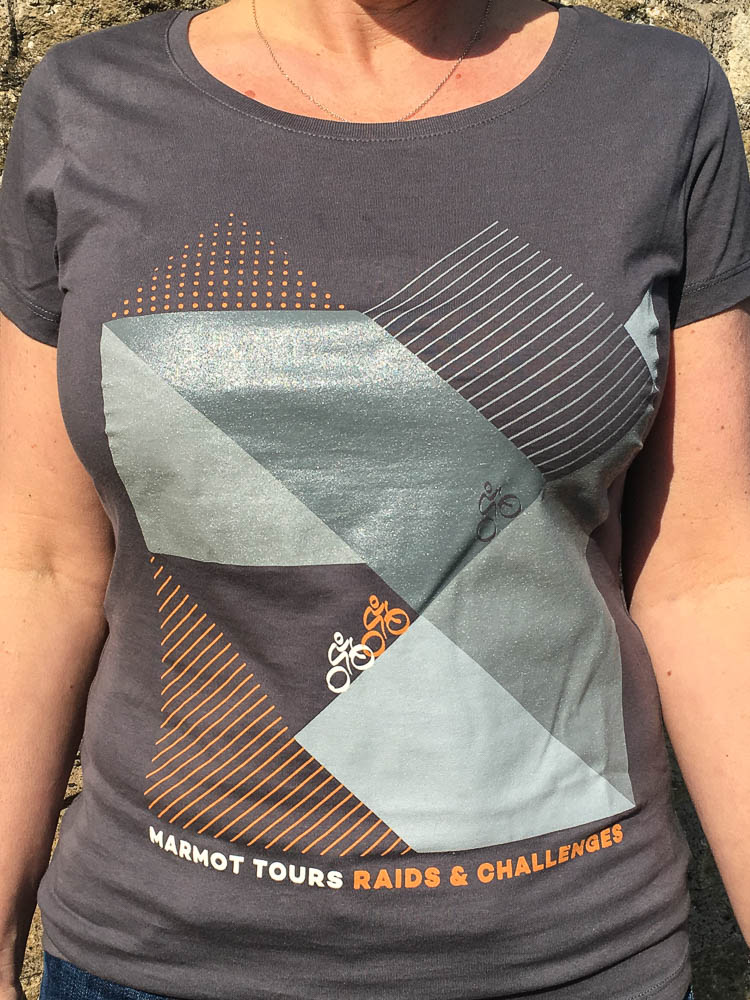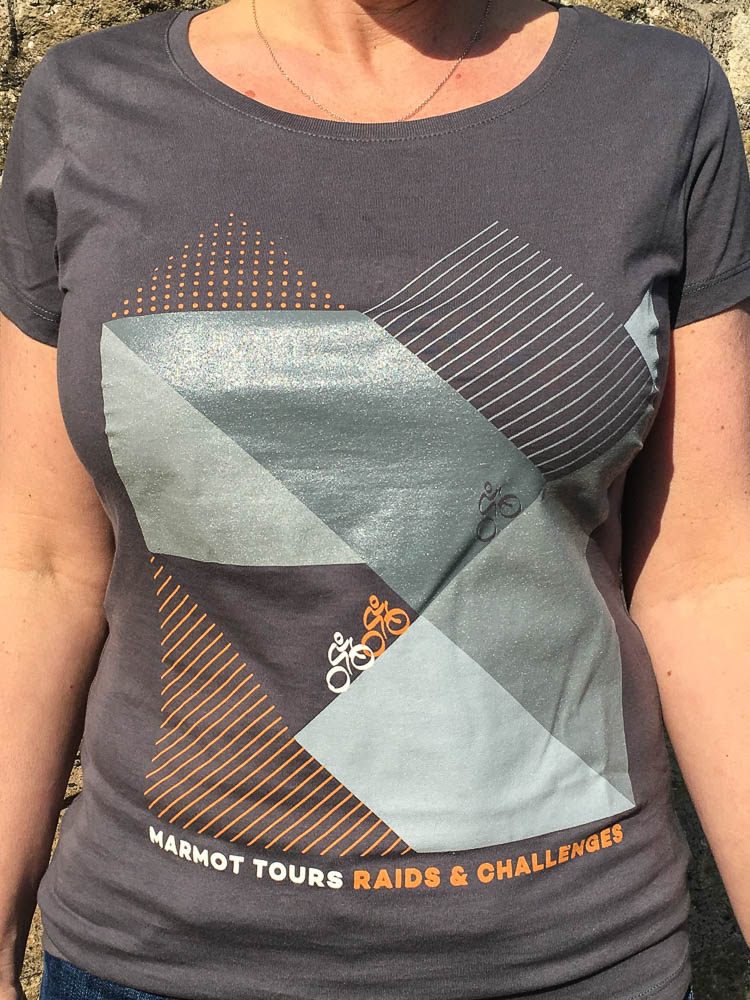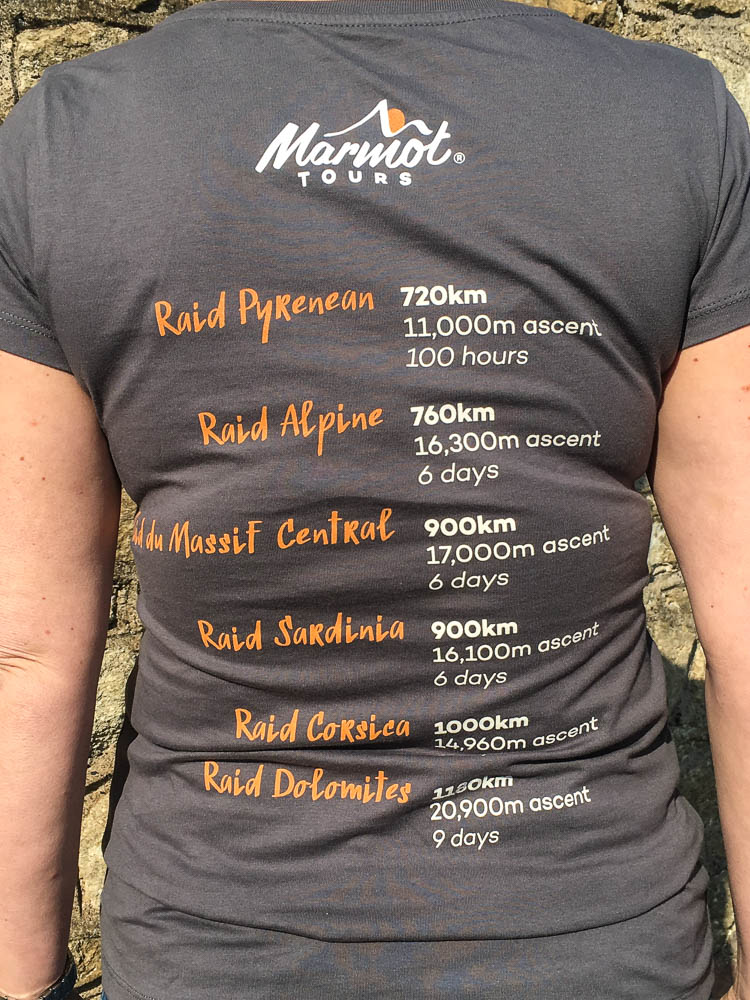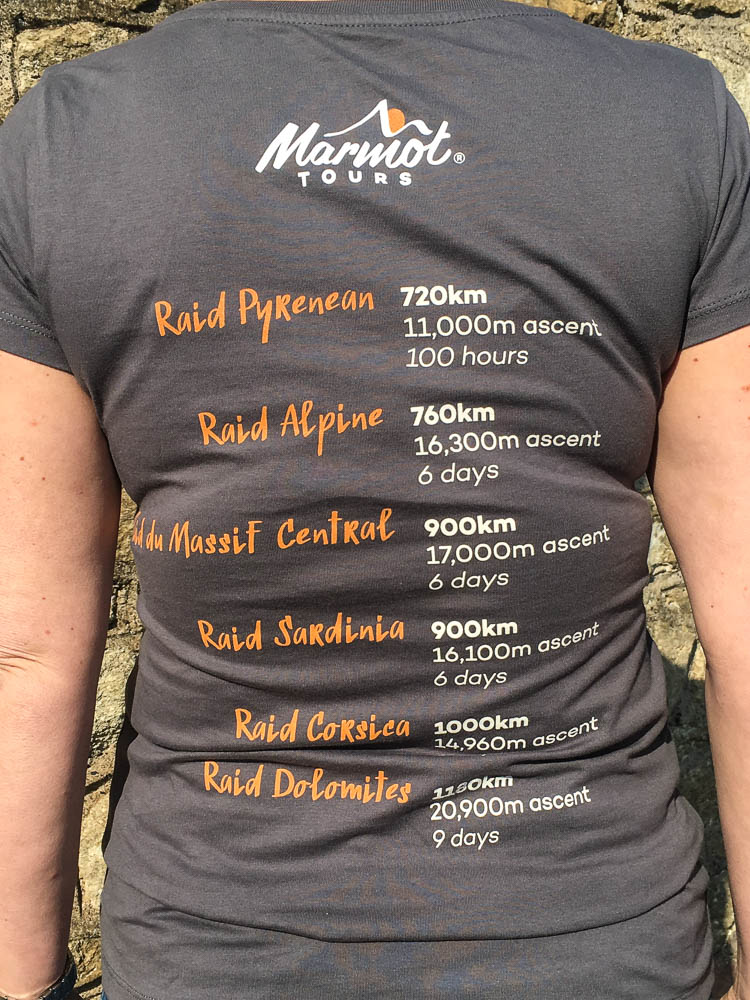 Velopac: £6.00
NEW for 2019! We give all our clients a free Velopac on every trip. If you haven't used one before, you'll wonder what you ever did without one.
Waterproof, soft PVC, cold-crack resistant to -30º Celsius
Large enough to hold most smart phones, as well as a credit card, some notes and coins
Fits snugly into a jersey pocket and helps prevent pocket sag!
Designed so you can make or take a call while your phone's still inside, thereby removing wind interference while you're calling someone from the top of a blustery col
Take great photos while your phone's still inside, with no compromise on picture quality
Made in the UK
Greg LeMond's famous quote "It never gets easier, you just get faster" features on our design – keep it in mind when pushing through that challenge!
We're sure the Velpac will come in handy on your holiday as well as on those club rides when you get home.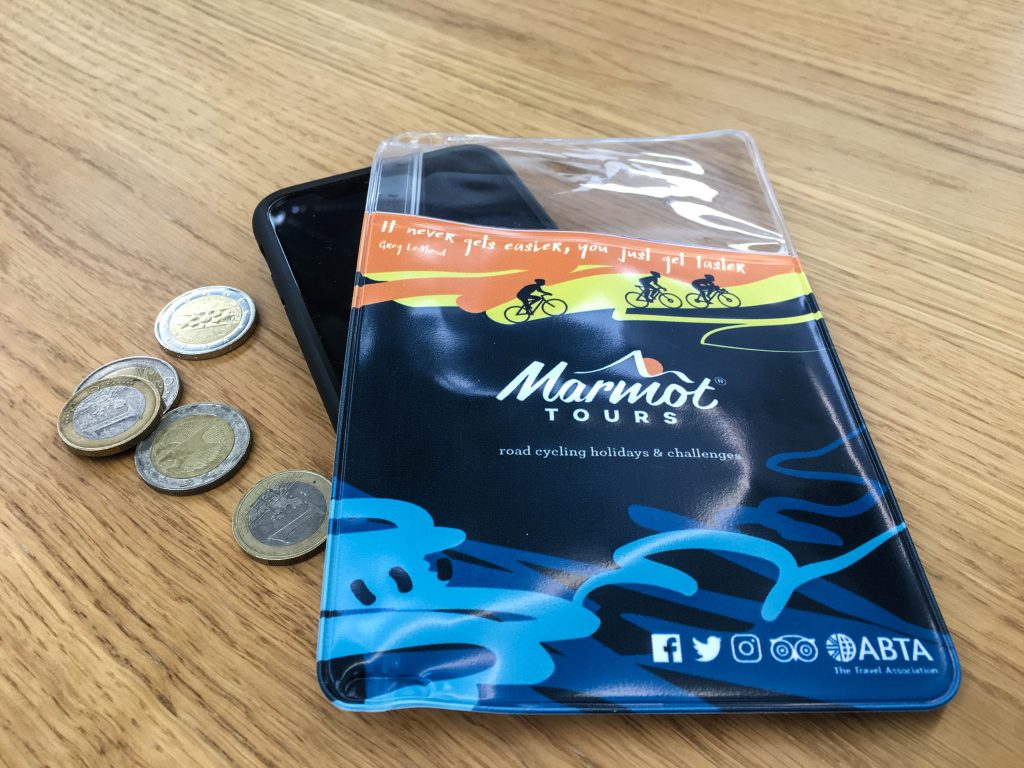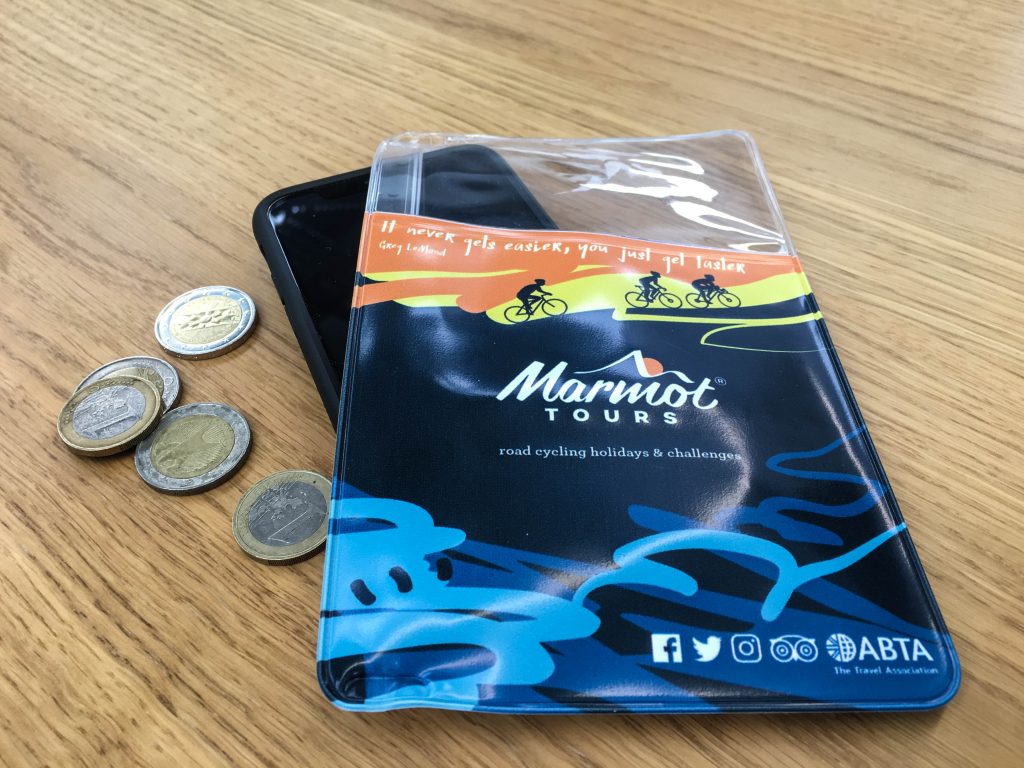 Water bottle: £5.00
We give all our clients a free water bottle on every trip, but you can never have enough so we sell them too.
Buff®: £8.00
The classic neck warmer, sweatband, hair tie or even hat – choose your wearing style depending on the weather.
Made from Coolnet UV+ fabric
95% recycled, light and comfortable
Rideguard: £6.00
Quick and easy to install, the Rideguard fits securely under your saddle to give you instant protection from rear wheel spray and dirt.
Strong, durable and light: only 15g
Universal fit
Quick and easy to install
Compatible with most saddle bags
Made from 100% recycled and recyclable polypropylene
Designed and made in UK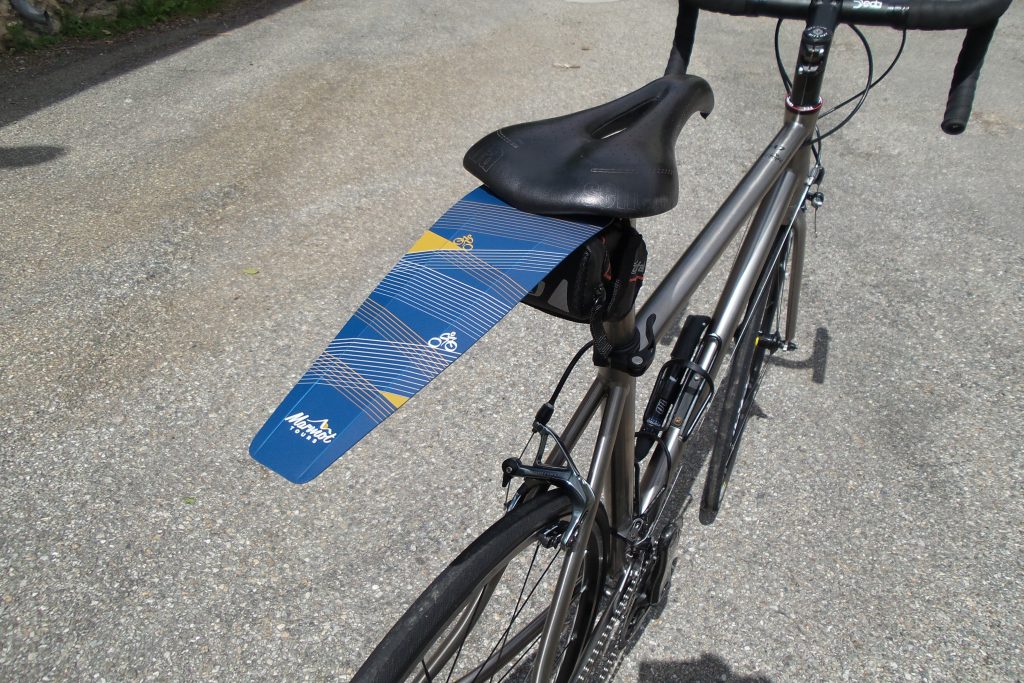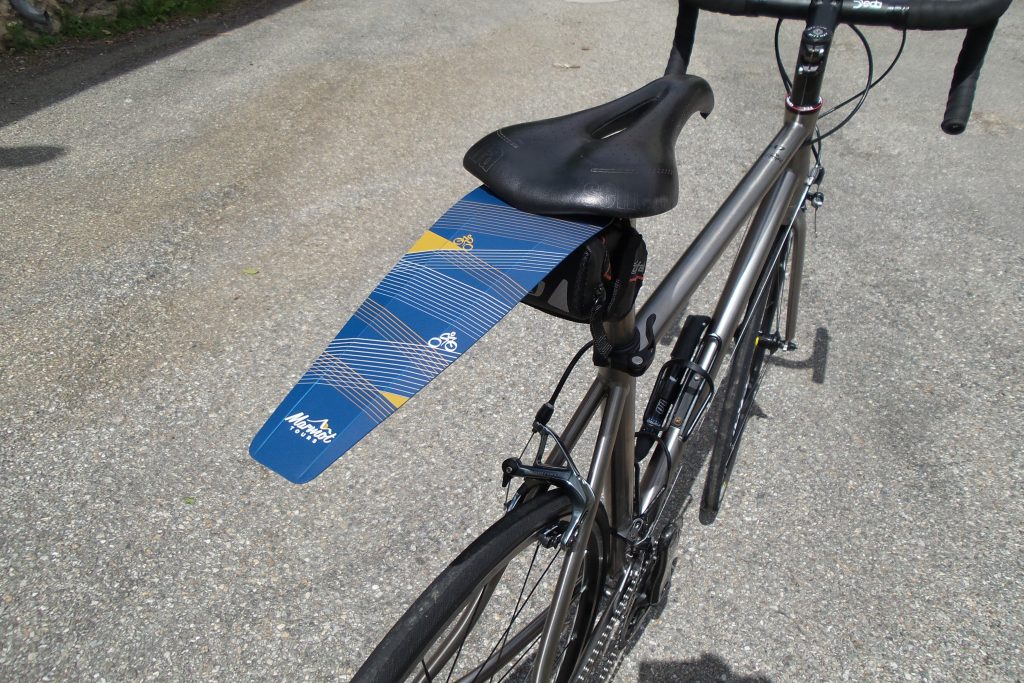 ---
We also carry these Assos products on every trip:
Chamois creme: £12.00/tub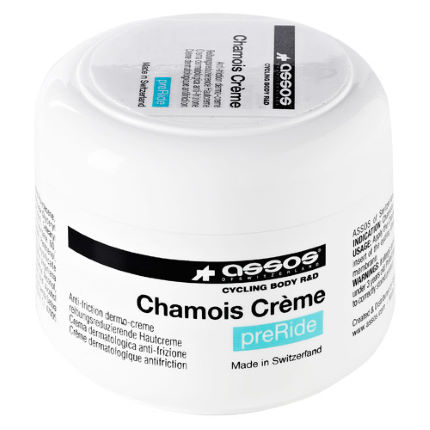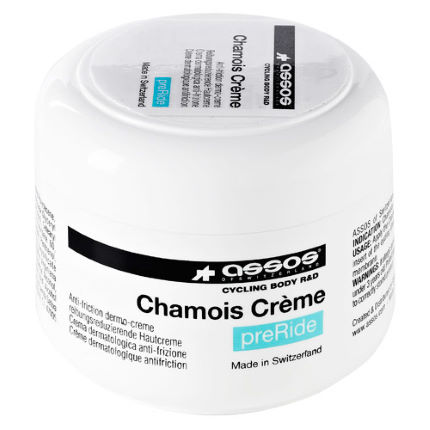 Essential for longer rides, Assos Chamois Creme is formulated to reduce friction, inflammation and discomfort. Applied to the skin, it gives a soothing, cooling effect and applied to your shorts it helps maintain suppleness, elasticity and freshness.
Skin repair gel: £17.00/tube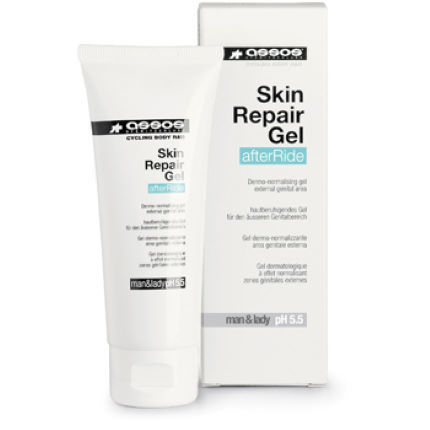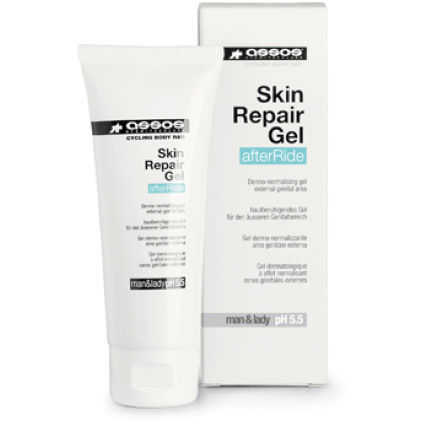 For use post-ride. Relieves discomfort and accelerates the healing of skin damage caused by friction against the saddle.
---
* CLEARANCE STOCK *
We have a range of cycle jerseys and a gilet for sale that will remind you of your holiday and your achievements! We designed these some time ago but we're still selling these while we phase them out, due to the popularity of our T-shirt range (Classic Cols t-shirt and Raids t-shirt).
Please note that there is a very limited number of sizes available.
If we do have your size, then you'll be able to buy your item on trip (card payments only) and take it home with you. If for any reason we don't have the size available on trip but do have it in stock then we can post it to you and it will be £24 as opposed to £20, to take account of post and packing.
Jerseys
* ALL NOW ONLY £10! *
All come in men's and women's cuts and have 3 pockets at the rear. The designs we have remaining in stock are as follows:
Marmot Tours jersey
Featuring our original, old-skool branding. A great souvenir from your trip.
Produced in quality wicking 'M-Tec extreme' material – quick dry, lightweight, breathable
Full or 3/4 length zip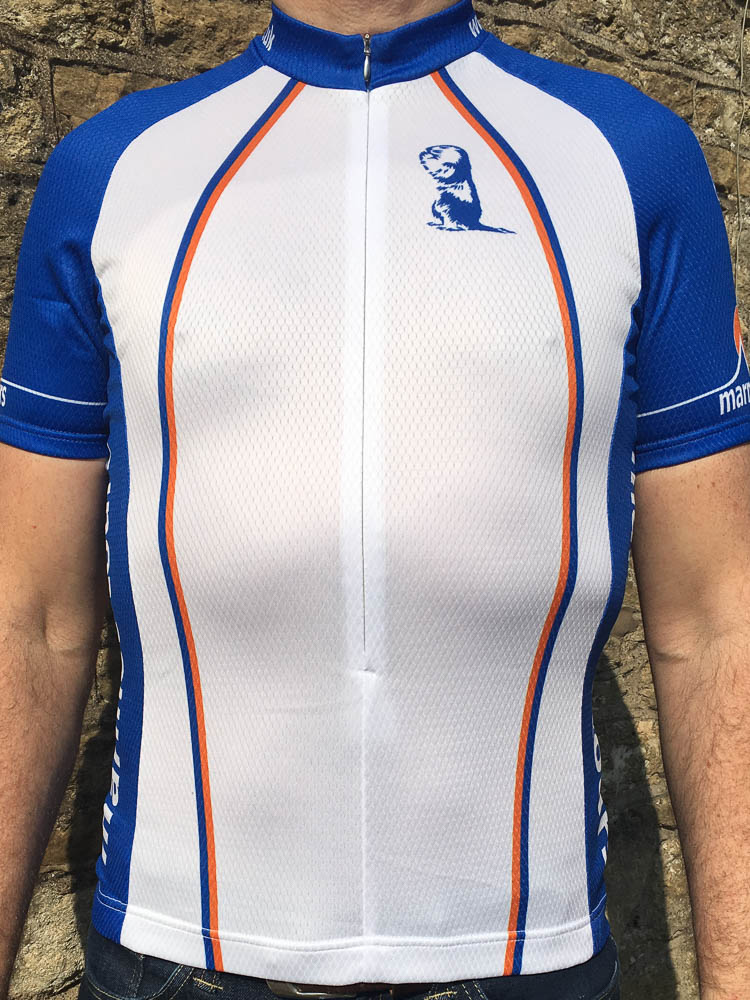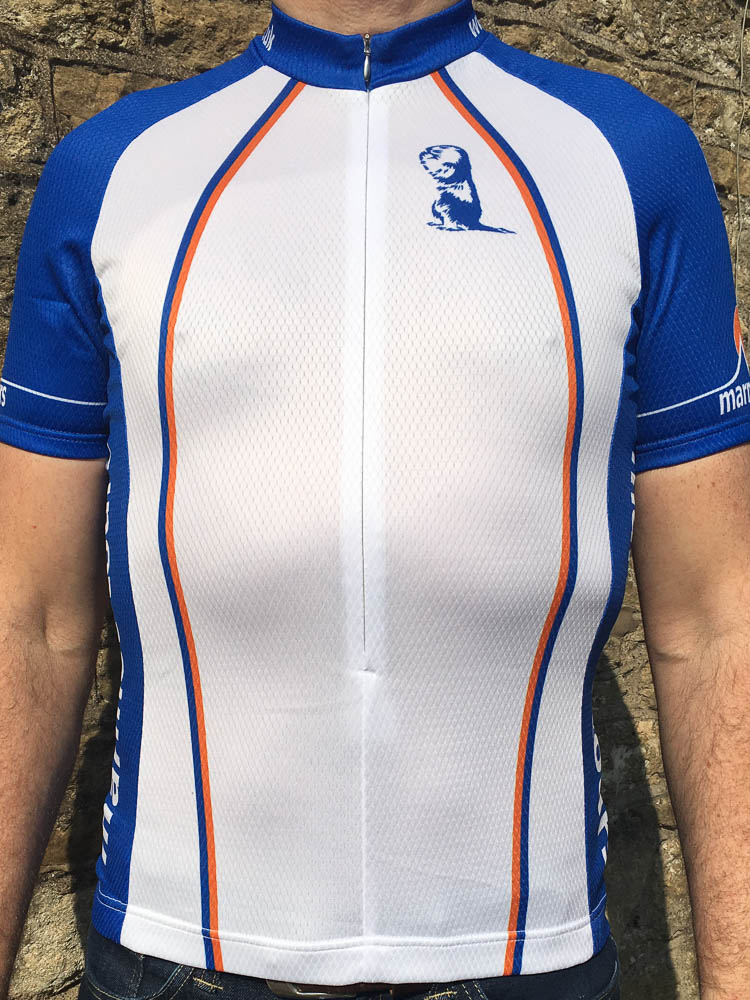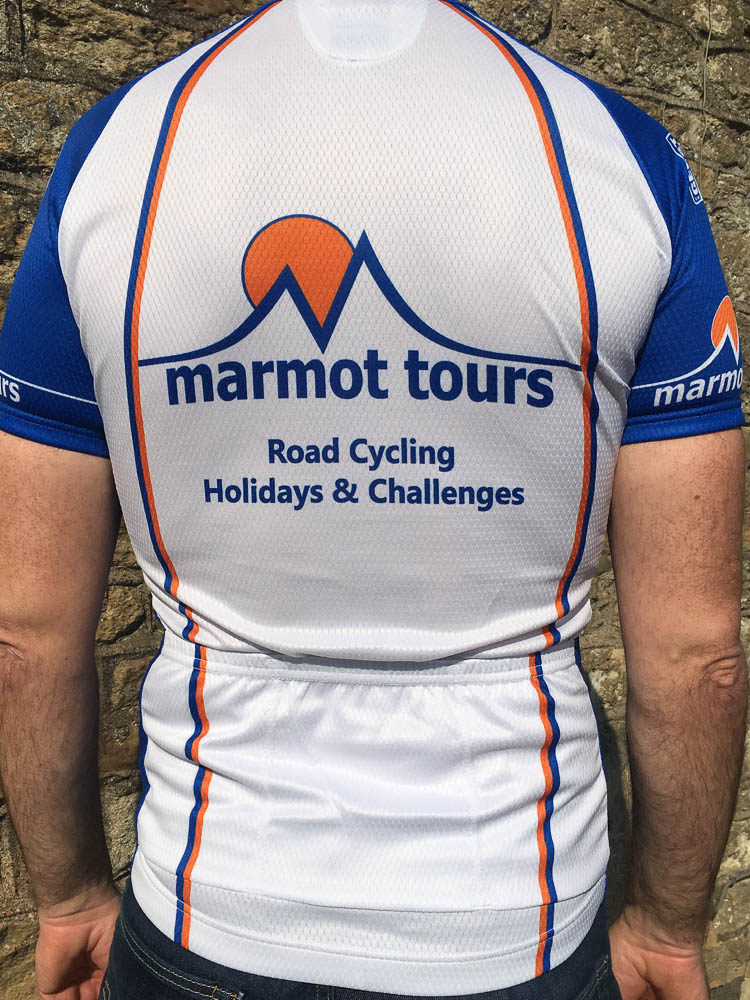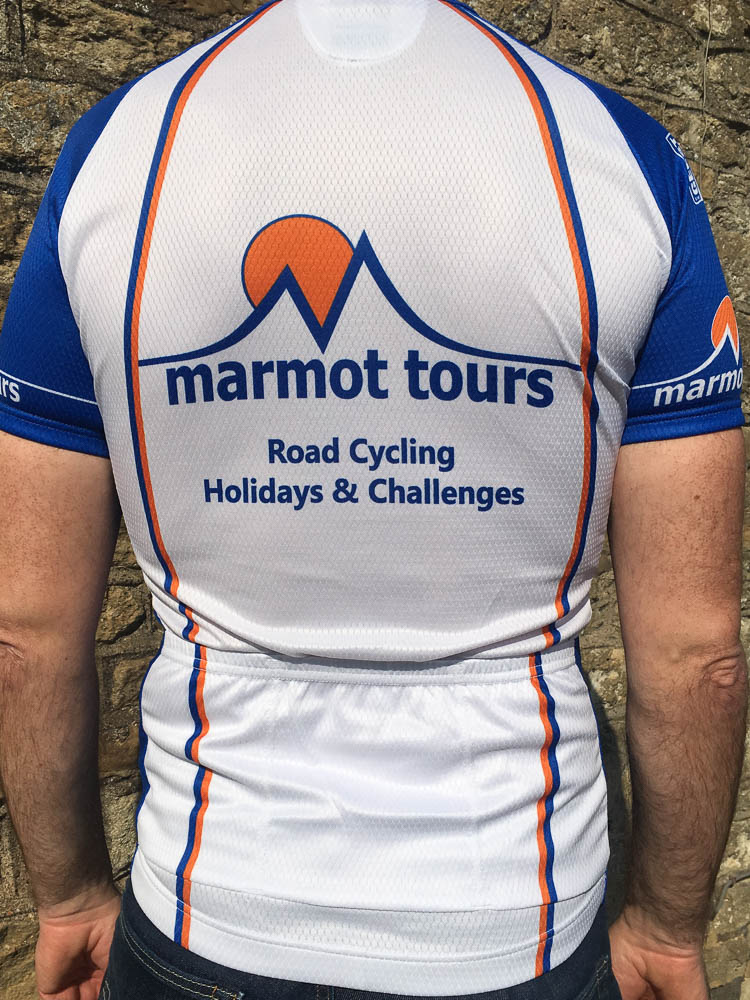 Raid Pyrenean jersey
With the official Raid Pyrenean logo on the back, reproduced with kind permission from the Cyclo Club Bearnais in Pau and with a profile of the cols you climbed on the front, this classic, slightly retro jersey is testament to your achievements in the Raid Pyrenean.
Produced in quality wicking 'M-Tec extreme' material – quick dry, lightweight, breathable
Full or 3/4 length zip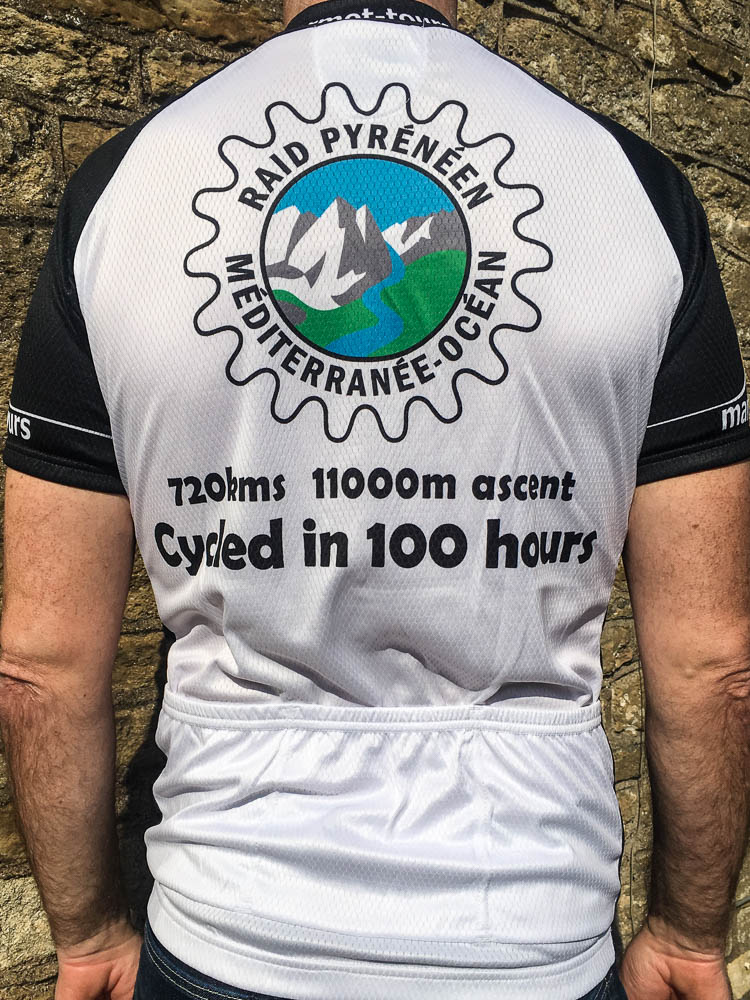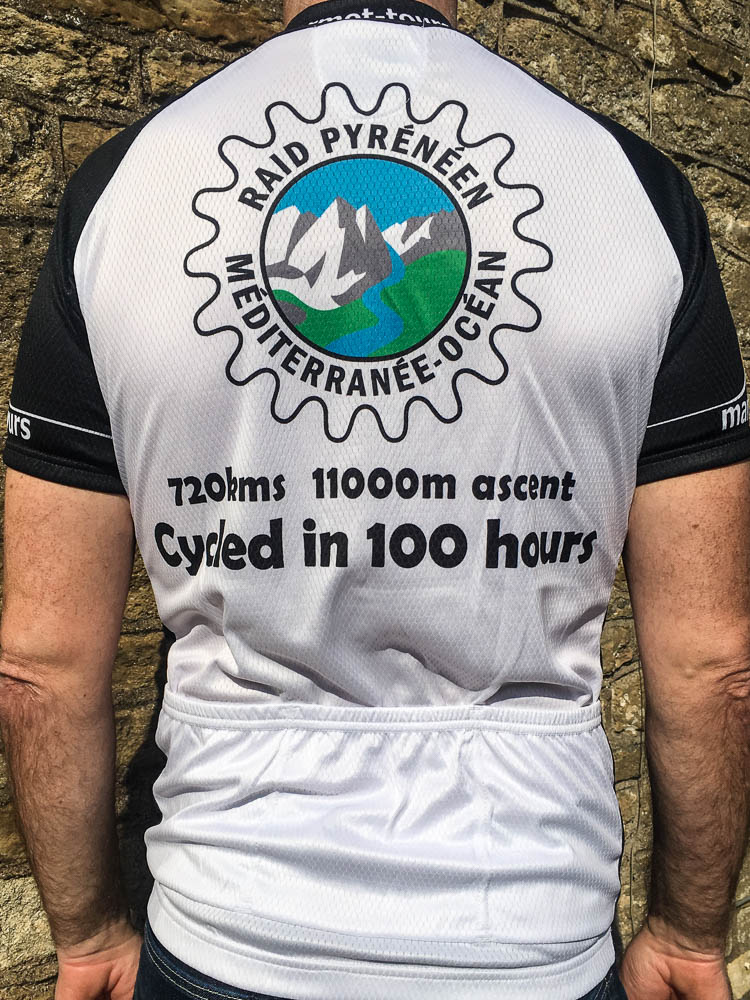 Raid Dolomites jersey
With a great brag factor, all the stats are on the back so anyone behind you in a sportive can't help but be impressed!
Sporting the colours of the Italian flag around the neck and arms, this stylish number will remind you and others of the gruelling challenge you have undertaken through France, Switzerland and Italy.
Made from fantastic wicking 'Stinger' material – it keeps you cooler in warm temperatures
Full length zip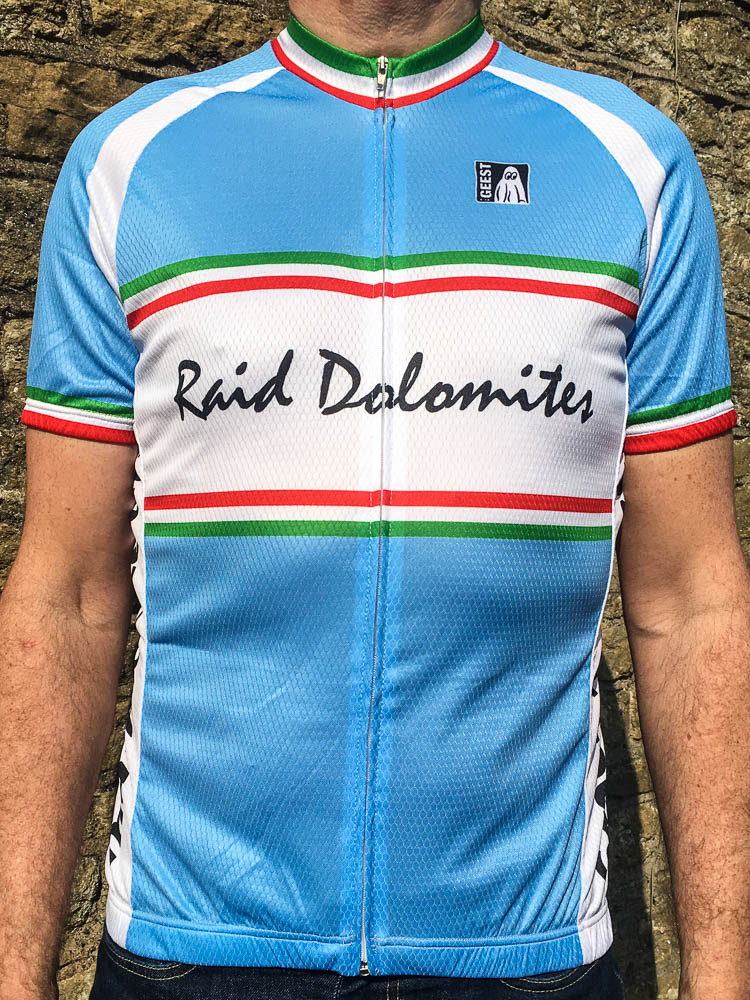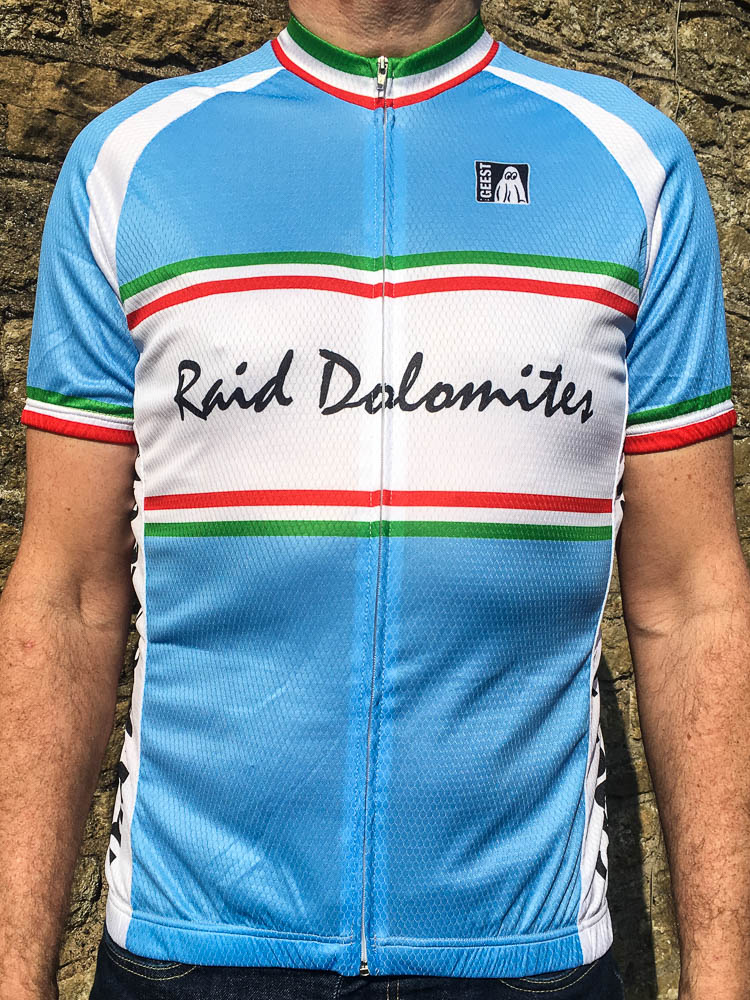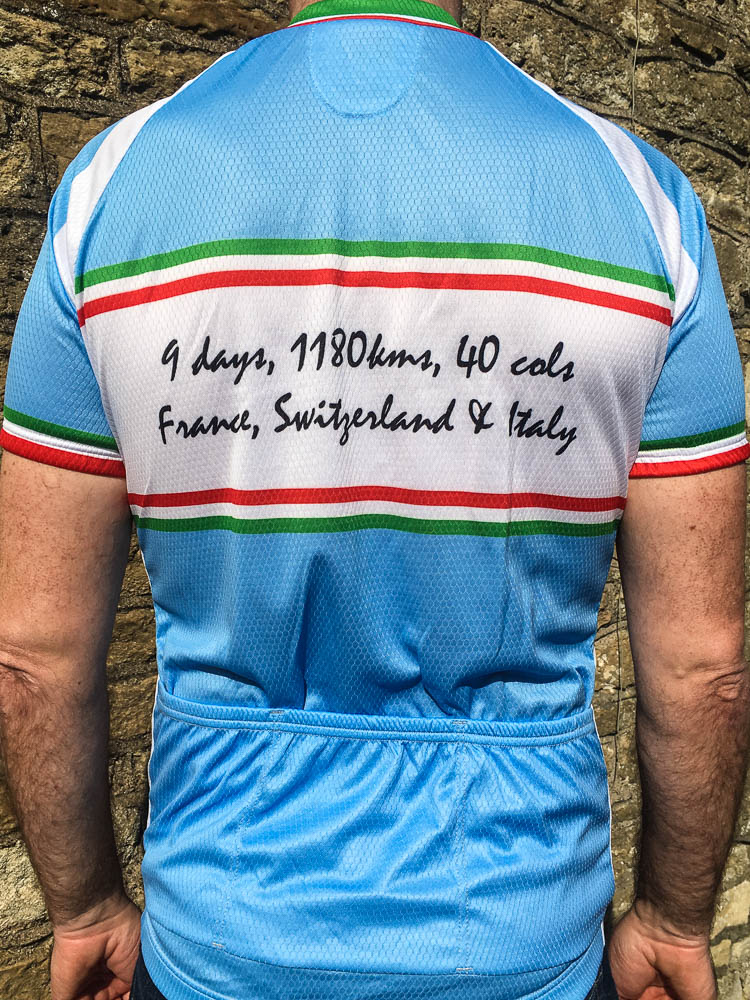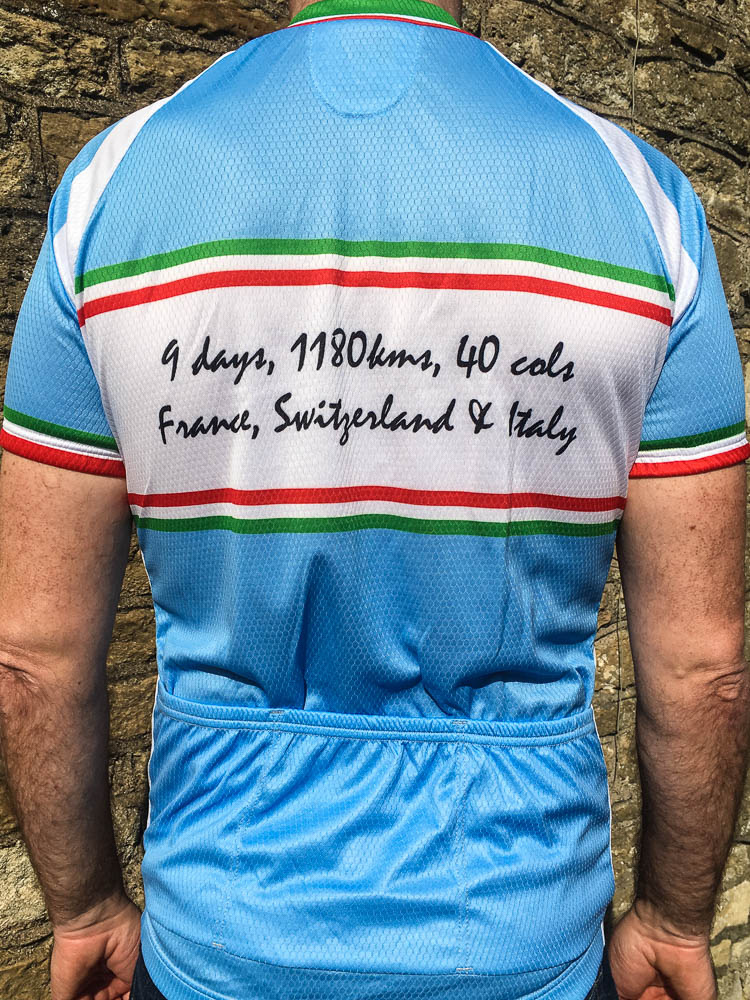 Raid Corsica jersey
The Raid Corsica jersey has a Mediterranean feel and proudly displays your achievements.
Produced by TeroSports
Full length zip
Size comes up smaller than our other jerseys so we'd advise to go up a size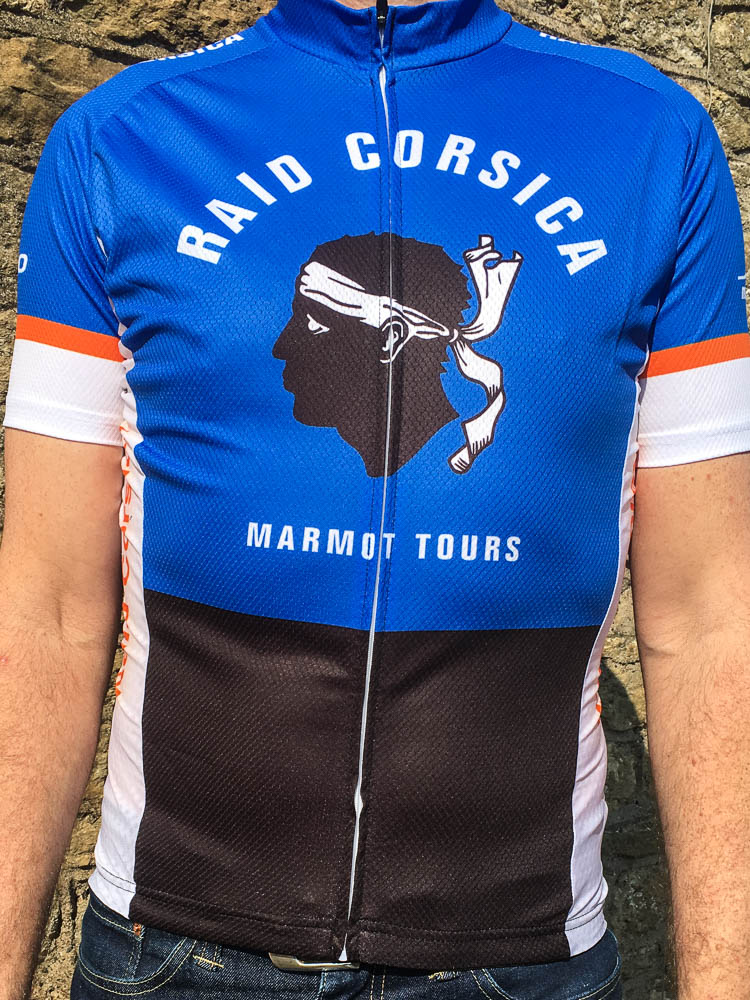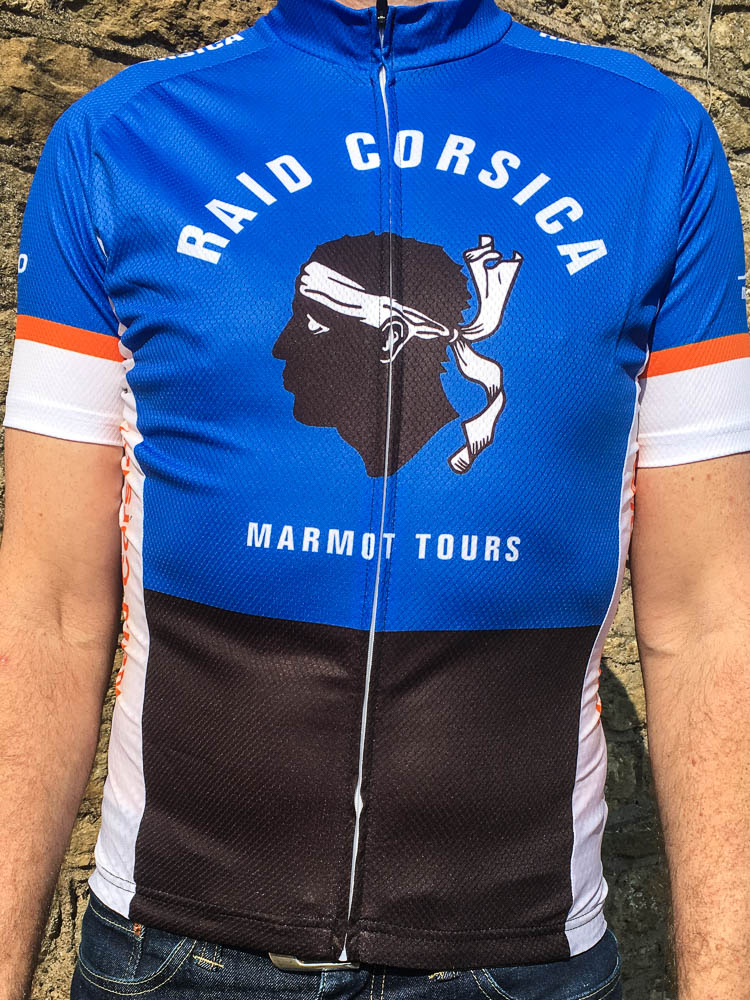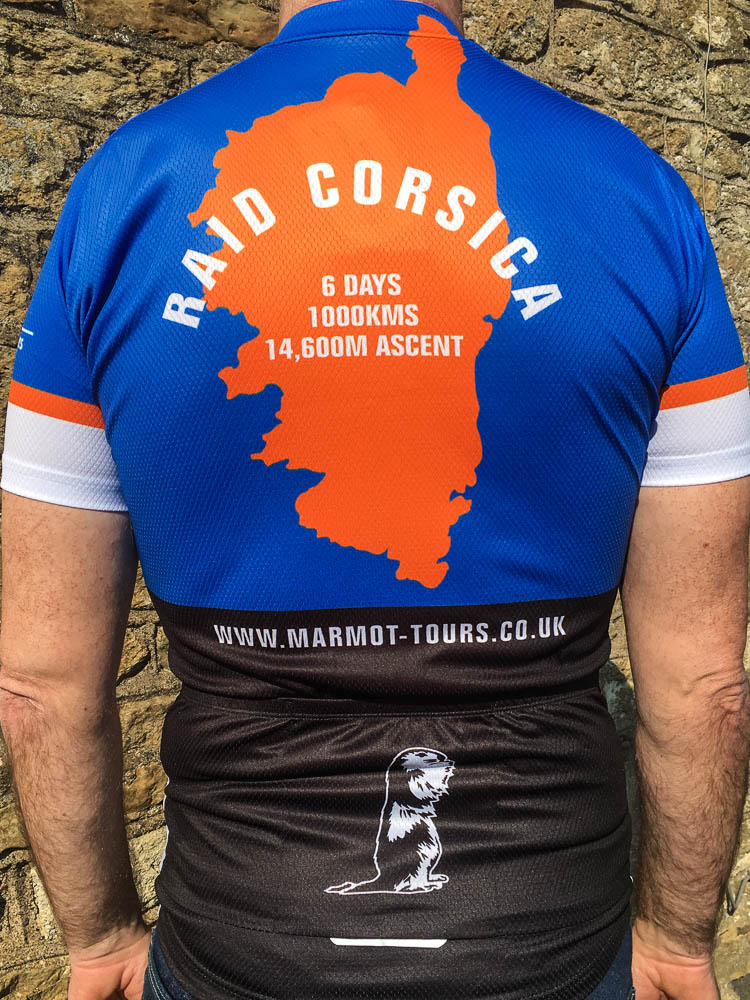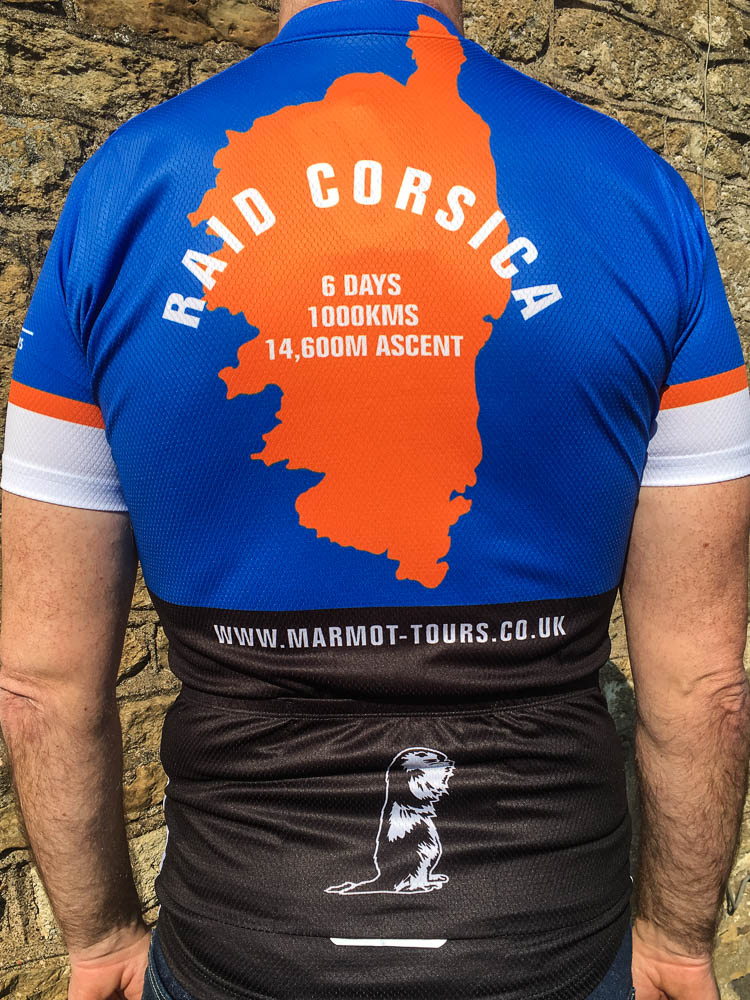 Raid Alpine gilet
* NOW ONLY £8.00! *
A super lightweight, sleeveless gilet that shouts out the Raid stats to the cyclists on the road behind you. It looks great over a Marmot Tours Raid Pyrenean jersey if you happen to have done both!
Windproof front and breathable back
Quick drying Tek material
Full length zip
Sizing is as per the Marmot Tours, Raid Pyrenean or Raid Dolomites jerseys
---
Sizing for Marmot Tours jersey, Raid Pyrenean and Raid Dolomites jerseys: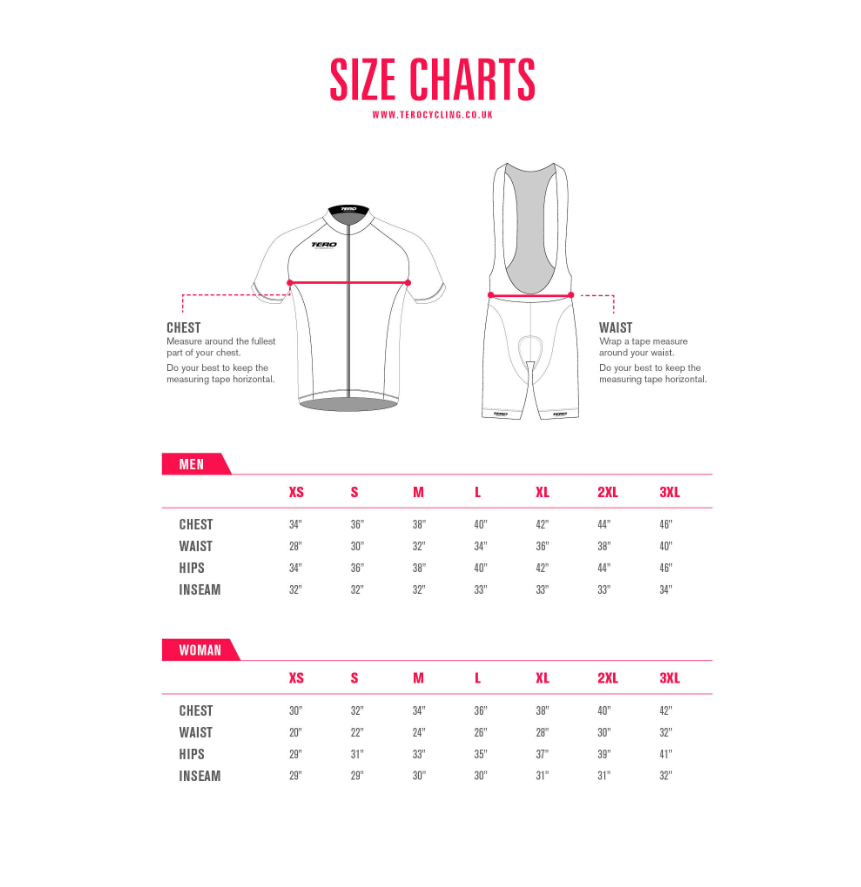 ---
NB: Our leaders are very good at just about everything but some of them don't like being a 'Sales Person' so they are unlikely to do a hard sell of trip merchandise. If you want a souvenir but they haven't yet mentioned it, just find a moment to ask them about the products on that trip and they will be able to show you….