We've got an EXTRA departure date for our Cévennes & Ardèche cycling tour in Southern France!
In the last few weeks we've run our first three guided cycling tours in the beautiful Cévennes & Ardèche and all our riders have absolutely loved it; this is sure to become a Marmot Tours favourite!
Given that we're pretty much fully booked for the remainder of 2022 and we're still getting lots of interest in our fully supported cycling holidays, we've managed to squeeze another departure into our schedule. The dates for this trip are:
10th – 17th September
This is a fantastic chance for you to escape in one of our busiest months so if you're interested in grasping this opportunity and experiencing this amazing cycling location for yourself (and maybe some mates too), please get in touch BY FRIDAY 1ST JULY as places are limited. Just drop us an email or give us a call on 01373 830409 and we'll take care of the rest!
---
Road cycling in Tenerife: back for 2023!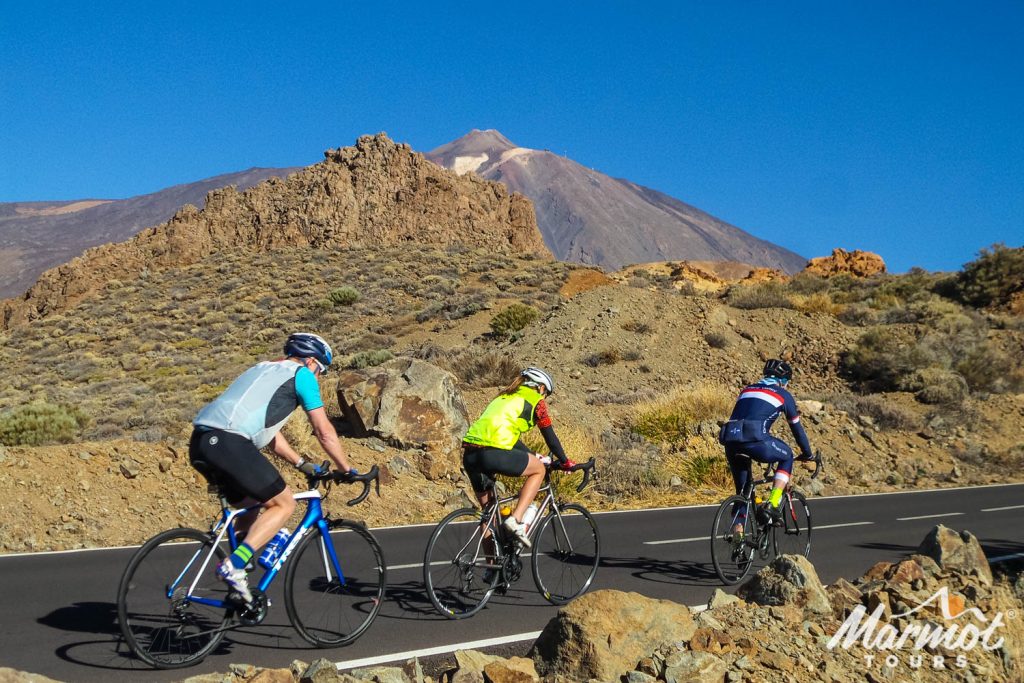 We hope you'll be thrilled to hear that 2023 will see us road cycling in Tenerife again! We've not been since 2020 so we cannot wait to get back there, offering you a fantastic trip in this winter sun road cycling mecca.
We've had to change the way we do things slightly for this trip. Due to Tenerife regulations, we're not permitted to use our vans to transfer clients around the island so we're obliged to use local taxi firms and hire vehicles. As a result, we won't be taking Marmot vans but the support we offer you throughout the tour will be otherwise unchanged.
You'll be met at the airport by one of our amazing, experienced guides and your transfers will be from a local operator. We will be hiring support vehicles and these will contain the Marmot Tours toolkit, food, water and 1st aid kit. We will still be offering bike hire as an option but this will be from a local provider, rather than the Marmot fleet of hire bikes. What's more, E-bikes are also available from the same company.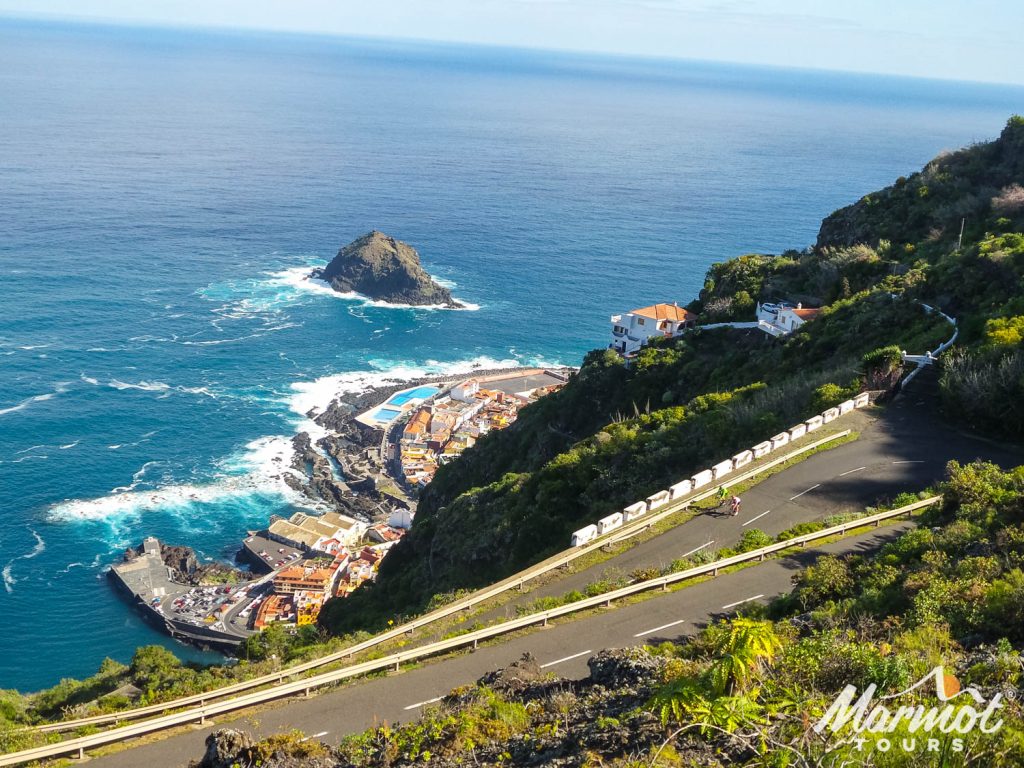 The same, fully supported cycling holiday experience you can trust
The rest of this fantastic guided cycling tour of Tenerife is unchanged from previous years:
6 days of cycling the very best that the island has to offer
Option to take on Mt Teide from three different directions
Opportunities for rest days as you will stay in 3 hotels across the 8 days of the trip
Full support from two experienced Marmot guides and support vehicles with all the essential kit
Flexible pace and multiple route choices daily so you're able to set your own goals with our support
Super hotels (some with spa facilities) with cuisine geared up for hungry cyclists
Cheap and plentiful flights from UK airports
This super trip is available on the following dates:
22 February – 1 March
1 March – 8 March
So what are you waiting for? If you're interested in some winter sun cycling then get in touch quick, as we know there has been pent up demand for this tour over the past two and a half years. Just ping us an email or give us a call to reserve your place.
---
Tour de France 2022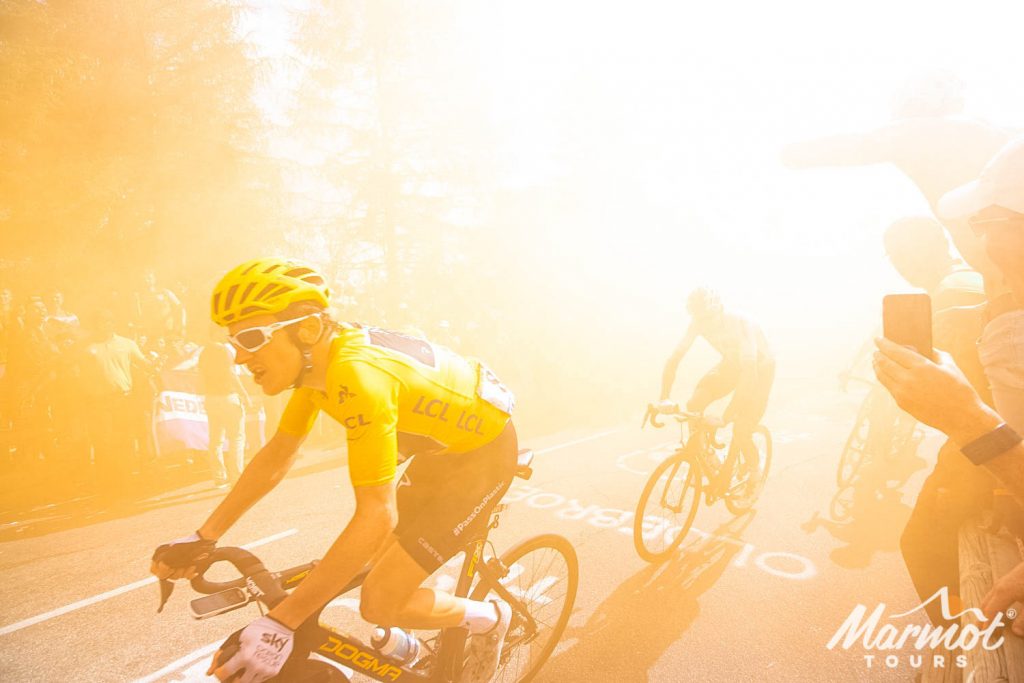 With le Tour starting on Friday, we're counting down the days until our Tour de France Special kicks off on 10th July, when our riders will be immersing themselves in the unmitigated hysteria of Alpe d'Huez when the Tour passes through. We promise to keep you updated with images from the road on social media, so if you want to catch a glimpse of it all, don't forget to follow us if you don't already!
---
Top 10 cycling climbs: Part 2. Your 2022 & 2023 road cycling goals continued…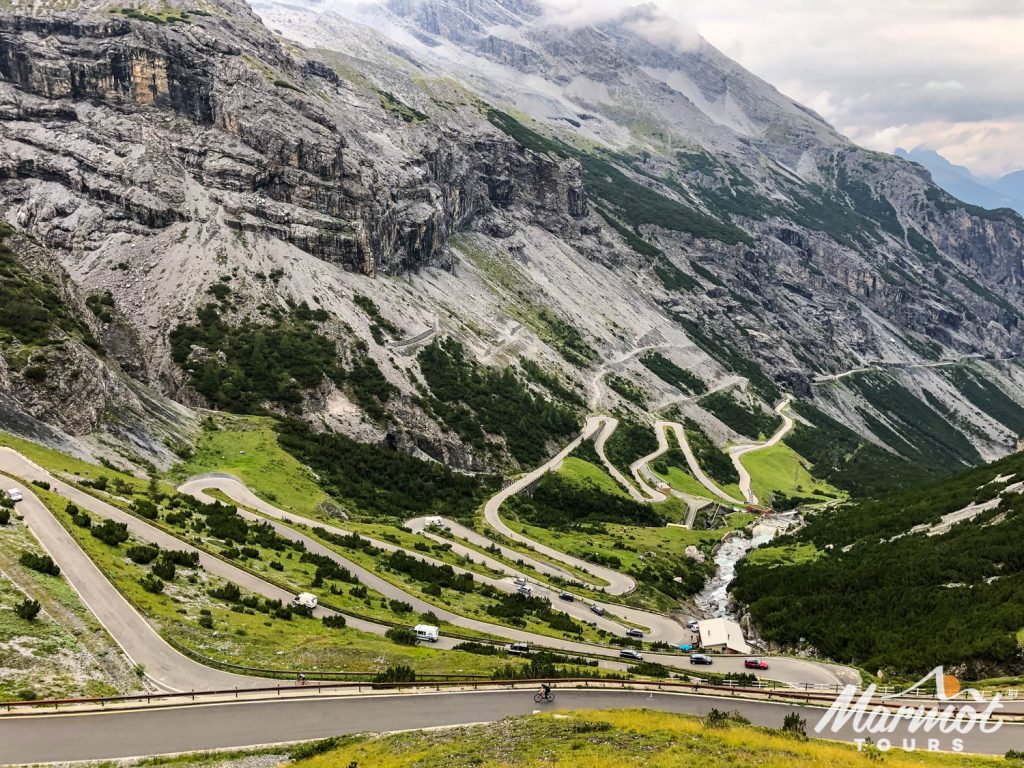 Following on from our March newsletter where we started our Top 10 Cycling Climbs series….here's the 2nd instalment to inspire you! We're sure you won't be surprised to see some giants on here.
Passo dello Stelvio
No list of Top Cycling Climbs would be complete without the infamous Passo dello Stelvio, the Giro d'Italia favourite. With its spaghetti-like 48 hairpin bends, it's a climb that has been written about at length. It's not actually in the Dolomites, as many believe, but in the Italian Alps. This climb is a HUGE challenge, not only due to its length and steepness, but also because of its altitude: you'll definitely know the air is thin when battling up its slopes. It is exposed and has unpredictable weather conditions; the pass doesn't even open until mid-May and is closed by November, such is its capacity to be covered in snow. The descent is technical but exhilarating. All in all, it's no surprise that most cyclists have it on their bucket-list.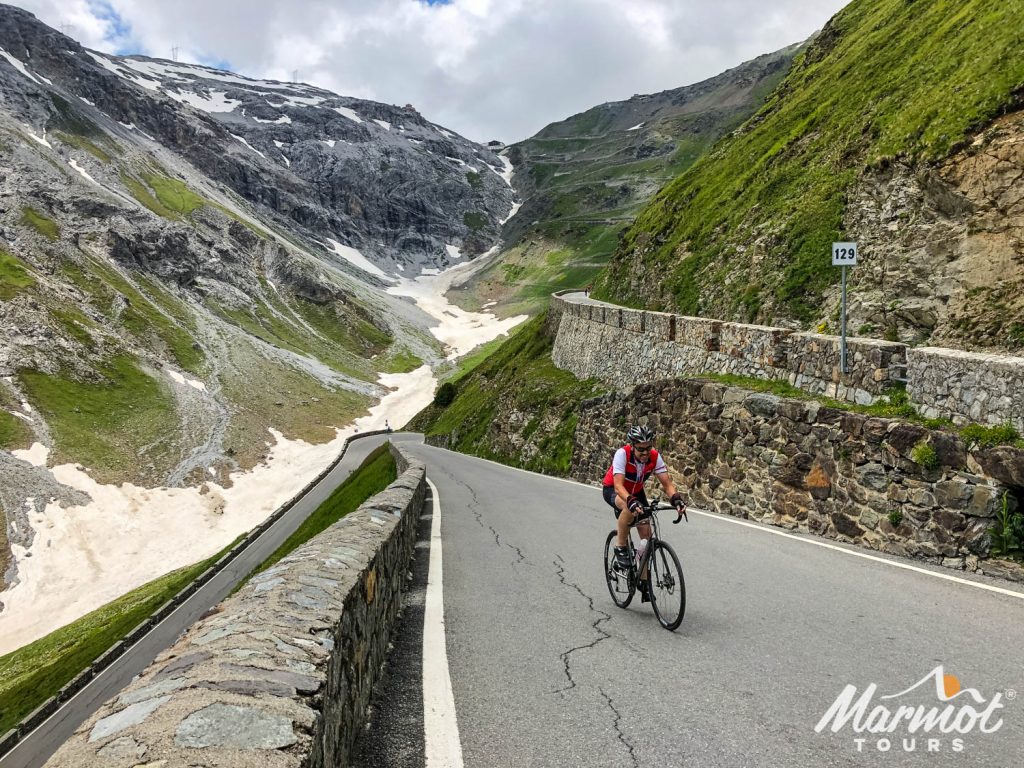 THE STATS
Length 24.6km; Altitude 2,758m; Max gradient 11%; Avg gradient 7.5%
Cycle the Stelvio on: Classic Cols of the Dolomites & Stelvio and Raid Dolomites
Passo di Giau
Quite possibly the most beautiful cycling climb in the world. The climb on this Maratona monster starts surrounded by forest for the first 8kms or so and then you realise just what all the fuss is about! If you've got the ability to appreciate the scenery, it is quite simply breathtaking (no pun intended). Its 29 switchbacks give you the opportunity to take it all in and if you're lucky, distract you from your screaming legs. There's no denying this is a pretty relentless slog but once you've reached the summit, you'll be pretty pleased with yourself and will definitely deserve some form of treat in the summit café.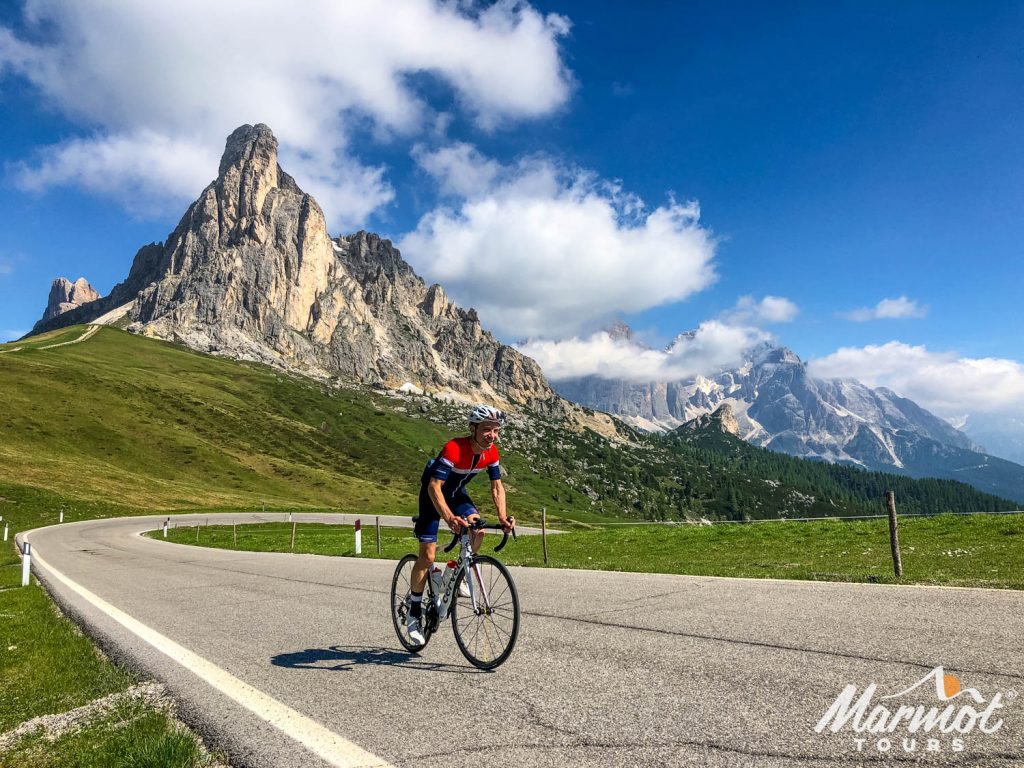 THE STATS
Length 15.8km; Altitude 2,237m; Max gradient 12%; Avg gradient 6.6%
Cycle the Giau on: Classic Cols of the Dolomites & Stelvio, Best of the Dolomites: 4 Day Minibreak, Raid Dolomites
Col du Tourmalet
The highest pass in the French Pyrenees, Tour de France classic and stalwart of the Raid Pyrenean, the Tourmalet just has to be on every cyclist's must-do list. This is a long old climb at 29km but the first half is very manageable indeed. However, the last 10km, especially just before you reach La Mongie, well! At least you can take comfort from the fact your bike and kit are likely to be far superior to that of Lily Betbeder and Paul Mathis – the first cyclists to successfully achieve the Raid Pyrenean in 1950 as organised by the Cyclo Club Béarnais. You can read their diary account of this epic crossing in our blog celebrating 70 Years of the Raid Pyrenean. It's an inspiring tale for any cyclist wanting to conquer the Tourmalet or the Raid.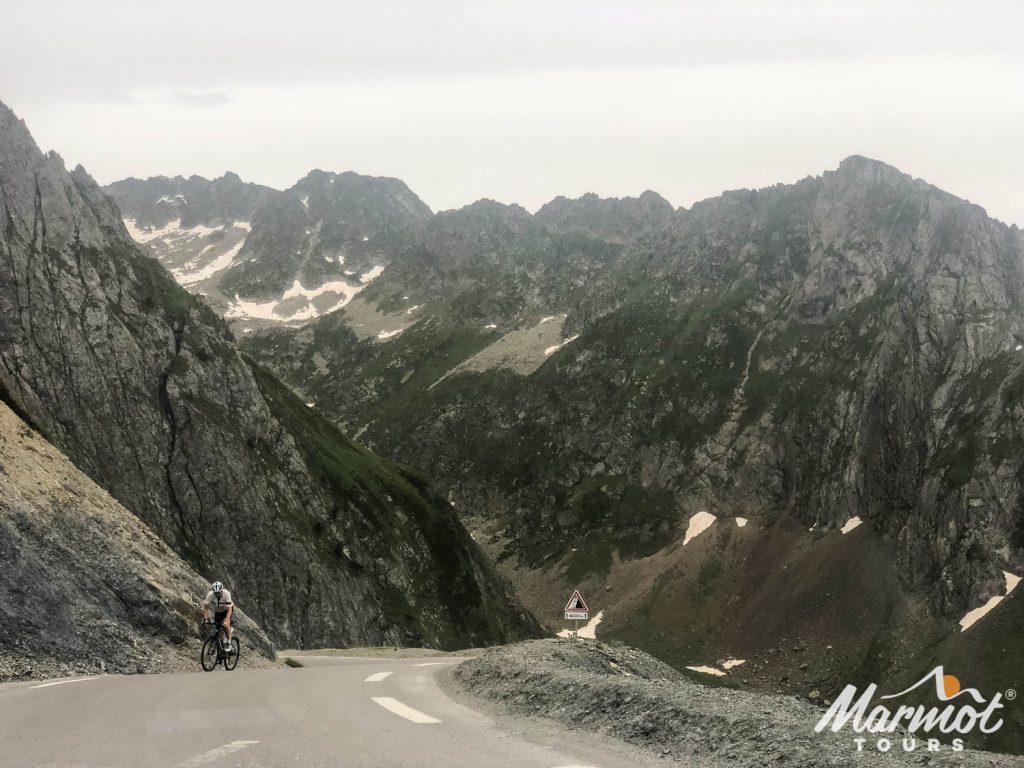 THE STATS
Length 29.1km; Altitude 2,115m; Max gradient 11%; Avg gradient 5.4%
Cycle the Tourmalet on: Pyrenean Classic Cols and Raid Pyrenean
Monte Zoncolan
We've been waiting to support you on this monster of a climb since 2019 so we're beyond excited to include it in on our Slovenia & Monte Zoncolan cycling tour this year – as with all the rides on our Classic Cols holidays, it's entirely optional, of course! Situated in the Italian Carnic Alps, it is without doubt one of the most difficult climbs in cycling. This is largely down to one thing: gradient. While not long at 10km, it has a 6km stretch in the middle that averages 15% with some sections maxing out at 22%! It has featured in the Giro seven times since it first featured in 2003. Even the pros make it look tough, and that's saying something. If you bag this climb then all credit to you: Chapeau indeed!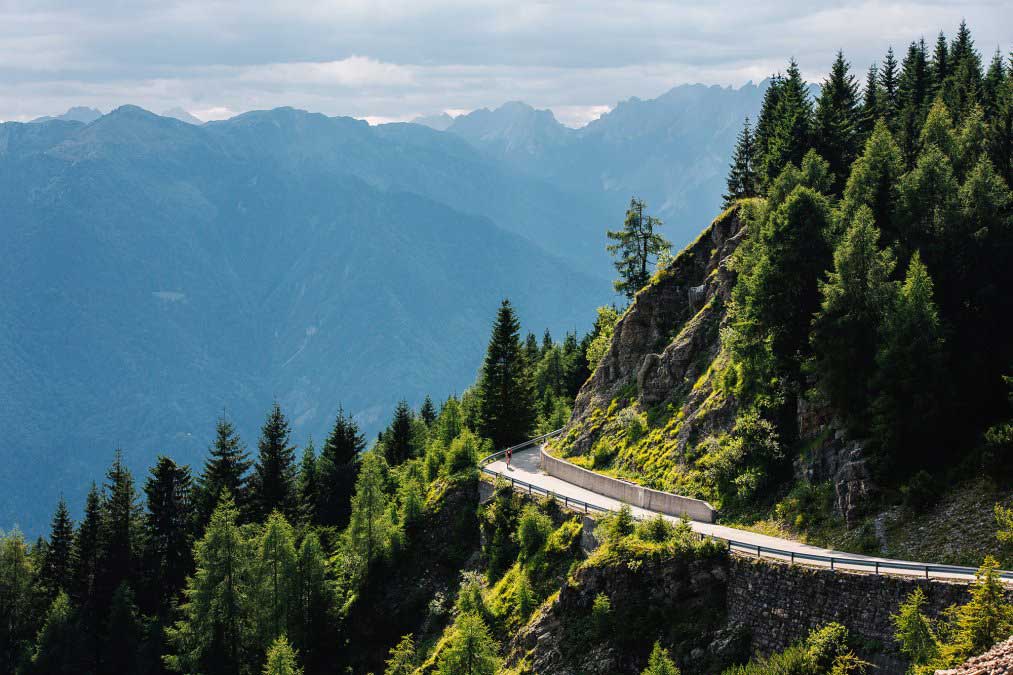 THE STATS
Length 10km; Altitude 1,734m; Max gradient 22%; Avg gradient 12.1%
Cycle the Zoncolan on: Slovenia & Monte Zoncolan
Cime de la Bonette
We wrap up this list with, according to the sign at the top, the highest surfaced road in Europe: the Cime de la Bonette. The scenic loop at the summit permits this fact to be accurate, even though there are a number of other higher through roads in the Alps: the Col de l'Iseran and Stelvio Pass to name a couple, plus at 3,300m the Pico del Veleta in the Sierra Nevada. Regardless, it's definitely the highest road ever included in le Tour and you can't fail to notice the bleakness of your surroundings especially in the higher sections. It was built in the 1930s as part of the Maginot line military fortifications on the French/Italian border and the former military barracks that you'll come across are a reminder of historic tensions between the two nations during the Second World War. It's a beast of a climb but definitely one for your agenda.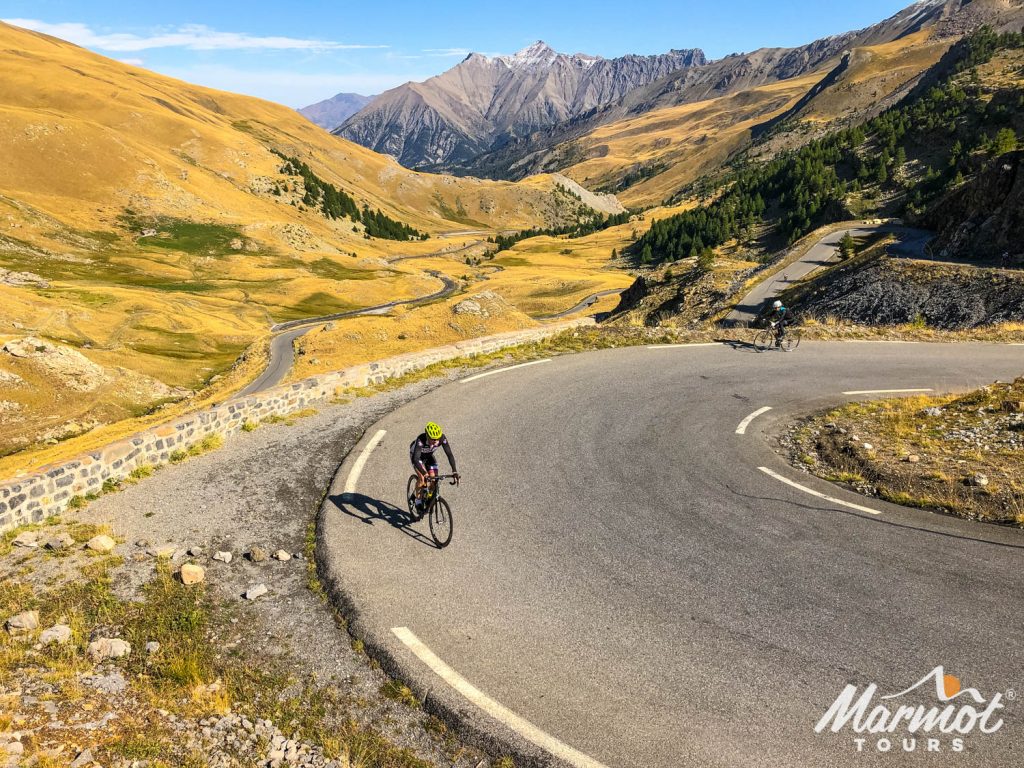 THE STATS
Length 23km; Altitude 2,802m; Max gradient 10.5%; Avg gradient 6.9%
Cycle the Bonette on: Classic Cols of the Southern Alps, Raid Alpine (north to south) and Raid Alpine (south to north)
All of this stat-harvesting has got us thinking about other tough cycling climbs and future classics to aim for – with our support, naturally! As those of you will know who've been on a Marmot Tours cycling holiday, we always craft our itineraries to include some 'cheeky climbs' that are lesser known and possibly wouldn't be discovered on a self-guided trip.
If there's a climb you've always wanted to do and we don't cover it on any of our itineraries, why not get in touch and let us know? We've always got atleast one future itinerary up our sleeve so keep subscribing to our newsletter to be the first to know where we're headed next.
---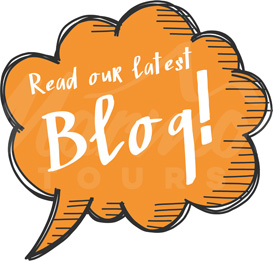 Our latest blog is full of travel information for those of you coming on a road cycling holiday in Italy or Slovenia in the coming months. We were delighted when travel restrictions to these countries were finally lifted and it's now simpler to travel than any other time since the pandemic hit – about time too!
---
That's all for now, folks. Thanks for reading and as ever, if you've any queries about our fantastic road cycling holidays in the best spots in Europe, just get in touch! À bientôt…….
---