Cycling in the mountains can be a daunting prospect to all but the most seasoned of grimpeurs*, but how can us mere mortals prepare? Are there other tactics to consider?
Here at Marmot Tours we've seen a multitude of approaches on our holidays, so we're in a good position to share what we think works. Read on to find out how you can get the edge long before you even turn the pedals…
1. Do your homework
The nature of the terrain on your chosen holiday can make all the difference, and no two mountains are the same. Take for instance the Dolomites and the Massif Central. The Dolomites are renowned for their punchy, steep climbs, many of which make regular appearances in the Giro d'Italia. The Massif Central on the other hand, whilst commonly thought to be flat, is actually peppered with testing climbs, amongst a landscape of rolling countryside. Could you perhaps benefit from gemming up on the 'Trip Notes' we provide, or swapping out the 53/39 for a wider range rear cassette and a compact chainset? More on that later…
2. Col du Box Hill
It should go without saying that training is critical. We advise finding the closest substantial hill to you and riding it at a variety of different speeds. Ride it flat out, and notice how your legs and lungs scream at you to stop. This is how NOT to train. Get into the habit of climbing at a manageable pace, the sort of pace you could sustain for the length of your target climb. The Stelvio is often a major target for those riding either the Raid Dolomites or the Classic Cols of the Dolomites trips, so look at your preferred climbing pace and then imagine riding 21km, up an average gradient of 7%, gaining 1558 vertical meters. Phew!
3. Befriend gravity
Along with 'marginal gains', watts per kilo is a commonly used phrase in the world of cycling. W/kg is determined by power (watts) ÷ mass (kg), meaning that as soon as the gradient points upwards, the lighter riders start to realise a very real advantage. With this in mind, we advise jettisoning those mudguards, spokey–dokeys and panniers, as they're just adding to your overall mass. Paying close attention to diet will help you shed mass too, so perhaps opt for the healthier option on the Sunday cafe ride. No, carrot cake is NOT one of your 5-a-day!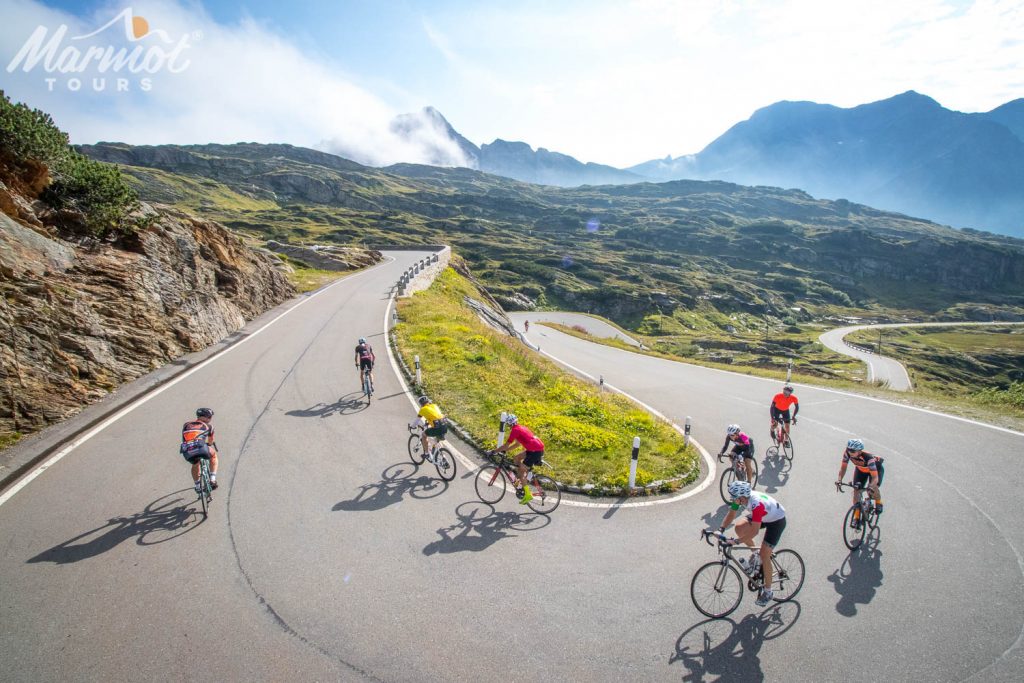 4. Pacing is key
Ever seen Chris Froome looking at his stem? He's actually monitoring his power output in order to moderate his pace. He knows that in order to sustain his chosen pace (and to keep WADA off his tail!) he needs to keep the power below 7w/kg. If you don't have access to a power meter however, a heart rate monitor, whilst not as accurate, can give you a good idea of how hard you're working.
The homework you did in tip number 1 will have taught you about the particularly steep sections of the climb, like the forested section on Mont Ventoux (from Bedoin), so keep that in mind and don't burn too many matches early on. Pacing, not racing.
5. Spinning is winning
Climbing efficiency is important when it comes to making it to the top. All too often we see riders set out onto the base of a climb pushing large gears, and this is a sure-fire way to burn yourself out. The resulting effect is spikes in your given effort, which plays havoc with your breathing. Consistency is what you're aiming for. A reasonably high cadence of 85 or above will allow you to settle into a rhythm and focus more on your breathing and fuelling than the effort at hand.
6. Get on the gear
No, not that sort! On the subject of spinning, we must address proper gearing choice. Gone are the days of bikes being sold with a 53/39 crankset and a 25 tooth cassette as standard. Walk into your local bike shop today and you're likely to see more compact chainsets with cassettes running up to 32 teeth as a standard.
Our hire bikes come equipped with compact cranks and a 32 tooth cassette as standard, and those that ride them truly appreciate the range on offer.
These smaller gears will allow you to select a cadence that is comfortable for you, with a wider range of gears accessible at typical climbing speeds. How often do you really NEED the 53/11 gear anyway? We've even seen successful Raid attempts on bikes with a single chainring on the front and a wide range cassette at the rear. Choose the gears that are right for YOU, on the terrain you will be riding.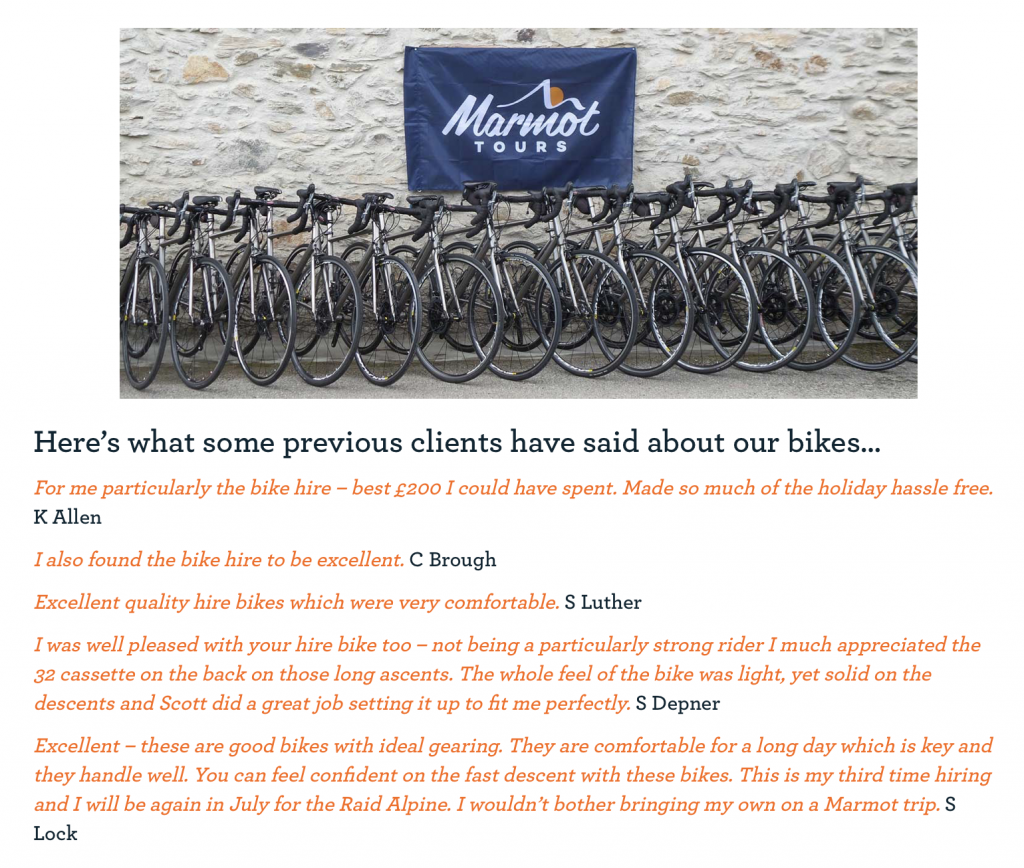 7. Stay Aware
You may have mastered the art of pacing yourself, and staying on top of your food and hydration, but ensuring a safe and pleasant experience on the mountain calls for more awareness.
One of the most commonly overlooked tactics to staying safe in the mountains is what's known in motorcycling terms as the 'lifesaver' – essentially looking over your shoulder before you change positions on the road.
Our friends over at Global Cycling Network have produced this video which explains just why it's important to be able to look behind you whilst cycling, and to stay aware too.
*Grimpeur – "These are the riders who ascend up mountains like gravity doesn't exist, they thrive as the air thins where others falter. The mountain goats of the peloton, where nations such as Colombia seem to breed them in abundance. Nairo Quintana, Luis Albert Herrera, Miguel Ángel Lopez and Egan Bernal to name but a few. Europe also has its stars, past and present, with the likes of Marco Pantani, Emma Pooley and Romain Bardet." Rouleur.cc