Bella Italia! Cycling Holidays in the Dolomites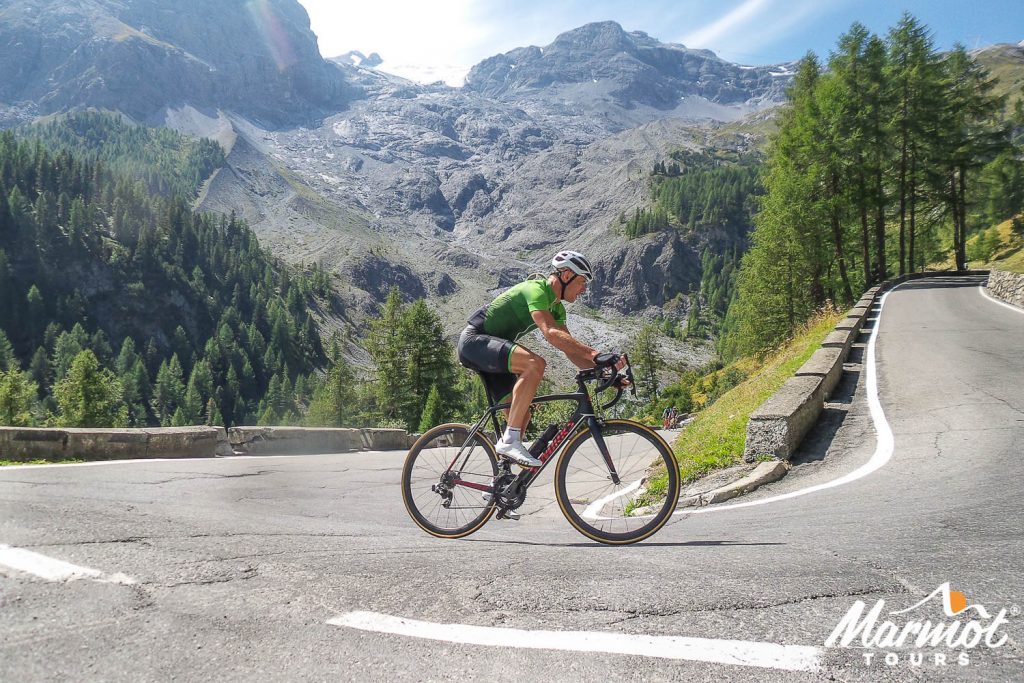 With the Giro d'Italia  currently in full swing, it's got us daydreaming about Italy, so we thought we'd highlight some of our cycling holidays to the Dolomites that we're running later on this summer. 
Always wanted to have a stab at the Giau? Or the Stelvio? Our Classic Cols of the Dolomites & Stelvio tour is, quite simply, an epic cycling holiday. You'll have the opportunity to cycle all the classic Giro passes (Mortirolo, Giau, Campolongo & Stelvio) and cycle the Maratona Cyclosportive route.
Flexible Itinerary Cycling Holiday with Full Support
This holiday has a daily, flexible itinerary so is ideally suited for mixed ability couples or groups. Each day you have the choice of either a 'classic' or 'challenge' route, so it really is up to you how much you want to push yourself. The 'classic' route on this holiday is manageable for healthy cyclists, even with no experience of the mountains. The daily 'challenge' route, on the other hand, increases the possible daily ascent to between 3000 and 4200m, so for those aspiring to the Raid Dolomites, it's a great prelude to this.
At Marmot Tours, we don't believe in pressurising you to keep up with the pack, but neither should you feel like you're missing out on more cycling while waiting at the top of a climb for the rest of the group.
Just because it's a group holiday doesn't mean it isn't YOUR holiday and we do our very best to ensure everyone achieves the amount and level of cycling that they want to. Our unique 2-vans-2 guides system of support enables us to do just that.
It's super important to us that you book the trip that's right for you, so do read the Trip Notes for all you need to know about how this holiday works; fitness, food, accommodation, travel and transfers …
Just in case you still need convincing, check out some of the great feedback we've had about this holiday:
"Very enjoyable holiday as always. Some of the scenery was the best I have ever ridden through and I quite enjoyed the fact that a couple of the climbs were steeper than anything I've come across in the Alps or Pyrenees!" N. Clarke
"…all of our expectations were exceeded. The food, accommodation, transfers and en-route support were outstanding." J. Bachmann
"I found it very enjoyable and [the trip] provided everything I wanted; beautiful location, great cycling, good food and beer. The choice of distances was excellent and provided the bailout option to go a shorter route if I wanted to." N. Gillespie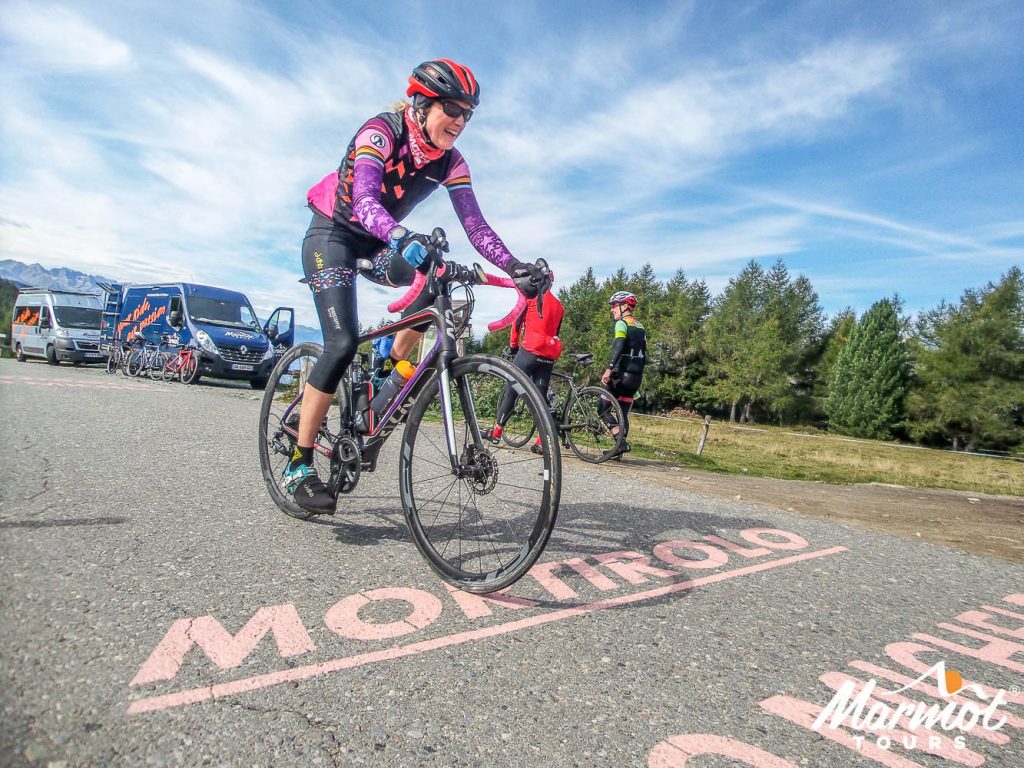 Some Availability Left!
We do have limited availability left on two of our departures for this holiday: Classic Cols of the Dolomites & Stelvio:
24th – 31st Aug and 31st Aug – 7th Sept.
If you'd like to find out more or would like us to pencil you in, just give us a call on 01373 830409 or email [email protected]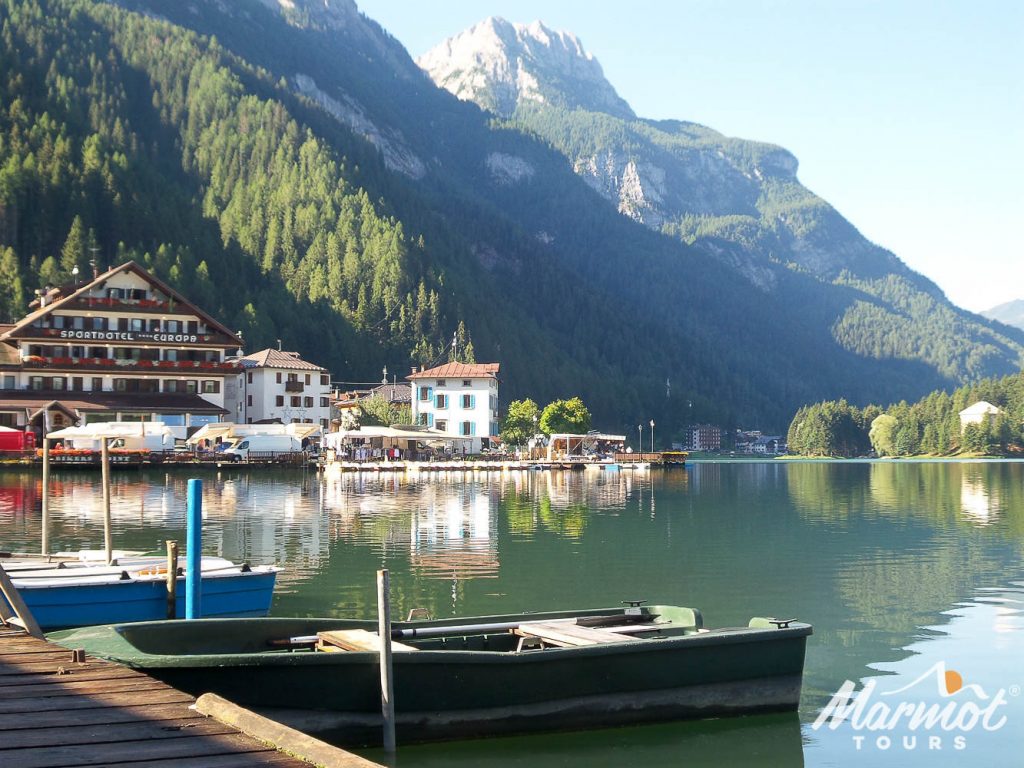 European Cycling Minibreak
A shorter alternative to the week long holiday above is our Best of the Dolomites: 4 Day Minibreak. This does exactly as it says on the tin: 4 days of cycling in the stunning Dolomites, enabling you to cycle some of the best climbs in the area, including the Sella Rondana and Marmolada loops.
It's a centre-based holiday so you'll be staying in the Europa Sport Hotel on the lakeside in Alleghe for the duration of the trip. As a result, this is a great holiday if you'd like to take a non-cycling partner.
Flexible Cycling Routes Each Day
As with all Marmot Tours Classic Cols holidays, each of the 4 days' rides has 3 options so will suit both novices to climbing in the mountains, as well as experienced climbers. You really can ride as much or as little as you like, at a pace that suits you – honestly! That said, with a group of 20, you can be sure to find someone else on the trip with similar aspirations to you, whether that be sampling a glass of prosecco in a rustic local bar, or throwing yourself at every climb on offer!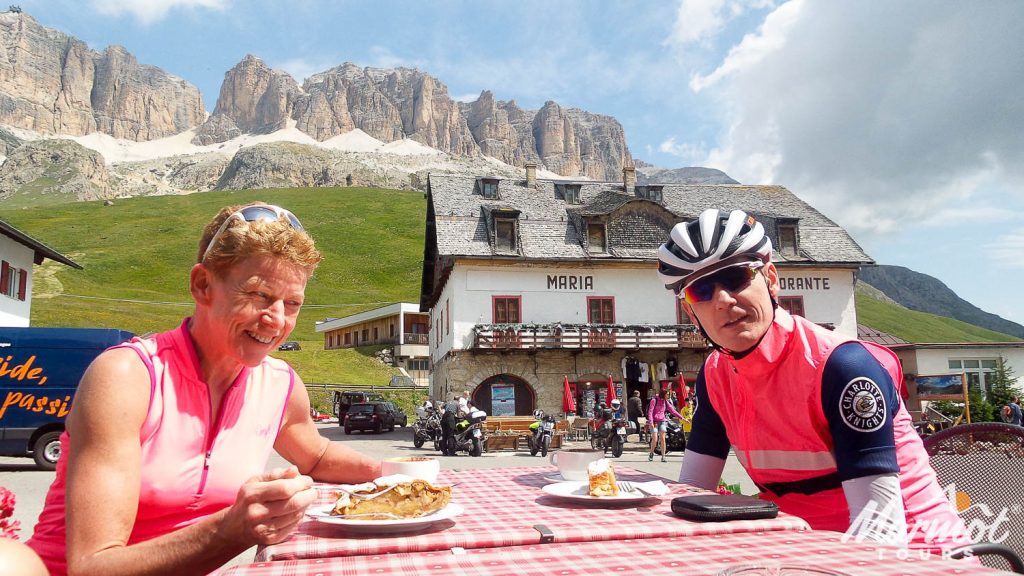 It's always important to us that you choose the holiday that's right for you so do have a read of our Trip Notes which give a comprehensive guide to the itinerary. Our FAQs may also help with any queries you may have but we're always at the end of an email if you'd like to sound out any concerns. Of course, you can give us a call on 01373 830409 too – we really do want to ensure you feel comfortable with the holiday you choose.
Availability
We have some availability left on one of our Best of the Dolomites: 4 Day Minibreak holidays:
8th July – 13th July.
Do drop us a line if you'd like to enquire about a space or two…..
---
Fancy Winning £200 off Your Next Cycling Holiday?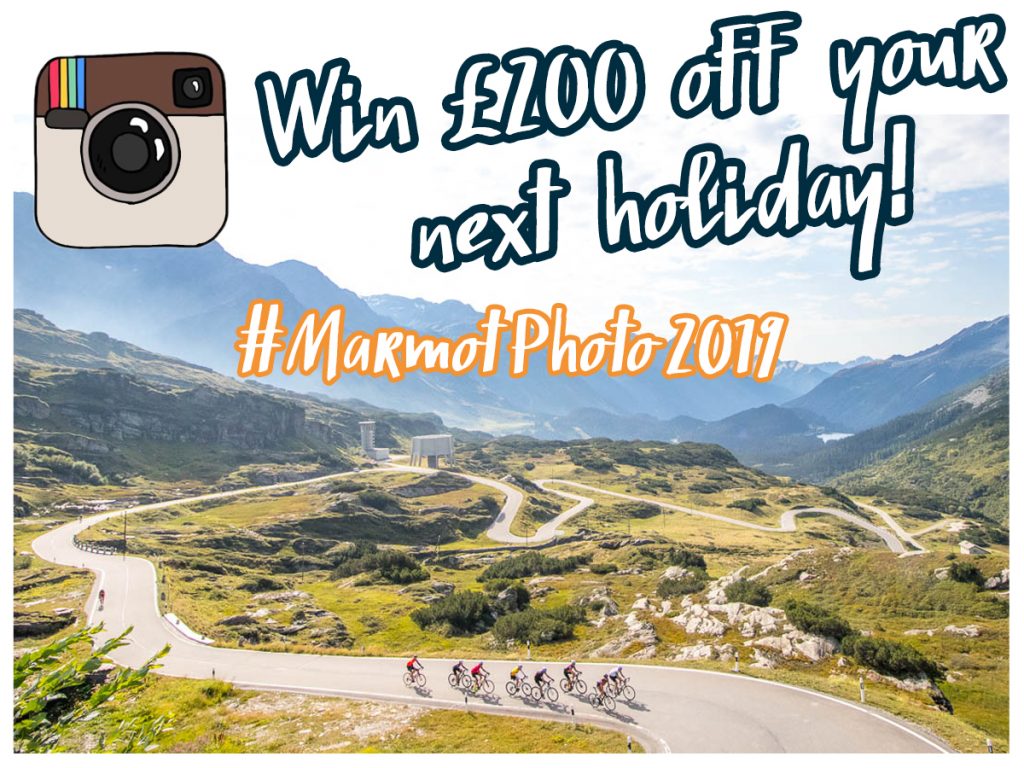 We love seeing the photos you've taken while on your Marmot Tours holiday so much that we've launched a photo competition on Instagram to get you sharing. Use the hashtag #MarmotPhoto2019 on Instagram to share your favourite 'Marmot Moment' for the chance of winning £200 off your next Marmot Tours holiday! Show us sun, smiles and bike rides from WHEREVER you are in the world, be it on a #MarmotTours holiday or the local club ride – we want to see what fun you're having! Whatever you choose to share, be sure to use the hashtag #MarmotPhoto2019. And if you're not already on Instagram, maybe this will give you the nudge to sign up? We'd LOVE to have more followers and who doesn't like £200 off a holiday?!
As with all competitions, there are some T & Cs: The closing date for all entries is 17 October 2019 and the winner will be announced the week commencing 25 October 2019 on Instagram. The prize entitles the winner to £200 off any holiday, subject to availability. The holiday must be taken by 31 December 2020. The prize cannot be redeemed against the deposit. The competition will run on Instagram only and any entries submitted on other platforms will not be counted, and our decision is final.
So whether you're out on a Sunday morning club ride, a family bike ride or just about to head off on your next Marmot Tours holiday (lucky you!), remember to get snapping and share your pics with the hashtag #MarmotPhoto2019 on Instagram.
Good luck and happy snapping!
---
Marmot Tours Annual Team Training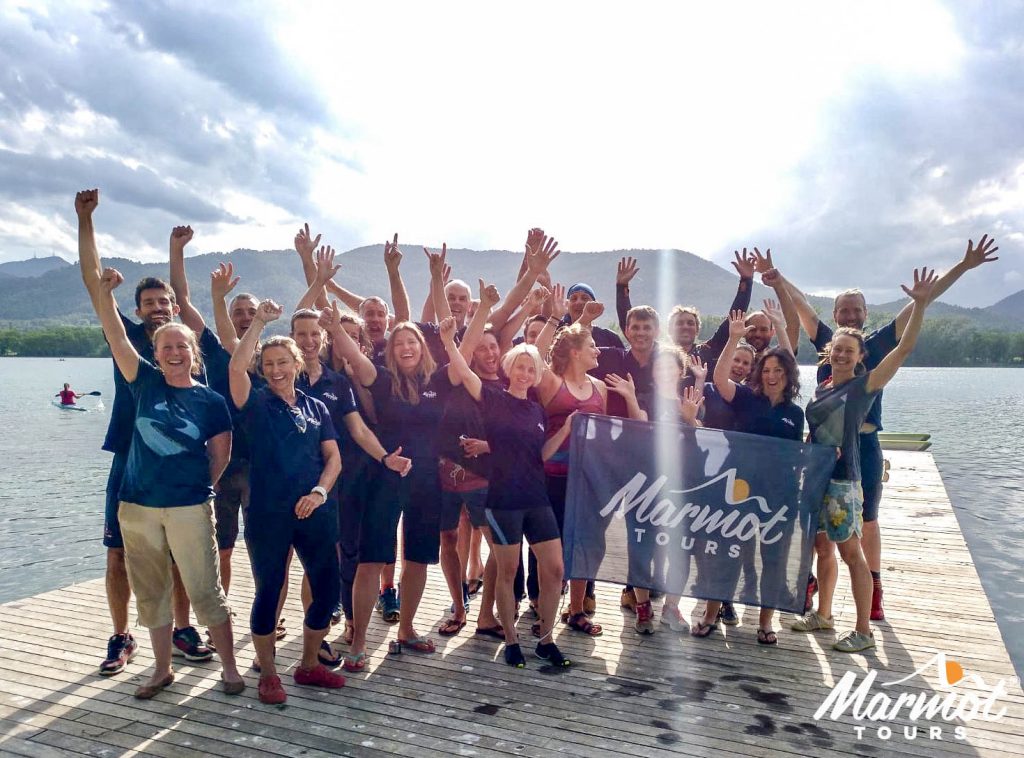 With 76 trips (all guaranteed departures) for 2019, including 6 successfully completed over the winter months already AND this being the second year of our 4th team on the road, we had plenty to cover when we got together a couple of weeks ago.
This year, the guiding team spent 4 days just outside the cycling mecca of Girona, in Banyoles, which is the starting point for our new Catalonian Classics holiday. Some of the topics covered were the latest bike tech, maintenance & repair; driver training; emergency procedures & crisis management; training in our upgraded guide/client interface The Link and also guidance on new tech systems that we use.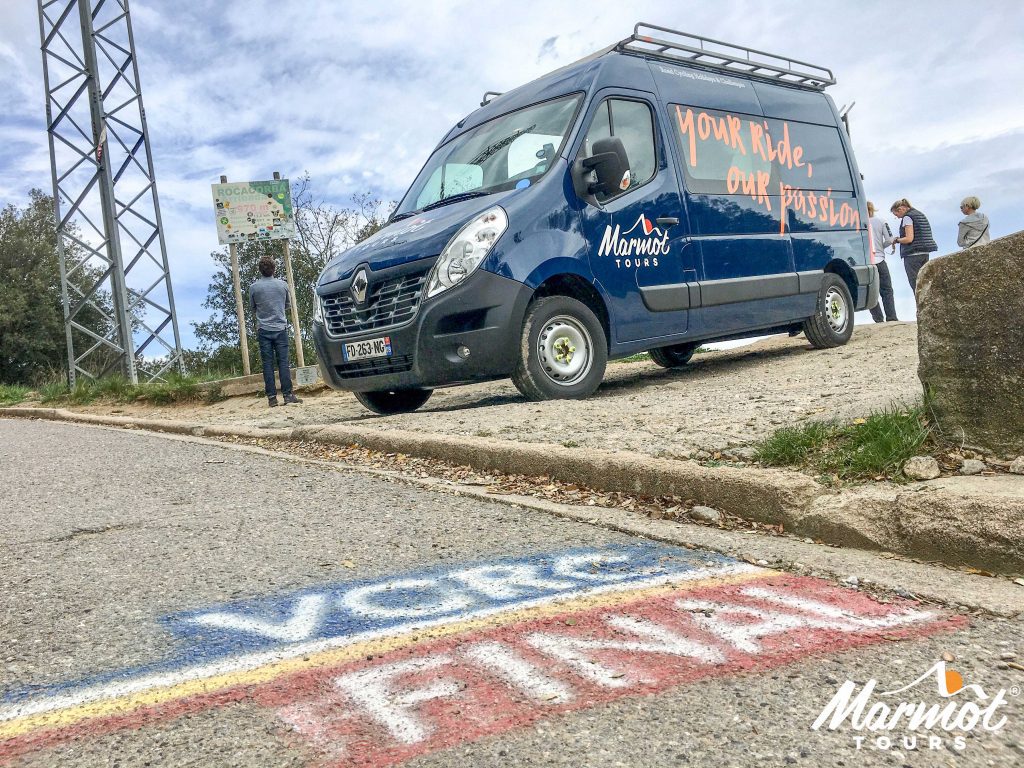 It's always great to get the whole team together as we have the opportunity to share and learn from invaluable 'Marmot experiences'. We rounded off day 3 with a fantastic team bonding exercise of dragon boating on Lake Banyoles. It was a memorable experience to paddle on the lake where the '92 Barcelona Olympics had taken place (despite no-one's skills resembling Redgrave and Pinsent!). We really did have to pull together (sorry!) and the competitive spirit of pretty much every team member kicked in!
All of this enables us to unify the whole team so that we can learn together and be the very best that we can be, so that YOU can have the absolute best holiday experience you can possibly have.
With training over, we're all now well and truly prepared for making this a cracking summer season – you're in incredibly safe hands!
---
Introducing our new Guides
We're very excited to welcome 6 (yes, 6!) new guides to the Marmot family this year: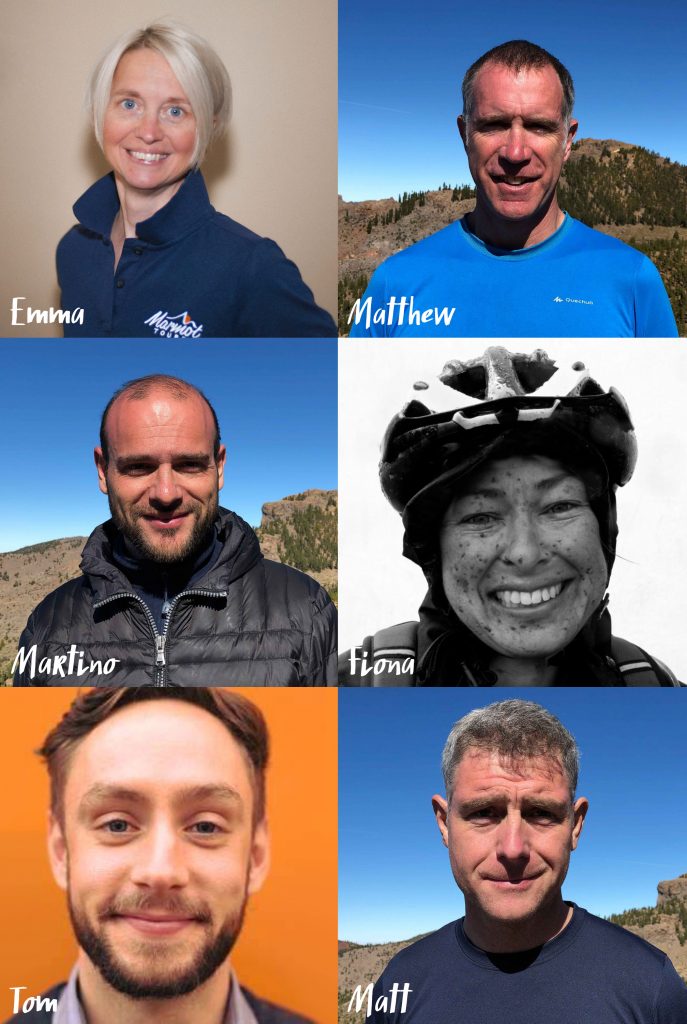 All have a genuine passion for cycling and a desire to support YOU. With varied backgrounds and lifeskills – from adventure travel to teaching, stand-up comedy to working for British Cycling – we're delighted to welcome them to the team. To find out a bit more about each of our new Marmoteers, check out the About Us page of our website.
Fully Supported Cycling Holidays with Fantastic Guides
About a week before you're due to go on holiday, we'll remind you of your transfer times and will post these to The Link, along with your final joining details. It's at this point that you can check out which guides you'll have supporting you on your holiday. At that point, all you need to do is pack and count down the days!
We're sure you'll have a great experience with whichever guides you have on holiday with you – they're all 100% focused and fired up to support you in whatever way they can, to ensure you have the very best cycling holiday it's possible to have. As we like to say, it's your ride, our passion!
---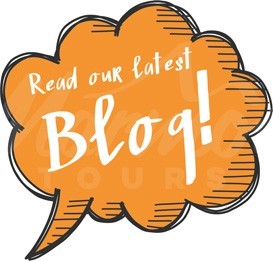 This month we bring you the first instalment of our two-part blog on classic and lesser known European cycling climbs. Part 1 continues our focus on Italy, featuring Marmot Tours' Top 3 Italian Climbs, so we hope you enjoy it! With all this glorious early summer sunshine, why not grab a 'coldy' (Peroni perhaps? Or a cheeky Birra Moretti? Other beers are obviously available…), have a read and get inspired for where your next Marmot Tours holiday will take you…..
Until next time, "Ciao amici!"