Having been recommended to us by Marmot riders who have also taken part in the Tour de Force, we are delighted to be working with the William Wates Memorial Trust as our charity of the year.  Supporting the charity put us in touch with Sarah Perry and Tracy Norris from Tour de Force.
It's always great to meet other folk in the same industry but when we hooked up with Sarah and Tracy we realised that not only do we share a client base but also that we have a shared vision about what is important when organising a supported ride.  Their knowledge and their passion for the Tour de Force and WWMT is evident and their emphasis on ensuring a great quality of product for their clients feels very familiar.
What is the Tour de Force?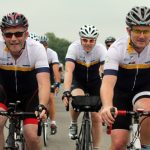 For the uninitiated, the Tour de Force follows the official Tour de France route just one week ahead of the pros.  Everyone who signs up is not only achieving something great for themselves, but is also fundraising for the William Wates Memorial Trust who support charities that help disadvantaged young people to stay away from a life of crime and violence and to realise their own potential. By signing up to take part in the Tour de Force, you commit to a fundraising minimum (see the Tour Tasters for full details).
The route is fully signed and supported with medics, physios and massage therapists, mechanics (including spare parts and spare bikes provided by Trek), luggage transfers and rider transfers where required.
Riders choose from one of 10 'Tour Tasters' of between 2 and 21 days. 2016 offers the Grand Depart and Normandy stages from Mont St Michel, the mountains of the Pyrenees, Andorra, Mont Ventoux, the Alps and more. Hone in on your favourite part of the country or the col at the top of your bucket list.  Those nutters among you (yes, you know who you are!) might even be tempted to sign up as a 'Lifer' – a cyclist taking on the complete Tour de France route in 3 weeks (Mont St Michel to Paris)
So, to Marmot Raiders out there: The Tour de Force kicks off on the 24th June and runs until the 17th July.   Be part of the incredible camaraderie created on tour and fundraise for the William Wates Memorial Trust.  For more information contact Sarah Perry on [email protected]